This is the Twenty-Second edition of Seeds & Sprouts – Early intelligence on Cleveland-area real estate projects. Because these projects are very early in their process of development or just a long-range plan, a lot can and probably will change their final shape, use and outcome.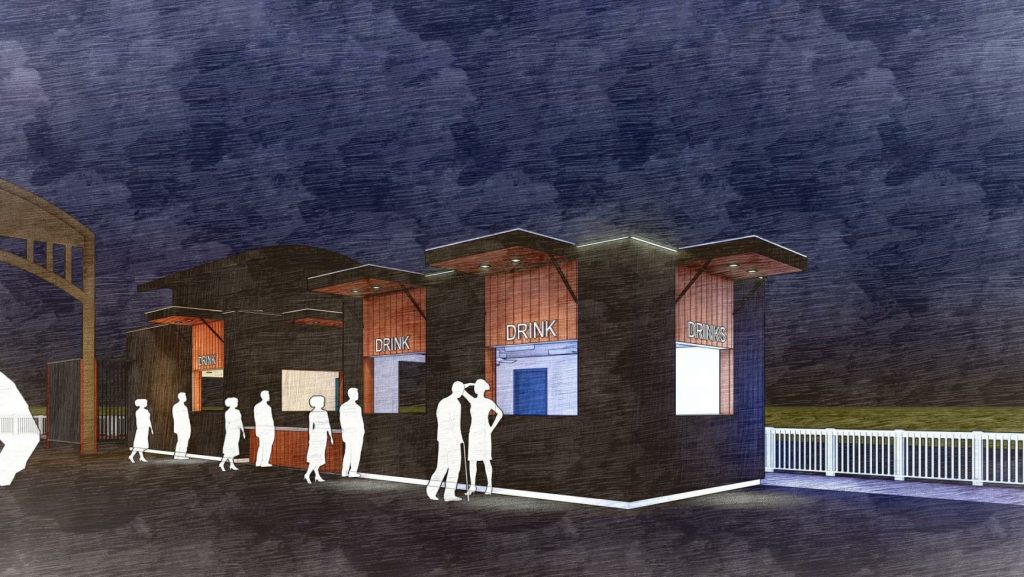 Architect's rendering of one several to-be refurbished concession stands at the Jacobs Pavilion seasonal amphitheater at the Nautica complex on the West Bank of the Flats. The renovations are proposed to occur this spring before the outdoor live performance venue opens for the summer (LDA). CLICK IMAGES TO ENLARGE THEM
Jacobs Pavilion renovations in the cards
Nautica Entertainment LLC has developed plans and is seeking building permits for renovating its 5,000-seat, open-air Jacobs Pavilion at Nautica amphitheater. The seasonal outdoor facility, which has an audience capacity of up to 19,000 including standees, is located on the West Bank of the Flats, on the other side of the Cuyahoga River from downtown Cleveland.
"This project is to renovator (sic) the finishes and fixtures of the Jacobs Pavilion venue," wrote Jesse Sweigart, project manager at Cleveland-based LDA Architects, in his plans submission to the city last week. "This includes recladding the existing buildings — concessions, restrooms, box offices, trailers. New lighting throughout the venue will be provided and all plumbing fixtures will be replaced."
Cost of the improvements to 13 structures at the stage complex is estimated at $500,000, according to a permit application submitted to the city's Building and Housing Department. The address of the Jacobs Pavilion, named after its developer Jeff Jacobs, is 2000 Sycamore St. It is located next to the FirstEnergy Powerhouse, originally built in 1892 to provide electricity to the city's earliest streetcars. The stage complex was built in 1987 then expanded and renovated in 2003 for $5 million. This renovation will be the first significant investment in the facility since then.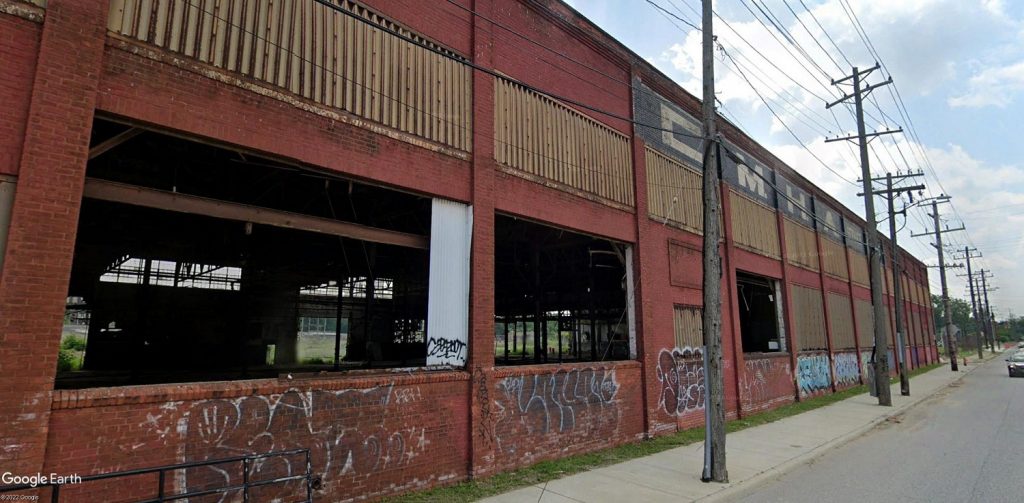 Demolition is imminent for this vacant warehouse — the last remaining structure of the former Van Dorn Iron Works on East 79th Street just north of the Opportunity Corridor Boulevard. Van Dorn was formed as the Cleveland Wrought Iron Fence Co. in 1872 but diversified, changed its name and established facilities on East 79th in the 1890s. The outdated plant closed in 1991 with some portions, including this warehouse, sold to the Cuyahoga Metropolitan Housing Authority (Google).
Van Dorn Iron Works' last structure to fall
A century ago, the Van Dorn Iron Works on East 79th Street in Cleveland's Kinsman neighborhood employed 1,100 people in a 400,000-square-foot plant comprised of a dozen buildings. Today, only one building still stands — a 50,000-square-foot warehouse used most recently by the Cuyahoga Metropolitan Housing Authority (CMHA) for storage. That building is the subject of a Feb. 2 demolition permit application pending with the city's Building & Housing Department.
Applying for the permit was Complete Reclamation Services Inc. of Valley View, on behalf of the property owner, Seventh Generation Development Inc. Seventh Generation is an affiliate of the Opal Industrial Group LLC of Brecksville. Once the 50,000-square-foot building is down and the site is cleared, a roughly 9-acre site will be ripe for redevelopment. With an address of 2685 E. 79th St. and located on the Opportunity Corridor Boulevard, the site is primed for a new commercial user. It will soon be surrounded by multiple other developments.
Opal Industrial Group sought to build an industrial recycling facility on the property but their efforts were rebuffed by the city which was working with Orlando Baking Co., Miceli Dairy Products and others to create a food services industry cluster in the area. City officials believed the emissions and dirt from an industrial recycling center would harm those economic development efforts. Opal had demolished much of the original Van Dorn plant after it acquired the property in 2013.
For a century, the Van Dorn Iron Works on East 79th Street was a dense complex of foundries, molding and stamping mills as well as the company's administrative offices. With the last of its buildings coming down, the site of the Gilded Age plant will start over with a new use, yet to be determined (abandonedonline.net).
From 1992 to 2013, CMHA owned the old Van Dorn warehouse. Its acquisition from an affiliate of the Cavatelli Corp. was not without controversy. A State of Ohio audit discovered more than $200,000 in unsupported expenditures surrounding the purchase. The federal Department of Housing and Urban Development (HUD) prohibited CMHA from using federal funds to buy the warehouse property until its asbestos, underground storage tanks, waste sites and stored chemicals were cleaned up, the audit showed.
Van Dorn Iron Works began in 1872 as the Cleveland Wrought Iron Fence Co. by James H. Van Dorn. He diversified the company, becoming the largest manufacturer of jail cells in the USA, and renamed the firm in his own name in 1884. The company diversified further in the 1890s to make structural steel for buildings and frames and fenders for automobiles. By 1920, Van Dorn employed more than 1,100 workers. In the 1960s, the company diversified further, adding aluminum and plastics to its offerings so "Iron Works" was dropped from the company's name.
In the mid-1980s, the company had expanded to 19 plants nationwide and Canada. But the original 400,000-square-foot, 15-acre factory on East 79th was becoming outdated and underutilized. Only 110 workers were left at the East 79th plant on the day it closed in January 1991, with 50 jobs lost and 60 jobs moved to a more modern, less labor-intensive facility in suburban Strongsville. Van Dorn was sold in 1992 to German-based Mannesmann AG to become its American subsidiary Van Dorn Demag Corp.
BigHaus in Edgewater returns sans offices
After considering adding offices to accommodate a small law firm, Brickhaus Partners has gone back to its original plan of building five townhomes at the southwest corner of Clifton and West boulevards in Cleveland's Edgewater neighborhood. The Warrensville Heights-based developer has submitted paperwork to the city requesting a permit to build five townhomes on the vacant, 0.38-acre site.
Called BigHaus, those five townhomes would fill out an 11,255-square-foot building designed to look like nearby homes. Four of the five townhomes will face the boulevards with the fifth and smallest unit behind. The smallest townhouse will measure 1,780 square feet with two each at 1,820 and 2,940 square feet. The ground floor of each three-story unit will have a two-car garage, hidden from the boulevards. Living spaces will face the street. A common access drive for all five units will be from West Boulevard and enter the townhouses complex from behind, plans show.
In the short-lived mixed-use concept, a similarly sized building would have been constructed as an "office building with two residences," according to documents submitted to the city. That plan, had it gone anywhere, would have required a variance from the Board of Zoning Appeals to put offices in an area zoned for one-family uses, said Andrew Brickman, president of Brickhaus.
To get that would have required support from the neighborhood which had opposed several other previous plans to develop that corner going back several decades. The corner has sat vacant since a large house there had burned down in the mid-1960s. Brickhaus acquired the property in October 2020 for $200,000, county records show. This will be Brickhaus' third townhouse development in Edgewater, its first two being the 10-unit 95 Lake, 9509 Lake Ave., and the 11-unit One Seventeen at Lake and West 117th Street.
Developer to demolish Ohio City eyesore
While the demolition of a long-closed gas station at the southwest corner of Detroit Avenue and West 45th Street might get Ohio City gossips speculating about what's next, the property owner says he's only removing an eyesore for now. That property owner is an affiliate of Kertes Enterprises Inc., which is owned by the Kertesz family. The company name drops the "z."
One of the Kertesz family's most locally active businesses is My Place Group — a busy developer in Cleveland's Ohio City neighborhood. My Place Group has built such communities as Clinton West, The Vine, Franklin West, 41West plus a mixed-use development on West 25th Street featuring apartments over a Pins Mechanical bowling alley and 16-Bit Bar+Arcade.
My Place Group President Chad Kertesz says his family has no development plans for that highly visible 0.45-acre corner of Detroit and West 45th, despite that it is increasingly being surrounded by more eateries and new housing, plus the new West Side High School across Detroit. Through an affiliate 45 Detroit LLC, Kertesz acquired the former Sohio/BP gas station in 2017. The service station closed about 2000, property records show. The site will remain empty for a while longer.
"There is no news here honestly," Kertesz said in an email to NEOtrans. "Just tearing down the structure that's on site so we don't have to paint it every time it's vandalized with graffiti."
One year ago, My Place Group increased its holdings in Ohio City but without the effort of new construction. Just east of the vacant gas station, Kertesz bought the 62-unit Mariners Watch Apartments, 3107 Detroit Ave. The seven-year-old, four-story building was one of the first new apartment buildings constructed in the Hingetown section of Ohio City which continues to spread west and build upward and quickly lease out new residential and commercial inventory.
Article revised Feb. 15, 2022
END