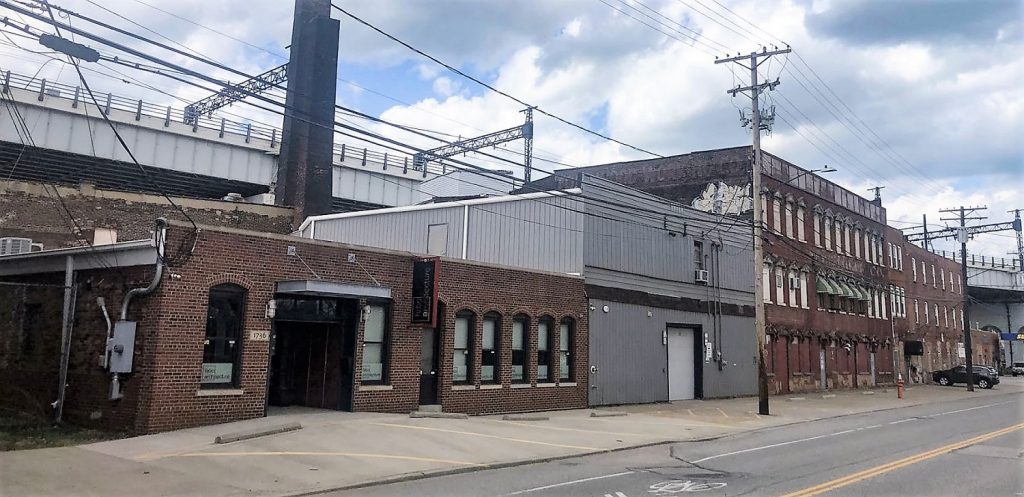 This collection of three buildings on Columbus Road in the Flats, not including the one at far-right, is proposed to be redeveloped as The Pine apartments. Realife Group intends to add three stories to the brick building at left, replace the grey building in the middle with a four-story building and add a fourth story to the brick building with the green awnings. Towering above it is the Red Line rail bridge (Cresco). CLICK IMAGES TO ENLARGE THEM
Project to leverage off new riverside parks, boardwalks
Surrounded by the waters of the crooked Cuyahoga River, The Pine may grow on the Cleveland Flats' Columbus Road Peninsula. The Pine, in this case, is a 45-unit mixed-use development that is nurtured by its proximity to not only the river, but by new parks, trails and boardwalks intended to increase public access to water.
Developing The Pine is the Realife Real Estate Group of Cleveland, led by Yaron Kandelker. The firm has been greatly expanding its real estate development activity in Greater Cleveland in recent years. That includes its largest proposed project to date, The Pearl with 185 apartments at the south end of Columbus Road where it intersects with West 25th Street in Tremont's Duck Island enclave.
While not as big, The Pine is certainly ambitious. It proposes to do what few projects in Cleveland have done in recent years — build a significant addition atop existing, historical buildings. In this case, a fourth floor is proposed to be added to a refurbished, three-story, 1865-built brick building at 1720 Columbus Rd. But that's not all.
Next door, a wooden structure at 1730 Columbus will be taken down and replaced with a four-story structure. And just south of that, the one-story brick building at 1736 Columbus that was renovated as offices for Fabo Architecture will have three stories built above it. The result is that the existing buildings, totaling 29,426 square feet, will grow to 55,342 square feet, according to conceptual plans submitted to the City Planning Commission for review and input tomorrow.
In those new, renovated and expanded buildings, 45 apartments are planned averaging 741 square feet each. The apartments are almost entirely one-bedroom units — 39 in all. There will also be a trio of two-bedroom units and three studios. On the ground floor will be three retail/commercial tenant spaces totaling 9,550 square feet.
Also on the first floor will be leasing offices and tenant amenities including three tenant offices, pet salon, lounge, mail room, package room, bicycle storage and two lobby entrances. One entrance is planned from Columbus and the other from Winter Street. On the fourth floor will be a fitness room and an outdoor amenity deck, plans show.
Based on the square footage, cost of the project is unlikely to exceed $15 million. The site is located in a federal Opportunity Zone, making it eligible for preferential tax incentives to attract private financing. Berardi + Partners, Inc. of Columbus is the project architect and the general contractor is Loomis Companies of Euclid. James Asimes, director of acquisitions, declined to comment publicly at this time on the development project. Jim Haviland, director of Flats Forward opened an e-mail from NEOtrans seeking comment but did not otherwise respond prior to publication of this article.
Cleveland City Council is considering whether to rezone Columbus Road Peninsula, like Scranton Peninsula to the east, with an urban form overlay that will make mixed-use developments like this easier to develop. Developers will no longer have to secure variances for secondary uses in a building. Also, parking requirements are less stringent in an urban form overlay district.
Based on the square footage of the proposed development and assuming the urban form overlay is passed, 12 residential parking spaces and five retail spaces are required for this development. Instead, plans submitted to the city show only five parking space provided on the property for vehicles — likely necessitating a parking variance from the Board of Zoning Appeals. On the other hand, there are numerous other on- and off-street parking options available nearby. And while just one bicycle parking space is required, plans for The Pine show 30 indoor bike parking spaces.
Part of the reason for the heavy emphasis on bicycle and lack of emphasis on parking is that the site is next to downtown and surrounded by all-purpose trails. Those include the Towpath Trail that was extended north to Canal Basin Park and Heritage Park I — now under construction just north of The Pine. In the opposite direction, the Red Line Greenway ends at the intersection of Columbus and Franklin roads below the Greater Cleveland Regional Transit Authority's Red Line rail transit line to the airport and University Circle.
The greenway also intersects at that location with the new Centennial Lake Link Trail that will soon connect to Whiskey Island once Irishtown Bend Park is built. Work on stabilizing the hill for the park is due to start next week, according to the official Twitter account for Irishtown Bend Park, managed by LandStudio. Meanwhile, the Cleveland Metroparks is expanding Rivergate Park, known by many as the site of Merwin's Wharf restaurant, the nearby skate park, tennis courts and new outdoor climbing wall by Lakewood's Nosotros Rock Climbing Gym.
Across Columbus from Rivergate Park is The Foundry rowing club. Behind it along, the Cuyahoga River is a narrow strip of publicly owned land. A couple of years ago, The Foundry received a state capital grant to develop a riverfront boardwalk on this strip in conjunction with mural artist Pat Perry of Detroit. LandStudio is developing a common design palette for railings, benches, paving materials and pedestrian light poles at all of these riverfront sites to visually connects the spaces.
Those improvements includes Heritage Park II which is on the other side of the river between the Center Street swing bridge that's currently being rebuilt and the Nautica complex. The design palette is being expanded to the Nautica complex for the upcoming renovation of Jacobs Pavilion.
The Pine is located in an historic district called Cleveland Centre, originally designed nearly 200 years ago to be a mixed residential and commercial area focused on a confluence of streets called Gravity Place. But by the late-1800s, the peninsula was dissected by numerous railroad tracks and rail facilities.
Realife acquired the property through an affiliate it created called Go Life Columbus OZ Project LLC last June from real estate broker Rico Pietro for $1.5 million. Pietro, a principal with Cushman & Wakefield, bought the site only four months earlier for $1 million, according to Cuyahoga County property records.
END