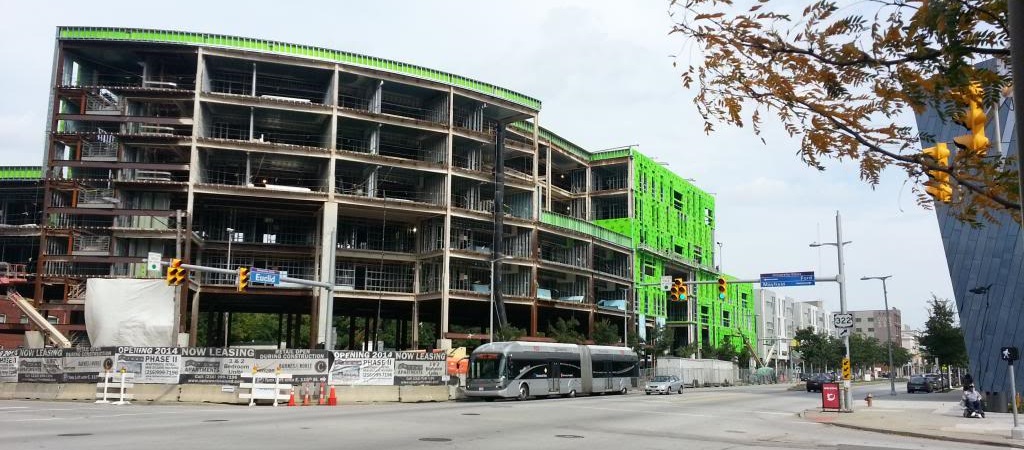 This may not be the last seven-story building constructed in University Circle's Uptown district. Another is planned behind the completed three-story first phase, to the left of the US Route "322" road sign. This was the scene in October 2013 at Euclid Avenue and Mayfield Road (KJP). CLICK IMAGES TO ENLARGE THEM.
MRN weighs possible Uptown expansion
UPDATED JUNE 21, 2022: MRN Ltd. Partner Ari Maron sent the following e-mail message to NEOtrans exactly five hours after this article was published: "As a result of your article we have withdrawn our application for this project. Please update your blog."
MRN Ltd., owner of the Uptown development it built on both sides of Euclid Avenue in Cleveland's University Circle, is weighing its first expansion of the mixed-use complex in eight years. That potential expansion, a seven-story apartment building, comes less than one month after the Cleveland-based developer put its existing Uptown property up for sale.
The preliminary plans became public record last week when they were submitted to the city's building department for a zoning review. The seven-story apartment building would be built behind what's called the Beach Building and has addresses 11435-11473 Euclid Ave. The existing Beach Building wraps around the northwest corner of East 115th Street on a 2-acre lot. Beach has three stories, was built in 2012 and measures 96,364 square feet. The proposed apartment building would measure 65,130 square feet — or nearly 76,000 square feet if counting the existing parking level on the ground floor.
However, that first level, including a small building lobby, would actually take away 22 parking spaces from the existing 83-space lot. The reason is the addition of structural supports for the overhead building. MRN's architect, SA Group, sought to minimize the loss of parking spaces by expanding landscape islands at the end of three rows of parking spaces. Also, the one-way eastbound parking area would be redesigned behind the Plum Market grocery store to accommodate structural supports for a pedestrian bridge from the third floor of the new building to the third floor of the existing Beach Building.
The existing parking lot including an adjacent, small parking garage, is seldom full. And considering that every apartment in the proposed building would be a one-bedroom unit, the housing will likely be marketed to area students. The Cleveland Institute of Music already has a master lease for 43 apartments in the 200-unit Uptown community for upperclassmen and graduate students.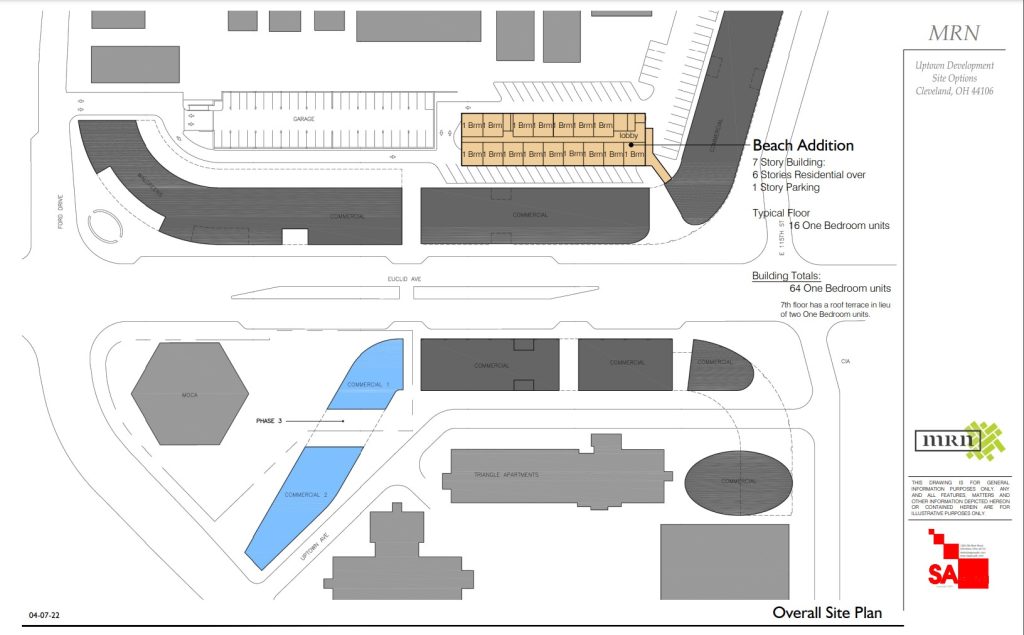 This conceptual site plan developed by SA Group for developer and owner MRN Ltd. shows two proposed additions to Uptown. The first is a seven-story apartment building on MRN-owned land and the later addition would be a "commercial" expansion by Case Western Reserve University where the giant "hand" sculpture is located (SA).
The institute has grown from about 100 students in the 1970s to nearly 400 today. Case Western Reserve University (CWRU) and the Cleveland Institute of Art are also growing institutions nearby that are in need of additional student housing. Since their classes, shopping and nightlife are within a short walk, bike ride or transit trip away, few potential tenants may have or use cars.
"(There's) nothing imminent as far as building," cautioned Ari Maron, a partner at MRN Ltd. "Just trying to find ways to add housing density but extremely preliminary."
It appears that the new apartment building will have about 94 units as there will be 16 one-bedroom apartments on each of the six floors above the parking level. Plans show each apartment would measure 529 square feet. The seventh floor has a rooftop terrace at the northwest corner in lieu of two of the apartments. However, the cover sheet of the presentation to the city says the building will have 64 apartments. Maron didn't clarify if that was a typo.
As proposed, the Beach Addition would require a variance from the city's Board of Zoning Appeals as the building's density exceeds that which is allowed by the zoning code. The part of the property where this proposed building would set is zoned as General Retail with an area district of "E" and a height district of three. What that means is that the building's proposed floor area square footage is two times more than the size of the land on which it would be built. But the area district E allows for a building with only 1.5 times more than the size of the land.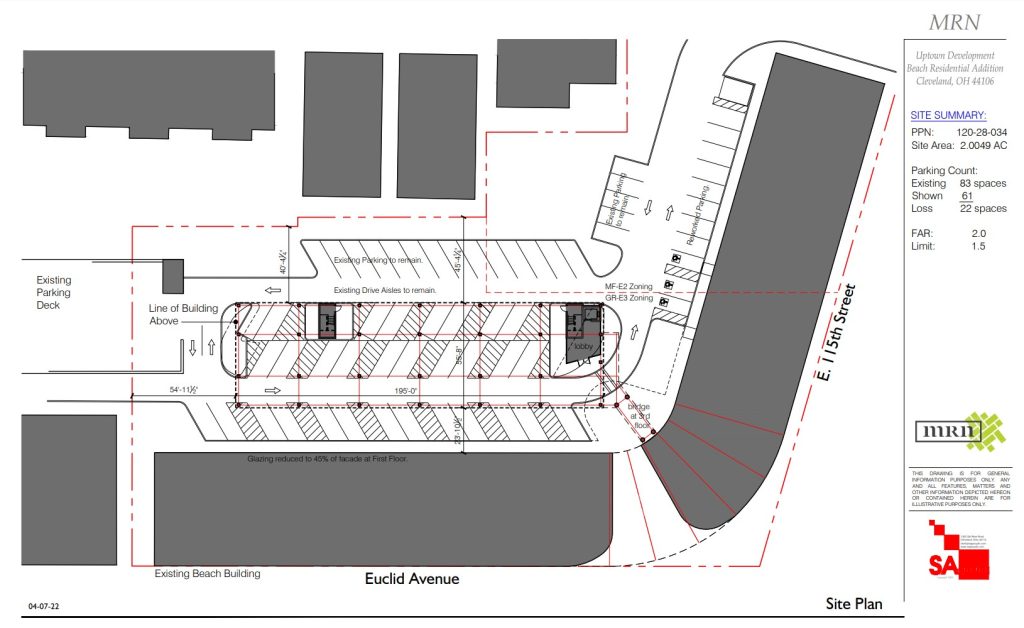 This preliminary ground-level plan shows the ground floor of the proposed apartment building addition to Uptown's existing Beach Building which has frontage on Euclid Avenue and East 115th Street. The plans identifies which parking spaces would be removed to accommodate structural supports for the new building above (SA).
Also, a seven-story residential building will likely be a little bit shorter than 80 feet tall — well under the 115-foot height district for the site. But if the new apartment building was shifted just a few feet farther north from Euclid Avenue and a little closer to the Hessler Street homes behind, it would edge into another zoning district. That would be a multi-family district albeit with the same area district of "E" but with a height district of only two which limits building heights to 60 feet. That would be too short to allow a seven-story residential building.
Little information was shared in MRN's filing with the city about another expansion of Uptown labeled a "third phase" because it would be done by another property owner — CWRU. It is shown as a proposed commercial building across Euclid and behind the Museum of Contemporary Art — the big black glassy angular prism at the southeast corner of Euclid and Mayfield Road. This expansion is proposed to rise on 1.285 acres of land owned by CWRU since 1988.
If comparable to the other portions of Uptown, this phase may also be a mixed-use building with ground-floor retail topped by a couple of floors of apartments. A similar, roughly 13,000-square-foot footprint of the structure was part of the original Uptown plan by Dimit Architects from 2010, with a pedestrian breezeway measuring about 2,000 square feet. If built as a three-story building, its approximate size would be 37,000 square feet.
"The phase 3 site doesn't belong to us," Maron acknowledged. "I don't believe CWRU had any plans to develop it."
E-mails were sent to several officials at University Circle Inc., including its President Gary Hanson, but there was no response prior to publication of this article.
MRN is selling its Uptown properties consisting of 4.2 acres and three buildings totaling 290,775 square feet with 200 apartments and 120,000-square-feet of retail. The property was appraised by the county in 2021 at $43,577,400 for tax purposes but Uptown was developed for about $70 million. The last section of Uptown built was in 2014 — a 7-story mixed-use structure at the northeast corner of Euclid and Mayfield. The sale includes the development site north of Euclid, according to propertysend.com.
The complex has a 21,421-square-foot retail void left by Barnes & Noble at 11451 Euclid Ave. but will be filled by a Planet Fitness franchise that is investing $1.7 million to retrofit the vacated space, city records show. The Barnes & Noble university bookstore relocated to a 4,608-square-foot space across the street at 11434 Uptown Ave. on the ground floor of the Triangle Tower II graduate housing complex.
Typically, a developer will sell off some of its existing properties to raise capital for new developments. And MRN has multiple developments in the works, in addition to those at Uptown. Its largest and perhaps its highest priority is the Carriage Works project in Cleveland's Ohio City neighborhood. MRN is also converting office space to residential at the New England Building, 629 Euclid Ave., downtown, which NEOtrans first reported on in March 2021. And a longer-range project is the development of land next to the Greater Cleveland Regional Transit Authority's Ohio City Red Line station.
END