This is the twenty-fourth edition of Seeds & Sprouts – Early intelligence on Cleveland-area real estate projects. Because these projects are very early in their process of development or just a long-range plan, a lot can and probably will change their final shape, use and outcome.
Masonic Hall renovations enter next phase
The 2,300-seat, 101-year-old Cleveland Masonic Auditorium, 3615 Euclid Ave., is about to enter a second phase of renovations. But a proposed 19-story hotel tower next door remains a distant, albeit alive proposal. Owner TempleLive Cleveland LLC, an affiliate of Beaty Capital Group of Fort Smith, AR, plans $3.5 million worth of mechanical, electrical and plumbing (MEP) renovations to the property it acquired in 2017, according to permit applications submitted this week to the city. Cleveland Construction is the general contractor.
"The proposed work is being submitted as a phased (Phase IIA) application for MEP upgrades for the auditorium," wrote Brandon Garrett, a principal at Bialosky Cleveland. "As part of this application, we are submitting work associated with the auditorium (Performance Arts Center) only. Additional MEP and building upgrades and alterations will be submitted as part of Phase IIB. Site modifications are not included as part of this application."
In 2019, Beaty Capital made for $8 million worth of renovations to the auditorium, which was home to the Cleveland Orchestra from 1921-31. Several years ago, Beaty officials said they planned another $10 million in improvements. Beaty bought and renovated several other Masonic halls nationwide. Cleveland's auditorium hosts comedy shows, podcasts plus hip-hop, rock, country, soul and electronic dance music concerts.
The $60 million Dream Hotel and 400-space parking deck is proposed to rise alongside the Masonic Temple as a full-service lifestyle venue with nightlife and restaurants, fitness center and 100,000 square feet of meeting and event space. But the project was delayed by the pandemic.
Another hotel project across Euclid in the 10-story University Hotel and Suites is also stalled. An affiliate of New York-based Crimson Rock Capital acquired the property in 2019 and wants to renovate the 57-year-old building into a 189-room Delta by Marriott hotel for $35 million. But the project failed to win $3.92 million in state historic tax credits last year. It will likely reapply this year.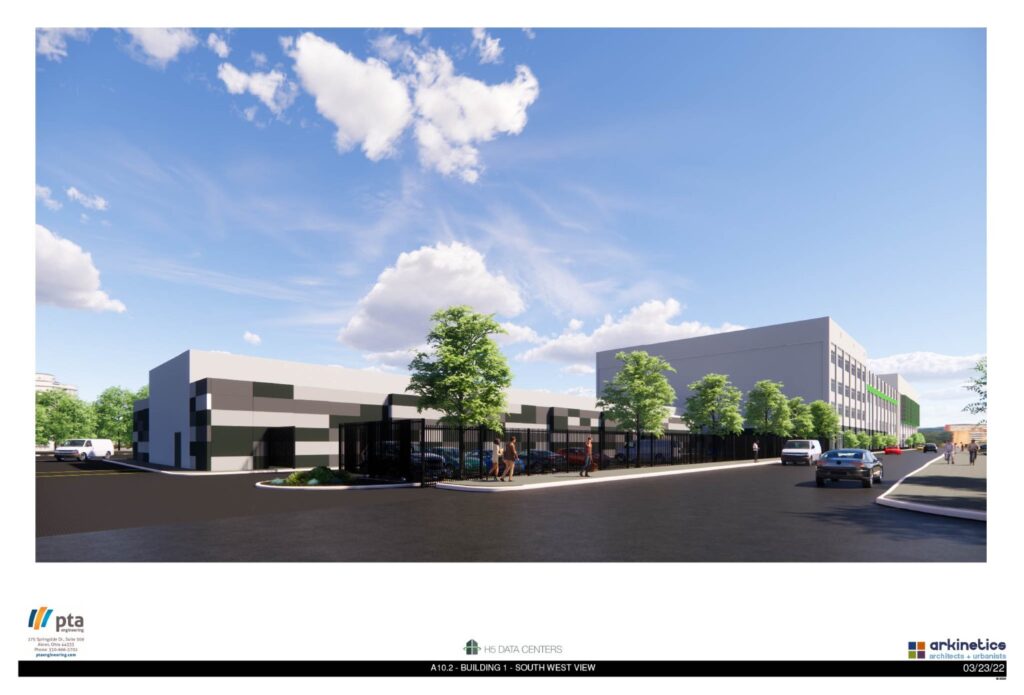 In addition to cosmetic and interior improvements to its existing buildings in the background, H5 Data Centers plans to add a new building in the foreground at left to accommodate electrical generators to ensure the continuous availability of electricity to the building's computer servers (Arkinetics).
Downtown's H5 Data Center to expand
A national company offering space for rent for computer servers and other hardware at 22 data centers in 20 cities plans to expand its already large downtown Cleveland facility. H5 Data Centers plans to construct a 20,574-square-foot addition to its connected, three-building complex at 1625 Rockwell Ave. The 351,000-square-foot data center will also be improved, according to conceptual plans approved by the City Planning Commission earlier this month.
Planned is a new electrical generator building on a parking lot at the west end of the property near East 13th Street, between Rockwell and Emerald Court. However about one third of the existing parking lot, west of the new building to East 13th, will remain, plans show. There will be three new generators at the outset, with room for up to nine, said Dale Grieder, architect and project manager at Cleveland-based Arkinetics Inc. to the commission May 6.
At the other end of the long property and abutting East 17th Street is H5 Data Centers' Building No. 4. On its façade, new mechanical louvers are planned as an angled, finished steel shroud. Inside the data center's easternmost building will be new heating, ventilating and air conditioning units, Grieder said. H5 Data Centers will be seeking final design approval from the planning commission as early as next month.
East 89th housing units offer classic design
We Rise Development LLC and City Architecture are joining forces to deliver to Cleveland's East Side 48 mixed-income housing units divided among 12 separate structures designed to look like traditional Cleveland homes. The structures, scattered among 30 lots on both sides of East 89th Street between Cedar and Quincy avenues, will offer a mix of apartments and for-sale houses.
The Fairfax neighborhood housing will be offered in two configurations — large- and small-site developments. Proposed in the large-site developments are 48 units in six, eight-unit buildings. There will be 24 townhomes, 24 flats and 48 off-street parking spaces. Each of these so-called large-site developments will have two buildings with 16 housing units total. With them will be eight garage parking spaces and eight uncovered spaces.
The 18 units in small-site developments will offer the for-sale units. There will be six, three-unit, for-sale homes with six main units and 12 studio units. The site plan shows 24 off-street parking spaces for the small-site developments with each of the six developments having four garage parking spaces.
We Rise Development was founded in February by Timothy Tramble Sr. who is president and chief executive officer of the Saint Luke's Foundation. He was appointed to lead the foundation in 2020 after serving for 20 years as executive director of Burton Bell Carr Development, Inc., a community development corporation on the city's southeast side.
Planet Fitness to exercise lease at Uptown
A huge retail void is about to be filled in the Uptown development on Euclid Avenue in Cleveland's University Circle. Planet Fitness will fill a 21,421-square-foot void left by Barnes & Noble at 11451 Euclid Ave. The university bookstore relocated to a 4,608-square-foot space across the street at 11434 Uptown Ave., formerly occupied by ABC the Tavern Uptown on the ground floor of the Triangle Tower II graduate housing complex.
Planet Fitness, one of the nation's largest fitness club franchises by number of members and locations, plans to spend $1.7 million to get its new Uptown space into shape, according to a permit application submitted to the city today by MJM Architects.
The scope of work includes interior demolition of the bookstore's furnishings and construction of structural slab infill, non-structural partition walls, interior finishes, plumbing, electrical and mechanical trades. No exterior or structural modifications will be made to the shell building, the filing shows.
In the University Circle area, Planet Fitness will compete with One to One Fitness, Orangetheory Fitness and Tremont Athletic Club. Housing developers anticipate that, with the growth of eds-and-meds jobs and student enrollments in University Circle, there is a demand for 10,000 housing units in the area over the next decade.
The nearest Planet Fitness locations are in Cleveland's Ohio City neighborhood and in suburban South Euclid. As of March 31 2021, Planet Fitness had more than 14.1 million members and 2,146 stores in 50 states, the District of Columbia, Puerto Rico, Canada, Panama, Mexico and Australia.
END