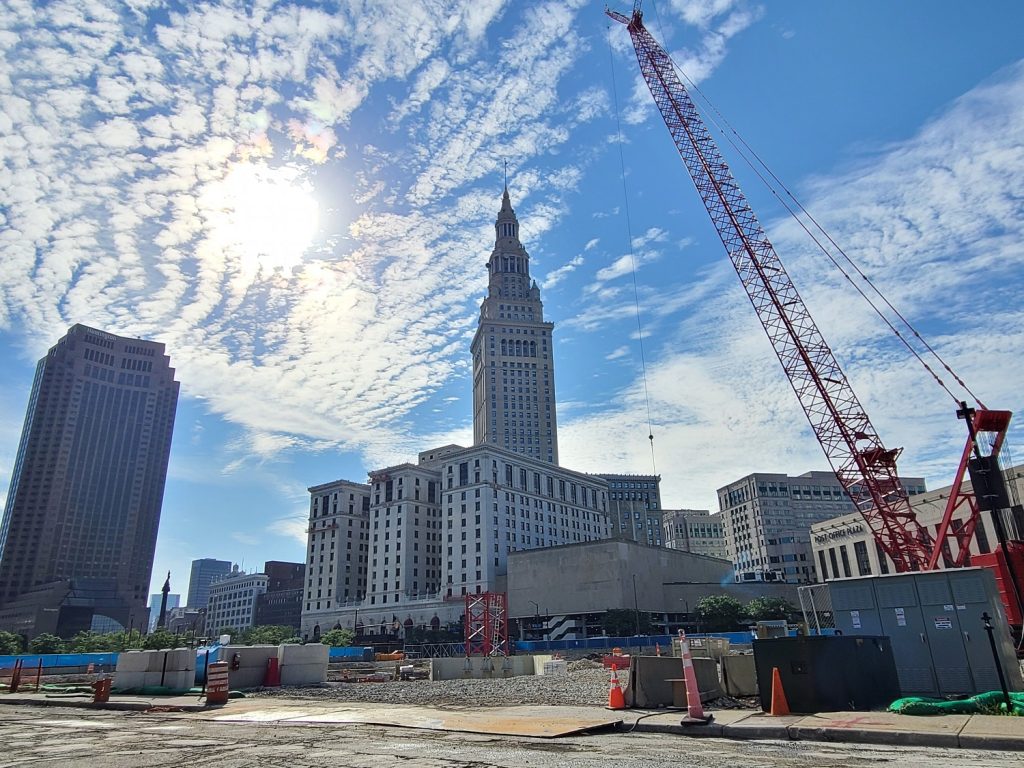 At the Sherwin-Williams' headquarters construction site, a mobile crane at right helps construct the base of the tower crane at center so the new skyscraper can grow to nearly as tall as the 658-foot-tall 200 Public Square at left. In the middle of it, the Grande Dame of Cleveland skyscrapers, Terminal Tower, watches over it all (KJP). CLICK IMAGES TO ENLARGE THEM
City Club's crane to follow 200+ truck concrete pour
ARTICLE UPDATED JULY 14, 2022
While work has started on installing the tower crane at Sherwin-Williams' (SHW) headquarters construction site, the timetable has been set for the next crane to rise in downtown Cleveland. That second crane will appear at the work site for the City Club Apartments near the end of August, according a spokesman for Cleveland Construction Inc. Tower cranes are considered by some to be a visual indicator of a city's economic growth.
In the meantime, there's going to be a quite a parade coming up this Saturday, July 16 — weather permitting. That's when hundreds of trucks will come down Euclid Avenue for a massive, all-day concrete pour to create the thick mat foundation for the 23-story-tall, 250-foot-high apartment tower at 776 Euclid Ave. Right now, it appears there's a small chance of rain for that day, with partly sunny skies and highs in the mid-80s. That's a bit warm for concrete to cure properly, but the morning low is expected to be in the mid-60s, which is ideal concrete pouring weather.
At least that's the plan right now, said Shawn Zbasnik, director of marketing for the project's construction management firm Cleveland Construction. The company is headquartered in suburban Mentor but has a downtown office less than a block away on Prospect Avenue.
"Right now, we are prepping for a monster 2,600-cubic-yard concrete mat foundation pour on Saturday, July 16," he said.
A wide-angle lens makes the rectangular frame for the City Club Apartments' concrete foundation appear curved. But that's how the entire foundation for the 23-story tower can fit into this photograph taken July 1 from the top of the 720 Euclid parking garage. The site is almost ready for a fleet of trucks to deliver its concrete foundation this Saturday (Shawn Hoefler).
The City of Cleveland issued a traffic notice that Euclid Avenue will be closed between East 6th Street and East 9th Street from Friday, July 15 at 11:00 p.m. until Saturday, July 16 at 4:30 p.m. for the mat foundation pour at the City Club Apartments. City officials said detour signs will be in place. Greater Cleveland Regional Transit Authority HealthLine buses on Euclid will also be detoured until 5 p.m. Saturday between Ontario Street and East 9th. Eastbound buses will be routed via Prospect Avenue while westbound buses will be detoured via Superior Avenue, according to an alert issued by the transit authority.
A cubic yard doesn't sound like much, but consider that when poured a foot thick, the concrete would cover an area 27 square feet, according to this concrete calculator. To supply that much concrete will require a steady stream of roughly 260 trucks, based on the industry standard concrete truck which can transport 10 cubic yards of concrete at a time. It's also a pricey pour. At average current concrete prices of $125 to $161 per cubic yard, this pour could cost $325,000 to $418,600. That's just for the concrete itself. To deliver that much concrete could cost anywhere from $20,800 to $75,400.
The concrete mat foundation is also called a floating slab as it sets atop the soil which, in downtown Cleveland, includes a 20- to 30-foot-thick layer of quicksand about 20 feet below the surface. The floating foundation supports the entire weight of the tower's superstructure. But if a tower exceeds 250 feet in height, depending on its square footage and other factors, the superstructure will be too heavy for a mat foundation. In that case, caissons need to be dug 200-plus feet down to bedrock below downtown to support a big building. That's what was done at the SHW's HQ site since last winter. In fact, 26 caissons were dug to support the weight of the 616-foot-tall, 1.14-million-square-foot skyscraper.
Zbasnik added that the tower crane for the roughly $100 million City Club Apartments is currently scheduled to be erected the weekend of Aug. 26. That date as well as the one for the concrete pour "are subject to change," he cautioned.
The apartment building is being developed by the suburban Detroit company City Club Apartments which bears no relation to the construction site's neighboring and historic City Club office building at 850 Euclid. The company has a Web site for its first Cleveland project, including a live construction cam. Planned are 304 apartments, rooftop Sky Park with pool and hot tub, ground-floor retail spaces along the sidewalk including a doggy daycare, coffee shop and a two-story restaurant with speakeasy that City Club Apartments Chairman and CEO Jonathan Holtzman described its design as "spectacular." Construction is due to be completed by summer 2023.
Meanwhile, pieces of the first tower crane are being set in place over at the SHW HQ construction site west of Public Square, including a concrete foundation and protective barriers around the foundation so construction vehicles don't accidentally hit the crane's tower or base. After reinforced caissons were dug to support the skyscraper's superstructure, a concrete mat was poured for the building's elevator/stairwell core. That core is due to start rising next month, said Julie Young, vice president of global corporate communications at SHW, in an e-mail last May to NEOtrans.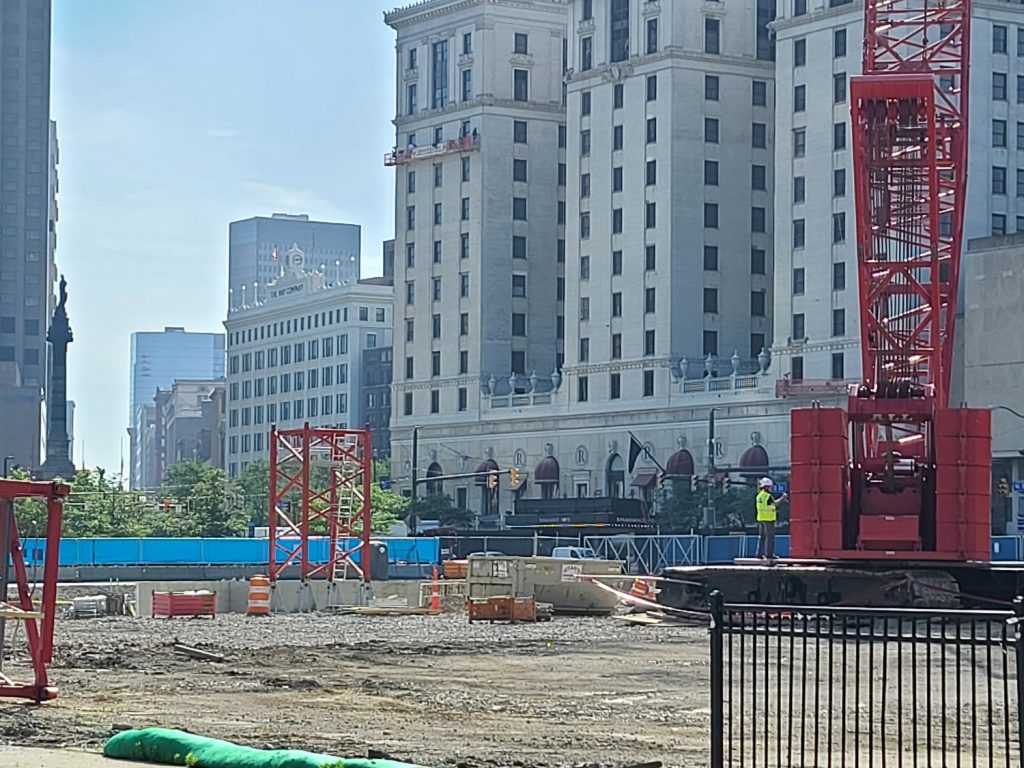 Last week, workers used a mobile crane to help set into place the base for the tower crane to build Sherwin-Williams' new headquarters tower. The base is to the left of the Renaissance Cleveland Hotel, beyond the construction site. The hotel itself is undergoing a major renovation as a result of the global headquarters about to rise here (KJP).
"As with all construction projects of this size, exact dates for activities can be a challenge," Young said.
In fact, at this point, construction of the tower crane is occurring slightly earlier than anticipated. Nearly two months ago, she expected that the tower crane would start rising in August. Although, only the base for the tower crane has been installed as of this writing. Work has yet to begin on the concrete flooring for the HQ's podium that will contain the building's lobby, loading dock and support functions. Plans show no basement will be constructed. The headquarters' construction cost will exceed $300 million.
Development team sources told NEOtrans the tower's steel skeleton should start to rise in November at the northwest corner of West Superior Avenue and West Third Street. Perhaps starting in 2023, construction of the 920-space parking garage just north of Frankfort Avenue and west of West 3rd will require the erection of the second tower crane at the SHW HQ site.
"There will be a second crane for the garage but its timing is yet to be confirmed," Young said.
The entire SHW HQ project is due to be completed at the end of 2024. A formal groundbreaking ceremony for SHW's HQ was held Dec. 15, 2021 — just five days after the groundbreaking ceremony for the City Club Apartments. More downtown construction projects are anticipated to be announced in the near future.
END