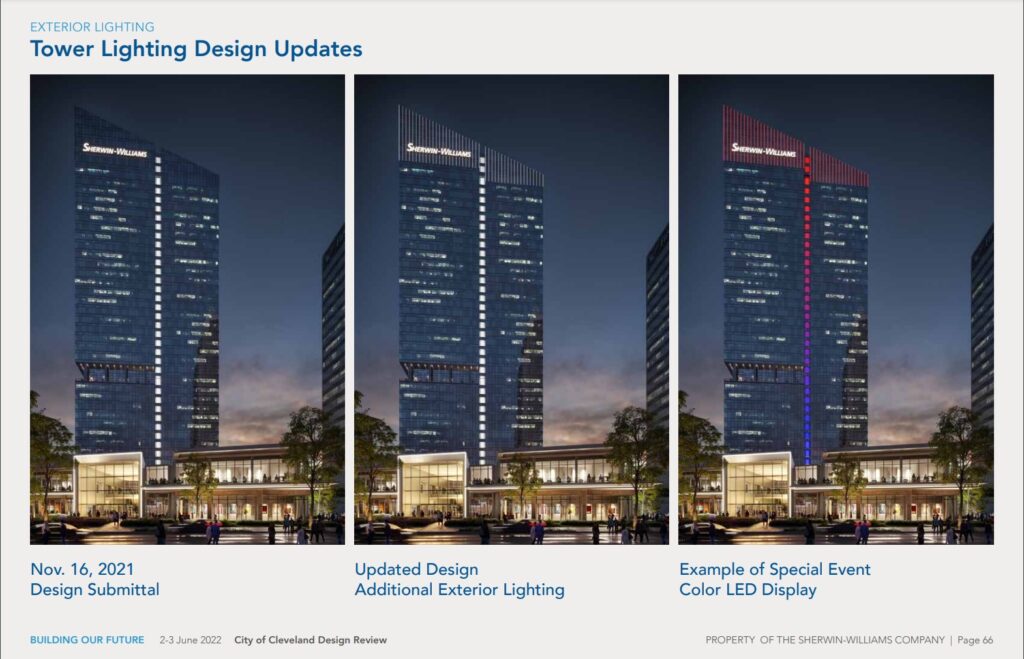 The original lighting plan for Sherwin-Williams' new headquarters tower is seen at far left, with two examples of how the tower could be routinely lit, middle, and during a special event such as Veterans Day. The biggest change is the vertical lighting feature at the top of the 616-foot-tall tower that will put its crown illumination on par with its skyscraping, Public Square neighbors (SHW). CLICK IMAGES TO ENLARGE THEM
Tower crane due to arrive in two months
Although the new Sherwin-Williams (SHW) headquarters has been under construction since Nov. 29, 2021, the only evidence of it that passersby could see are several mobile cranes making their way around the site. That's going to continue to be the case for another two months, according to SHW officials.
Vertical structures won't start rising until August at the future site of the 36-story, 616-foot-tall HQ of the global coatings giant, just west of Public Square in downtown Cleveland. According to sources on the project's development team, the vertical construction will start with the concrete core for the tower's elevators, stairwells and other infrastructure.
The first of two tower cranes to be erected onsite will arrive by August to work on the concrete core, the sources said. That was confirmed officially by Julie Young, vice president of global corporate communications at SHW, in an e-mail to NEOtrans.
"As with all construction projects of this size, exact dates for activities can be a challenge," she said. "What I can share is the tower crane is scheduled to start erection sometime in August."
For now, work continues on the HQ's foundation — namely 26 reinforced concrete caissons descending 200 feet down to bedrock. Caisson work is near to wrapping up, to be followed by concrete flooring for the HQ's podium that will contain the building's lobby, loading dock and support functions. Plans show no basement will be constructed. The project's construction cost will exceed $300 million.
Furthermore, development team sources said it probably won't be until November before we see the tower's steel skeleton to start to rise from the northwest corner of West Superior Avenue and West Third Street. The steel posts and girders will then chase the concrete core upward.
Once the steelwork starts, the vertical climb should be swift since each floor height will average about 16 feet, not including SHW's decorative crown. By comparison, the 57-story Key Tower averages 15.6 feet per floor (not including its crowning pyramid), the 45-story 200 Public Square 14.6 feet and the 40-story Erieview Tower 13.2 feet.
"There will be a second crane for the garage but its timing is yet to be confirmed," Young said.
Construction of the 920-space parking garage north of Frankfort Avenue as well as the pavilion/welcome center on Public Square will probably take about one year. Considering the entire project is due to be completed at the end of 2024, we may not see the second tower crane until 2023. However, SHW has said it wants the garage completed sooner rather than later so that construction workers will have a place to park nearby.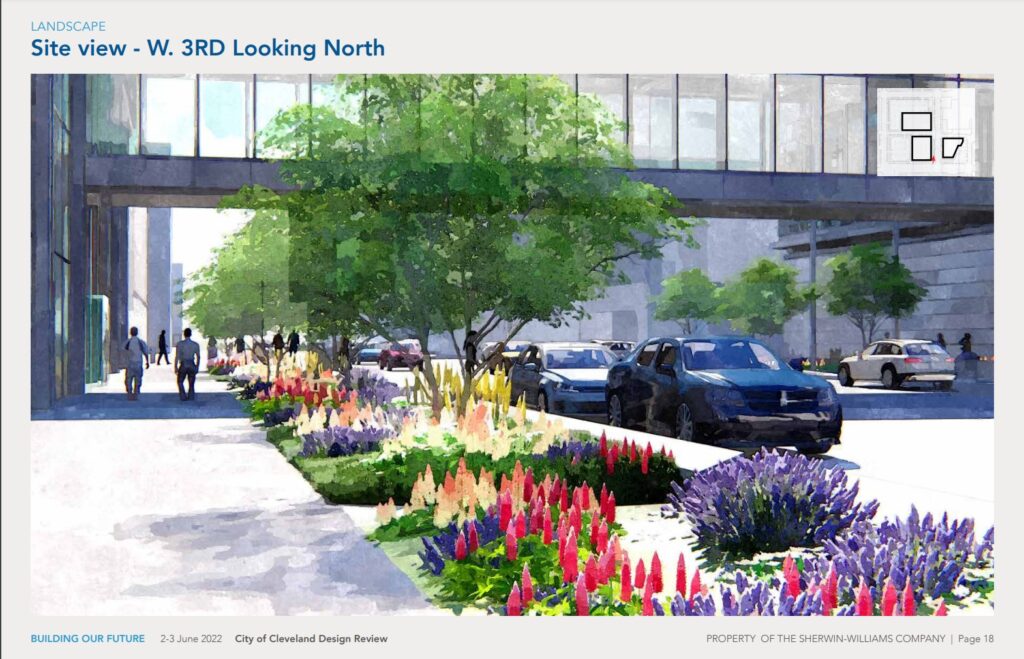 Looking north on West Third Street from near the front entrance to the headquarters tower, at left, ornamental trees and flower beds create a barrier between the sidewalk and street. Overhead is a walkway linking the headquarters and distant parking garage to the Public Square pavilion at right (SHW).
In one week, June 2-3, several city panels will meet with SHW in joint sessions to review the final touches to be added to the 1-million-square-foot HQ. The touches range from signage, landscaping, street-level enhancements and revised plans for lighting features at the top of what will be Cleveland's fourth-tallest skyscraper.
Additional presentation materials are available on SHW's Building Our Future site which also includes the company's new 600,000-square-foot research center now under construction in suburban Brecksville. NEOtrans gave a sneak peak nearly two weeks ago into some of the HQ's final touches. But the city has posted to its own Web site all of those refinements from SHW's presentation to the review panels so the public can view and comment on them to the city by e-mail.
"Sherwin-Williams will be submitting for final approval its updated project material on landscaping/site amenities, tower lighting and site signage," Young said in an earlier e-mail to NEOtrans. "These materials will be reviewed with the joint design review committee on June 2 and with the joint planning commission on June 3."
Frankfort Avenue, which is no longer a public right of way between West Third and West Sixth streets, will be used primarily as a vehicle staging area. But city planning officials urged Sherwin-Williams' design team to keep Frankfort open to pedestrians and to make it more inviting for them. Along the sidewalk will be an anthology wall with a collection of visual and text descriptions of nine Cleveland neighborhoods (SHW).
She also put to rest any rumors that SHW executives were reconsidering their approach to allowing public access, at least on a limited basis, to the Welcome Center and possibly even to a café or retailer on the ground floor of the HQ Tower.
"There has been no change in the company's approach to our headquarters campus and public access," Young said.
A formal groundbreaking ceremony for SHW's HQ was held Dec. 15, 2021. SHW held its research center groundbreaking ceremony Oct. 22, 2021. NEOtrans recently reported that SHW will sell to Detroit-based Bedrock Real Estate its existing research center, the Breen Technology Center at 601 Canal Rd. where SHW has had a presence since 1873. There is no word yet on the disposition of SHW's current HQ, the 900,000-square-foot Landmark Building, 101 W. Prospect Ave. downtown.
END