Construction workers and their vehicles showed up today for the first time at the construction site for one of the largest residential developments in the Buckeye-Woodhill neighborhood in decades. The site is across the street from a recently renovated rapid transit station and just uphill from the new Opportunity Corridor Boulevard (KJP). CLICK IMAGES TO ENLARGE THEM
Work starts 8+ months after groundbreaking
When the Porta-Potties show up at a new construction site, you know it's for real. In the 9500 block of Buckeye Road in Cleveland's Buckeye-Woodhill neighborhood, the construction equipment showed up today, too. They're there to be a part of building the $46.4 million Woodhill Station West development that will bring 120 apartments offering modern housing and on-site amenities mostly to residents of the aging Woodhill Homes public housing complex just north of here. However 30 of the apartments will be offered to anyone who meets income guidelines.
The groundbreaking ceremony for this development was held Oct. 29, 2021. But actual construction was delayed while financing was being finalized and the ownership of 12 properties totaling 2 acres were transferred to the Cuyahoga Metropolitan Housing Authority (CMHA). That finally happened on June 17. They were first transferred from a mix of owners including the Cleveland Metropolitan School District to the city last September, allowing the groundbreaking to go forward. But they had to be in CMHA's hands before construction could proceed. That was delayed by a changeover in city administrations, from outgoing Mayor Frank Jackson's to incoming Mayor Justin Bibb's.
In fact, nearly all of the property is either under CMHA's control or that of developer The Community Builders, Inc. of Boston to build an additional phase of development here — Woodhill Station East, offering additional apartments at the northeast corner of Buckeye and Woodhill Road. In May, The Community Builders acquired the corner property, measured at just under 1 acre, for $86,000 from Burten Bell Carr Development Inc. on behalf of the listed seller, the inactive Buckeye-Shaker Square Development Corp. There, 69 mixed-income apartments will be developed with a ground-floor retail and/or community at the street corner. Construction on that phase could start by next year.
This 120-unit apartment building at 9511 Buckeye, formerly the site of the Buckeye-Woodland Elementary School, is the first phase of the Buckeye-Woodhill Choice Neighborhoods Implementation that will provide temporary and long-term housing during the demolition and replacement of the 1939-built, 487-unit Woodhill Homes with 600 apartments at several scattered sites. Marous Brothers Construction is the general contractor for Woodhill Station West.
According to a project summary, Woodhill Station West will have 42 one-bedroom units, 62 two-bedroom apartments and 16 three-bedroom suites along with a 4,520-square-foot indoor community space as well as an outdoor garden and plaza. Of the 120 apartments, 90 will be for relocating existing Woodhill Homes residents, 18 are for those earning under 60 percent o the area's median income (AMI) and 12 apartments will be reserved for residents earning under 80 percent AMI. Buckeye-Woodhill's AMI is $18,185 whereas Cleveland's median household income in 2020 was $31,838, according to the Census.
This transit-oriented development has "station" in its name because it is located across Buckeye from the Greater Cleveland Regional Transit Authority's Buckeye-Woodhill Station for the light-rail Blue/Green lines between Shaker Heights and downtown Cleveland. That station was completely renovated in 2013 for $3.65 million. The housing development is also just uphill from the newly opened $300 million Opportunity Corridor Boulevard that has a dedicated biking/hiking path alongside it.
The recently renovated light-rail Buckeye-Woodhill Blue-Green lines station is across the street from the new Woodhill Station West development and influenced the addition of "station" in its name. Putting higher-density housing next to a transit station with frequent service improves residents' access to jobs, shopping, education and health care (KJP).
In 2021, the Department of Housing and Urban Development (HUD) awarded a $35 million Choice Neighborhoods Implementation Grant to CMHA and the City of Cleveland to support the Buckeye-Woodhill Transformation Plan. With the support of more than 200 collaborative and community partners, CMHA, the City of Cleveland and The Community Builders are leading the transformation and revitalization of Woodhill Homes and the surrounding Buckeye-Woodhill community. The Choice Neighborhood Implementation Grant ensures that equitable neighborhood development in Cleveland becomes a reality in a prime southeast Cleveland neighborhood.
Residents, stakeholders, and community leaders applauded the start of construction and neighborhood transformation. Momentum has been building since last fall's groundbreaking of Woodhill Station West. The event featured appearances from HUD Secretary Marcia Fudge and U.S. Senator Sherrod Brown, along with numerous other local dignitaries and residents.
"My administration is committed to investing in neighborhood revitalization and development of the areas of the city that have traditionally been neglected," stated Mayor Justin M. Bibb. "Improving the quality of life in our community is one step toward Cleveland becoming a safer, more equitable city for all residents."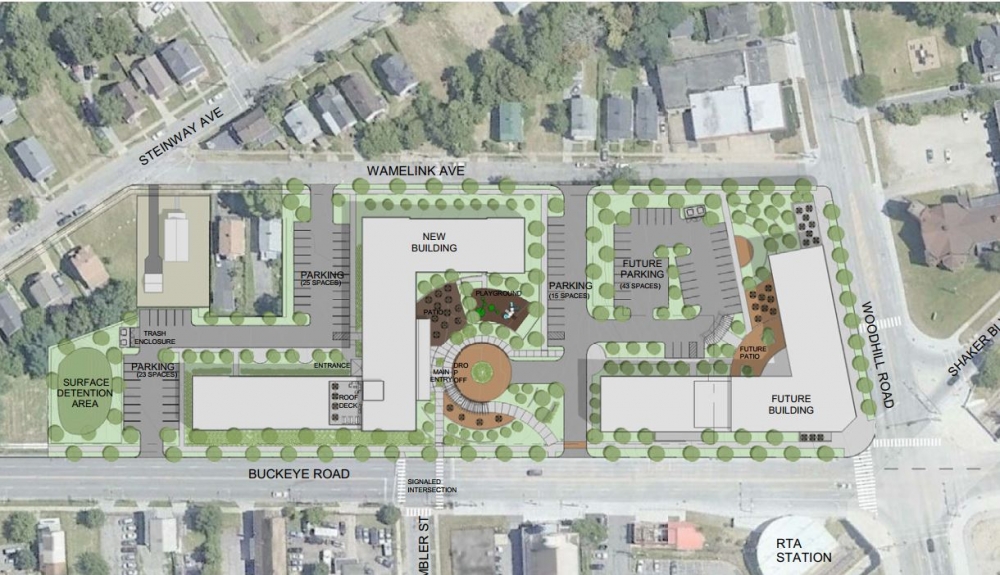 Woodhill Station West shown as "New Building" and Woodhill Station East shown as "Future Building" will add 189 subsidized, affordable and market-rate apartments over the next couple of years within a short walk of the Greater Cleveland Regional Transit Authority's Buckeye-Woodhill Station. The signaled intersection at Ambler Street is intended to calm traffic on the 35 mph Buckeye Road where cars regularly travel at 40-50 mph (CMHA).
"We are pleased to have officially closed this first phase of the project to begin the revitalization of the Woodhill neighborhood," said CMHA CEO Jeffery Patterson. "This step is monumental in bringing economic growth with new housing, streets, public space, and providing essential resources, programming and support to the families and residents in the neighborhood. We thank our partners, stakeholders and residents for their engagement and support to build a sustainable, thriving community for the individuals and families we serve as well as the surrounding neighborhood."
Council President and Ward 6 Councilman Blaine Griffin, a Buckeye resident and staunch advocate for neighborhood revitalization, said "With construction underway for the first phase, this entire project will transform a neighborhood, a community that had been left behind. The impact on the neighborhood and the residents cannot be denied." Ward 4 Councilwoman Deborah Gray, commented, "This construction, this development, is why I ran for council. This will greatly improve and impact the residents in the neighborhood, and I am committed to ensuring every neighborhood in Ward 4 sees economic and quality of life investments and improvements."
Cleveland City Council passed several pieces of legislation in the past few years to help ensure the Woodhill development could move forward.
"Today marks another milestone in the Woodhill Choice Neighborhoods redevelopment as Woodhill Station West breaks ground, paving the way for 120 Cleveland families to move into new quality affordable homes," said Jeff Beam, regional vice president of The Community Builders. "On behalf of our organization, I extend my deepest thanks and a well-earned congratulations to the many partners and leaders who made this development possible, including the CMHA, the City of Cleveland, Council President Blaine Griffin, (Ward 4) Councilwoman Deborah Gray, our funders and most especially the residents of Woodhill."
END