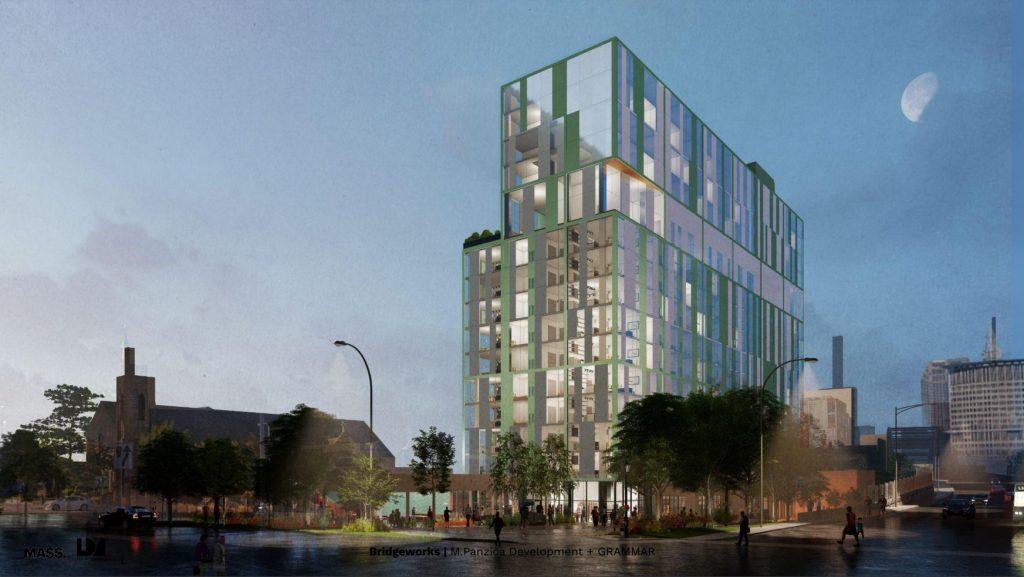 A departure from past renditions, Bridgeworks' glassy exterior and use of colors intends to brighten up the west end of the Detroit-Superior Bridge. Downtown Cleveland is visible in the background of this mixed residential, hotel and retail development. An 11th-floor restaurant with an outdoor patio view of Lake Erie is planned (Mass/LDA). CLICK IMAGES TO ENLARGE THEM.
TMUD announcement due in a few weeks
Final design of a 15-story mixed-use tower that's proposed to be built at the west end of the Detroit-Superior Bridge was narrowly approved today by Cleveland's Landmarks Commission. But whether the project actually gets built reportedly will depend on whether the project, called Bridgeworks, will win a "megaprojects" tax credit from the state in a few weeks.
Bridgeworks LLC, a partnership comprised of M Panzica Development and Grammar Properties, plans to build the 162-foot-tall, $60+ million tower in the Hingetown section of Ohio City, at the northeast corner of West 25th Street and the Detroit-Superior Bridge. The building is designed to be brighter in color than past versions by using Sherwin Williams' Parisian Patina-colored aluminum wall panels and reflective window walls. And it is proposed to have 130 hotel rooms managed by an undisclosed hotelier, 140 market-rate apartments, an 11th floor restaurant, ground-floor retail, plus outdoor plazas.
That design and programming was approved in May by the city's Design Review Committee and included a conditional approval of demolishing the existing, former Cuyahoga County Engineer's offices, laboratory and garage on the 2.5-acre site at 2429 Superior Viaduct. The condition was that the Landmarks Commission also had to approve it since Bridgeworks is proposed to be built in an historic district. A protective fence was set up around the site last spring even though the developers said they couldn't demolish the Engineer's structures until at least October when construction was nearer to starting. A hearing before Landmarks was desired by the developers last June. Now that Landmarks has approved it, demolition can proceed.
But construction of Bridgeworks cannot move forward until the developers learn whether its request for $9,299,608.90 in Transformational Mixed Use Development (TMUD) tax credits are approved. That request was submitted to the Ohio Department of Development last June to meet the department's July 8 deadline. To be eligible for a TMUD credit, a major city development must meet several minimum requirements — represent an investment of at least $50 million and be either 350,000 square feet in mass or 15 stories in height. While Bridgeworks' 289,429 square feet is too small, per its building permit application to the city, its 15 stories allows Bridgeworks to compete for subsidies from the state's megaprojects program.
Bridgeworks' principal Michael Panzica said he is expecting to hear a public announcement from the state on the TMUD awards in mid-October. When asked if the timing of today's Landmarks hearing had anything to do with some insights on whether Bridgeworks might win this time, Panzica replied "No awards have been announced yet."
Last year, in the first of four $100 million annual offerings of TMUD credits, Bridgeworks sought $7.94 million. After the state declined to support the project, the building's height was reduced to save money and a more robust offering of public realm amenities at a plaza at West 25th and Detroit-Superior was included. However, Bridgeworks retained the same number of apartments, hotel rooms and square footage but in a slightly wider structure.
To receive a building permit, the project will also have to receive a variance from the Board of Zoning Appeals, according to a notice of non-conformance issued July 25 by the city's Department of Building and Housing. Per the notice, Bridgeworks' proposed setbacks would exceed the zoning code's minimums of 6 feet on secondary streets and 8 feet on primary streets. Also its building frontage on area streets is too small and 269 accessory off-street parking spaces are required, whereas only 200 spaces in a new garage are proposed.
Landmarks approval was not requested today for the parking garage plus landscaping and signage but will be part of a future request, said Steve Jennings, senior principal at LDA Architects Inc. of Cleveland, one of two firms hired by the developers to design Bridgeworks. The other was MASS Design Group of Boston whose senior associate, Jonathan Evans, presented the project at today's hearing.
"The public realm amenities are designed to stitch together the neighborhoods in the area," Evans said. "We're taking a lot effort to make sure we're inviting in the approach to the site and preserve visual access to the (St. Malachi) Church and the (Superior) Viaduct. It shows how we're trying to understand and leverage the history of the site and plug into that in a meaningful way."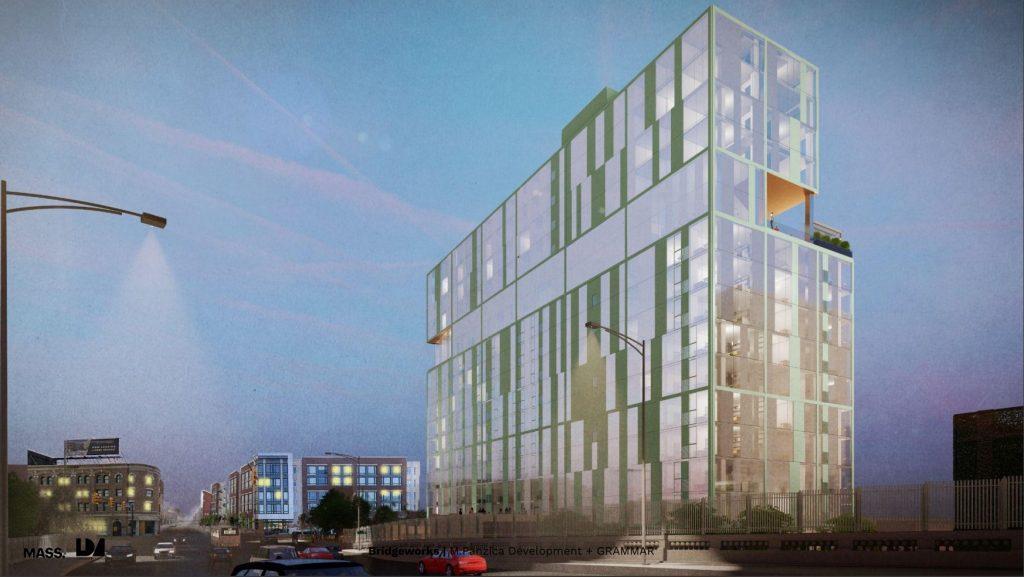 Looking west from near the middle of the Detroit-Superior Bridge towards the Hingetown section of Cleveland's Ohio City neighborhood. Bridgeworks' reflective window walls and colored aluminum panels are intended to brighten up this gateway to Ohio City which currently suffers by being flanked by abandoned buildings (Mass/LDA).
Landmarks Commission Chair Julie Trott said she "admires the handsome design" of Bridgeworks but said she doesn't like the structure's height on this site. That viewpoint was shared by fellow commission member Michele Anderson who, while liking the building's brighter color, said "the overall height is not appropriate for the site." They were the only two Landmarks Commission members to vote against Bridgeworks' plan.
"The prospect of exchanging the county facility for this incredible structure is a very positive exchange," said commission member Bob Strickland. "I've always been thrilled with the design. I think this building is the perfect transition from the high rises downtown on the east side of the bridge and then coming west into Ohio City."
"The public access and connectivity should be commended," said supportive member Tony Brancatelli, referring to Bridgeworks' proposed public realm improvements. "This is really an amazing project and I'm looking forward to the groundbreaking."
Landmarks Commission member Allan Dreyer also voted yes but did not otherwise comment on the project while Raymond Tarasuck, Jr. recused himself without stating for the record why. Vice Chair Giancarlo Calicchia, Carter Edman, Jonathan Bonezzi and Joyce Huang, director of City Planning, were not present at the time of the vote. Bridgeworks was the last item on a relatively light agenda for the meeting which took three hours to complete.
END
Our latest Greater Cleveland development news