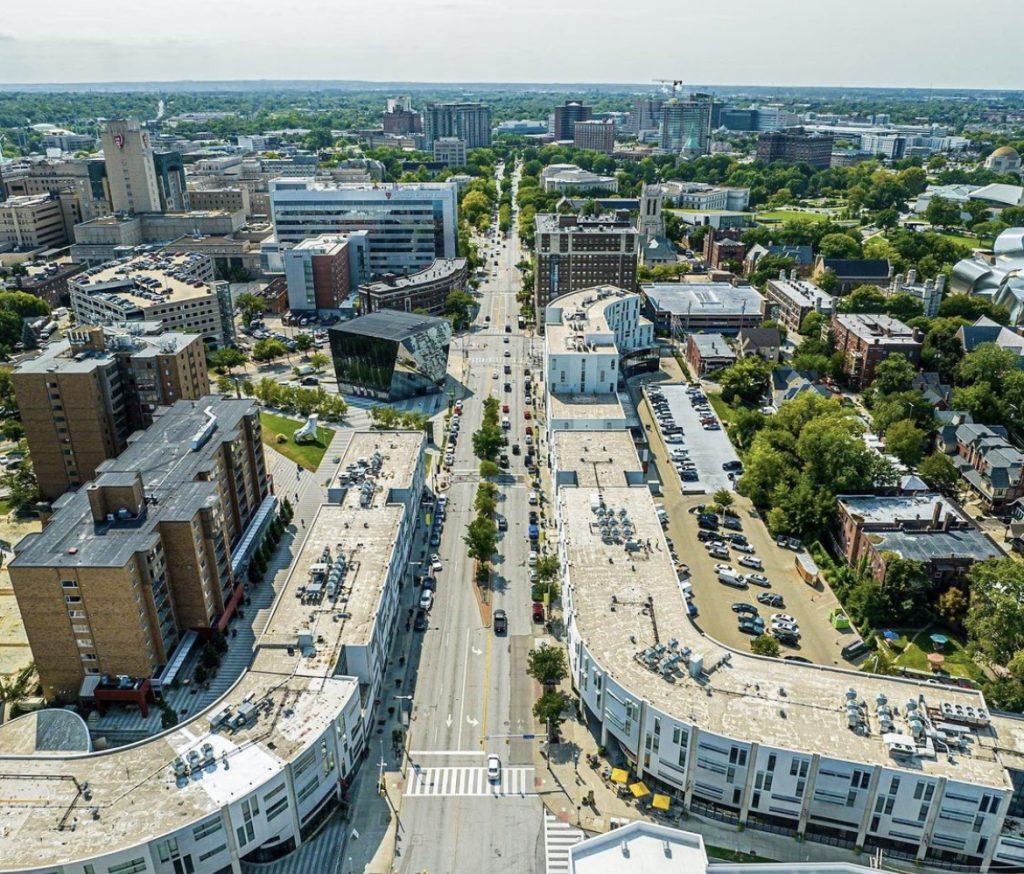 The increased density of University Circle is evident in this view above Uptown along Euclid Avenue at East 115th Street. At left is University Hospitals, the region's second largest employer. Just beyond is Case Western Reserve University which is Greater Cleveland's largest employer among institutions of higher learning. And in the background is Northeast Ohio's largest employer, the Cleveland Clinic. Downtown Cleveland is out of view to the right in this southwest-looking view, (Lance Aerial Media/UCI). CLICK IMAGES TO ENLARGE THEM
Downtown Cleveland's top spot threatened
ARTICLE UPDATED SEPT. 21, 2022
For the first time in 200 years, Downtown Cleveland is at risk of losing its position as the region's top employment hub. And in so doing, it would also no longer be Ohio's top job hub, too. Downtown Cleveland has held the region's top ranking since the days before the Ohio Canal opened for business in 1832, making downtown Cleveland the state's reigning economic powerhouse.
But within the region, downtown's pre-eminent standing arrived more than a decade earlier. It began in 1809 when Cleveland was named the seat of Cuyahoga County due it being a port of entry on Lake Erie. That wasn't an easy decision, however. There was a competitor on the near-east side that was actually more populous and economically productive. That place was Newburgh Township. Centered around Mill Creek in what is today's Slavic Village, it had fresh water, fertile farmland, sawmills, grist mills and other industry as early as 1799 whereas Cleveland had only one family (led by Lorenzo Carter), one business (Carter's tavern) yet lots of swamps, mosquitos and malaria that discouraged settlement. It wasn't until 1823 when Newburgh Township was absorbed by Cleveland Township and the arrival of the Ohio Canal changed everything.
Now there's a new competitor on the near-east side that's threatening to usurp downtown Cleveland's reign as the region's jobs hub — University Circle. And actually, University Circle was a prosperous hub called Doan's Corners at Euclid Avenue and East 105th Street at the turn of the 18th century, long before Cleveland annexed it in 1872. It earned the tag as Cleveland's "Second Downtown" in the 1920s as multiple apartment and commercial buildings, theaters, stores and restaurants made it a bustling urban node. But it fell on hard times in the 1960s and 70s as white flight, overcrowding in nearby Hough, Cleveland Clinic-induced urban renewal and suburbanization caused residents, theaters, shops and businesses to move out.
But University Circle never lost its culture — among them the Cleveland Museum of Art, Cleveland Orchestra, Cleveland Museum of Natural History, Western Reserve Historical Society plus its institutes of higher learning including Case Western Reserve University (CWRU), Cleveland Institute of Art and Cleveland Institute of Music. Those anchors made it mostly a place to visit, to pass through and for a small number of students to live. That is, until the back-to-the-city movement of the late 20th century finally found its way to Cleveland in the early 21st century.
University Circle has regained the title as Cleveland's "Second Downtown" with many new mid- and high-rise buildings built, underway or planned. But as the Cleveland Clinic, University Hospitals, CWRU and other institutions and their business spin-offs have added thousands of jobs and attracted many residents, it may soon overtake downtown Cleveland in the number of jobs and, possibly in terms of residents, too.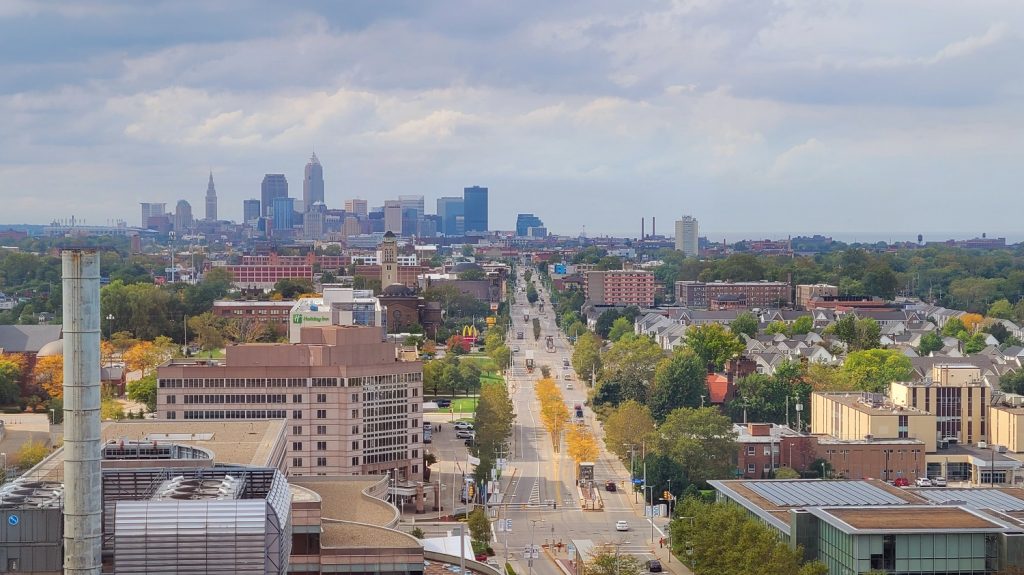 From the Cleveland Clinic's Main Campus, Downtown Cleveland looms several miles away to the west. While downtown has gained thousands of residential units in the last decade, it has lost nearly 30 percent of its leasable office space. What remains is only about two-thirds full on any given day due to remote working (Iryna Tkachenko).
Consider that University Circle has 82,611 direct and indirect jobs according to the Cuyahoga County Planning Commission. Becky Voldrich, senior director of communications and events at University Circle Inc. (UCI), said the numbers are accurate but can vary depending on what is considered University Circle. And, in fact, the numbers may be too small because they are old.
"The numbers provided are proximate to the numbers UCI has from census data and a commissioned study," Voldrich said. "That 2010 study found that the economic activities of Greater University Circle support 82,611 direct and indirect jobs in Cuyahoga County. This number includes portions of neighborhoods beyond University Circle, including the Cleveland Clinic."
Those numbers are expected to grow by at least 10,000 workers in the coming years thanks to $1.3 billion worth of investments in adding 1.6 million square feet of new facilities at the Cleveland Clinic. Plus CWRU plans a new 250,000-square-foot research facility as part of the Cleveland Innovation District investment coming from the state of Ohio and other partners. More new job-producing investments are planned.
There is a footnote to acknowledge here, however. Most of Cleveland Clinic's Main Campus is actually in the Fairfax neighborhood. And the "indirect" jobs can also be considered as any job in the county that is supported by economic activities in or near University Circle. Cleveland Clinic is Northeast Ohio's largest employer with more than 40,000 of its 56,000 jobs located at its Main Campus. And, unlike offices in downtown, few of its jobs can be worked remotely.
But it is notable that Northeast Ohio's two largest employers have most of their workers based in Greater University Circle. The region's second-largest employer, University Hospitals, has roughly half of its 26,000 employees at its University Circle campus, according to several business databases. Additionally, CWRU has nearly 4,000 employees — more than double that of Cleveland State University in downtown Cleveland, each institution says.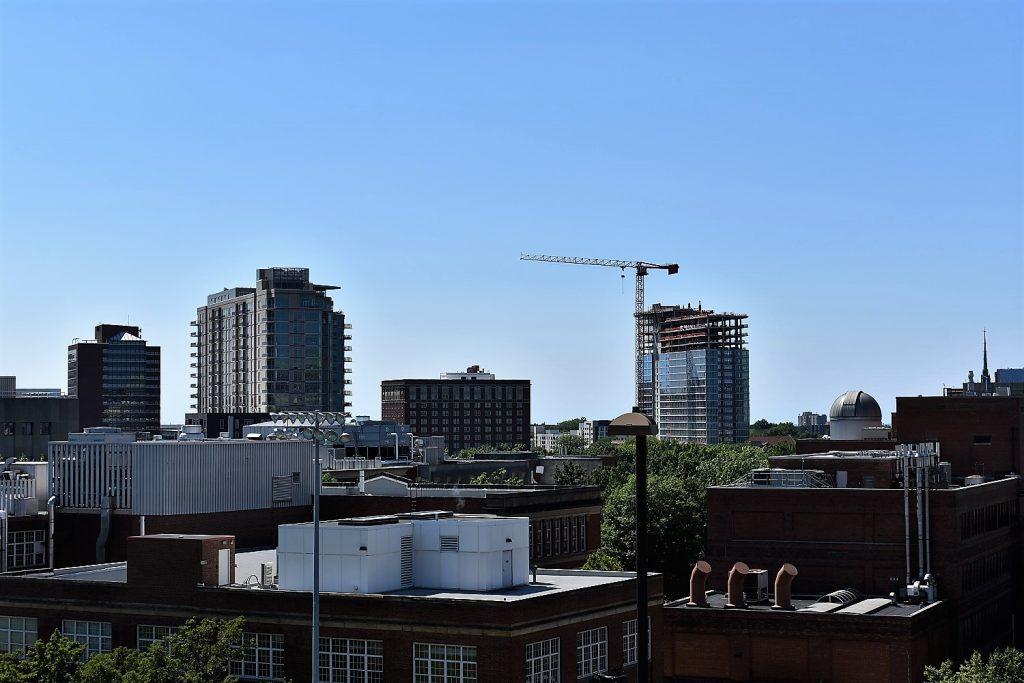 University Circle's skyline has been significantly enhanced in recent years. From 1986 to 2018, the Cleveland Clinic's 16-story Walker Center at far left was the district's tallest. That was eclipsed in 2018 by the 20-story One University Circle apartments to the right of it. And just four year later, there is a new height king — the 24-story Artisan Apartments that is still being attended to by its construction crane (NorthShore647/UrbanOhio).
The Downtown Cleveland Alliance reports that there is about 100,000 people working in the central business district, most of them in offices. But the community development corporation has been citing that figure for many years, even as downtown has seen its amount of leasable office space drop by nearly one-third from 23.7 million square feet in 2013 to 16.7 million square feet in the second quarter of 2022. That hasn't significantly tightened up the remaining office vacancy rates, according to data shared with NEOtrans by Terry Coyne, vice chairman of real estate brokerage Newmark Cleveland. Most of that loss of space was in older office buildings that were converted to residential, hotel and other uses, he said.
At the August meeting of the Commercial Real Estate Development Association – Northern Ohio Chapter, Coyne urged the city to adopt incentives to attract more employers downtown and spur new office construction, saying that office workers produce more tax benefits to the city than incentives to add more residential. He told NEOtrans he hasn't recommended a specific incentive yet and hadn't pitched the idea to city officials or the Greater Cleveland Partnership, the region's chamber of commerce.
Furthermore, downtown won't achieve a meaningful net increase in office space when Sherwin-Williams' new 1.2-million-square-foot headquarters opens in late-2024. The reason? It will be vacating its 92-year-old, 900,000-square-foot HQ on Prospect Avenue, much of which will likely be converted to residential at some point in the near future. And the global coatings giant will also be closing its 140,000-square-foot Breen Technology Center on Canal Road downtown and relocating employees to suburban Brecksville. But downtown will be trading with Brecksville, which is losing CrossCountry Mortgage's headquarters next year to an existing 168,000-square-foot building in the Superior Arts District on the east edge of downtown.
Even if we are to take the Downtown Cleveland Alliance's 100,000 employment figure as gospel, many of those workers have not returned to the office since the pandemic began in 2020. Indeed many are still working remotely from home. In its most recent Downtown Cleveland Retail Profile the Alliance shared with NEOtrans, the Alliance reports that "Even with the rise of remote work, downtown employers are doubling down on office spaces, and over 60 percent of workers are in the office on any given day."
That 60 percent figure doesn't mean there's 60,000 people working downtown since there are more than just office workers in the central business district. There's also thousands of people working in restaurants, hotels, stores, sporting and tourist venues, to name a few. But how many? The Downtown Cleveland Alliance doesn't know for certain.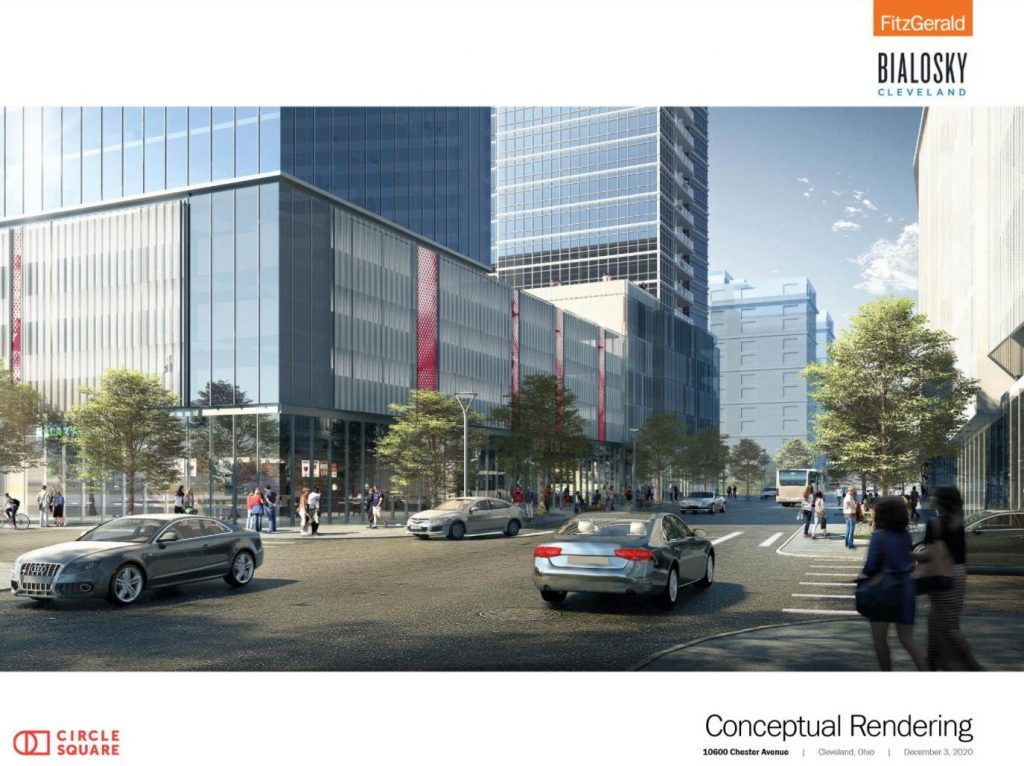 Although just a rendering for now, this is what the massive Circle Square development promises in the coming years — a downtown-like setting bounded by Euclid and Chester avenues, plus East 105th Street and Stokes Boulevard. Two high-rises in this development are already under construction — the Artisan Apartments and Library Lofts (MDP).
"Currently it (non-office workforce data) does not exist as it is difficult to track," said Heather Holmes Dillard, executive vice president of external affairs at the Alliance.
There are clearly many thousands of non-office workers. So even if there was 100,000 downtown workers before the pandemic, they aren't there now with remote working and the decline in downtown's total leasable office space to 70 percent of the 2013 inventory. The Downtown Cleveland Alliance said it is expecting 80 percent of office workers to eventually return to the central business district.
Visually, Downtown Cleveland appears to have more pedestrian and vehicular traffic on days when the Cleveland Browns have home games than it does on weekdays. In 2021, the Browns averaged 67,431 people per regular season game at First Energy Stadium. If downtown's streets seem quiet during the workday, they tend to come alive after 5 p.m. when many of downtown's 20,000 residents return home from workplaces located throughout the metro area.
And let's compare residential data, too. One could debate which district has more people living in it, even if they aren't full-time residents. While some doubt that downtown has 20,000 residents, it appears to be a solid figure based on Census tracts. And if downtown has more residents, it may not be the case for long as University Circle is growing faster and narrowing the gap. Voldrich said Greater University Circle has 9,620 residents.
"The residential population number cited is proximate, depending on how the boundary of University Circle is defined," she said.
That doesn't take into account University Circle's three principal institutions of higher learning — CWRU, Cleveland Institute of Art and Cleveland Institute of Music. Among them in total are about 13,000 students. Many of them are living on or next to campus, according to each institution but not all of them count as residents as some students are legally residents in other cities, states or countries. But it isn't known how many are living in Greater University Circle. If it is half, the district has a ways to go to catch up to downtown. If is three-fourths, or 9,750, then University Circle may have almost as many people living in it as downtown. CWRU continues to add to its dormitory offerings.
In downtown, Cleveland State University is still mostly a commuter school. Out-of-town enrollment at Cleveland State University has been growing for years, with total enrollment at about 16,000. There are at least 2,200 students living in residence halls and off-campus housing downtown. There were hopes that the university's campus masterplan process would have provided a clearer direction by now on how and where to add more student residents to downtown, but the masterplan has been delayed by the sudden departure of Harlan Sands as university president.
Demand for housing downtown continues unabated, with a projected need for another 10,000 housing units there by 2030, the Downtown Cleveland Alliance says, citing a housing study it commissioned. As old, obsolete downtown office buildings become more scarce for conversion to housing, more new-construction residential buildings are coming, like Ohio's tallest residential tower — the 34-story Lumen Apartments that opened in 2020 in Playhouse Square. A similar potential for growth exists in University Circle. According to local developers, there's demand for up to 10,000 housing units. The district's tallest building, the 24-story Artisan Apartments, is due to open next year. It recently took the crown of University Circle's tallest from the 20-story One University Circle that opened a couple of blocks away in 2018.
Those and other developments are part of the reason why Downtown Cleveland is no longer the region's undisputed top job hub, and may not be the state's top hub for long either. If it's not happening now, then in the near future a new king may be crowned for the first time in 200 years. A little friendly competition can be a good thing for the region.
END
Our latest Greater Cleveland development news