Amtrak's new Airo trains could show up on new services converging at a passenger rail mini-hub in downtown Cleveland. That will depend on whether the Federal Railroad Administration will award planning money to the Ohio Department of Transportation and the Northeast Ohio Areawide Coordinating Agency to measure the costs and benefits of various service levels along those routes (Amtrak). CLICK IMAGES TO ENLARGE THEM
Cleveland Amtrak mini-hub sought
While Gov. Mike DeWine made the big news this week about Ohio seeking federal money to plan for and pursue Amtrak passenger rail expansion on two Cleveland-based routes, those aren't the only routes that will be pursued. The Northeast Ohio Areawide Coordinating Agency (NOACA) also confirmed today that it will be seeking funds for similar plans but for several other routes ending in Cleveland. If realized, the services that could result from those expansions would turn downtown Cleveland into a mini-hub for Amtrak.
The state has identified two corridors to advance for consideration: Cleveland-Columbus-Dayton-Cincinnati (3C&D) and Cleveland-Toledo-Detroit. They were favored because each would link at least one pair of the largest metro areas within of Ohio. But NOACA said it will also seek funding for the first phase of planning for expanding service on three existing Amtrak routes from Cleveland that connect to major cities outside of Ohio. One route is to Pittsburgh where it splits for Washington DC and to Philadelphia and New York City. Another route is to Buffalo, Rochester, Albany and New York City plus a third to South Bend and Chicago via Toledo, said Danielle Render, NOACA's director of public affairs.
"NOACA believes the most efficient use of taxpayer dollars is to first improve existing east-west rail service through Cleveland, in order to showcase the economic and environmental benefits of improved rail service, and lay the groundwork for creating new rail corridors, like the 3C&D route. The agency will continue to collaborate with local, regional, state and federal partners to create affordable, convenient, environmentally sound, and equitable transportation options for all Northeast Ohioans," NOACA Executive Director and CEO Grace Gallucci said in an e-mail to NEOtrans.
"Taken together, these rail corridor improvements will establish Cleveland as a significant hub on the nation's passenger rail network – with convenient service east to Buffalo, Toronto, Pittsburgh, Philadelphia, NYC, and DC; west to Chicago and beyond; and south to Columbus, Dayton, and Cincinnati. Improving rail service through Northeast Ohio will also enhance freight capacity to and from Cleveland, providing ground shipping opportunities for the Port of Cleveland and others," Gallucci added.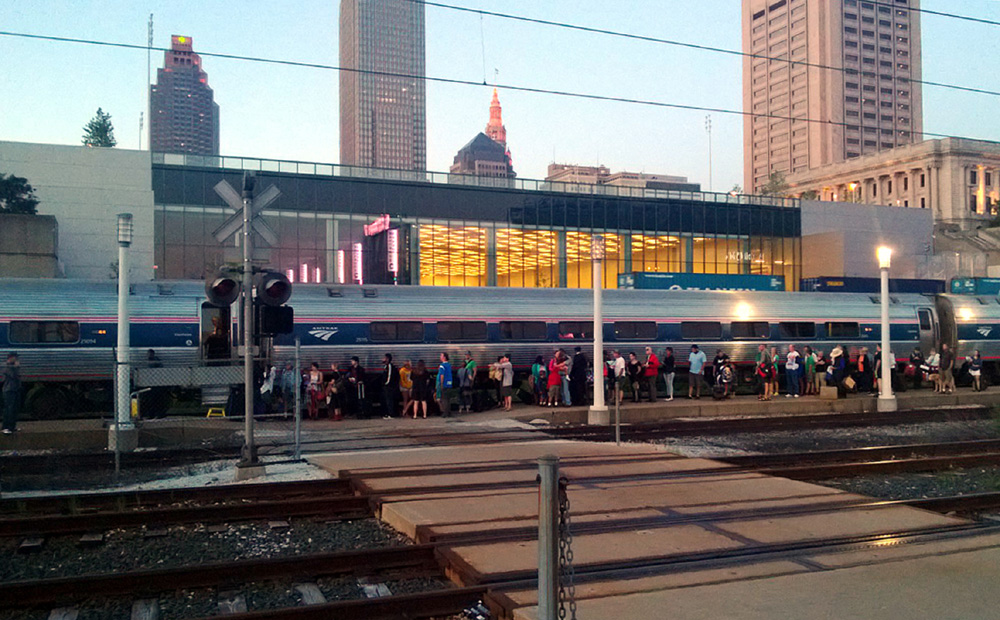 Shortly before 6 a.m. at Cleveland's Amtrak Lakefront Station, a crowd of passengers lines up to board the eastbound "Lake Shore Limited" to Buffalo, Rochester, Albany, Boston and New York City. According to Amtrak, this Chicago-East Coast route with just one train in each direction carries 300,000 to 400,000 passengers per year, or five to eight Boeing 737s per day. But only 10 percent of its riders travel from Chicago to the East Coast. Most riders travel shorter, intermediate distances (Mark Schwinn).
Other metropolitan planning organizations (MPOs) in Ohio are reportedly intent on seeking funds to plan for other routes. The Mid-Ohio Regional Planning Commission (MORPC) may pursue funding for Chicago-Fort Wayne-Columbus-Pittsburgh plans while the Ohio-Kentucky-Indiana Regional Council of Governments (OKI) has been interested in enhancing Amtrak's "Cardinal" route between Cincinnati, Indianapolis and Chicago which currently has service only in the middle of the night and runs three times per week at average speeds of less than 40 mph. Yet that's better than Columbus which hasn't had any passenger rail service since 1979. Cleveland and Toledo have four Amtrak trains nightly, with Cleveland's all between the hours of 2-6 a.m.
Outside of the Northeast Corridor between Boston and Washington DC, the states with the best train services have purchased them from Amtrak and invested in infrastructure to run trains faster and have attractive stations served by local transit systems in urban centers, attracting private development nearby. That's one of the reasons why Downtown Cleveland Alliance President and CEO Mike Deemer hailed the news that came out of Columbus yesterday.
"Thank you Gov. Mike DeWine for taking this important step toward helping to attract people, jobs and investment to Ohio," Deemer wrote on Twitter. "We're enthusiastic supporters of establishing our city as an Midwest hub for intercity rail service."
"I think the dynamic that worked here (with the governor) was the impact of the MPOs and the mayors stepping up last fall along with groups like the Downtown Cleveland Alliance, the Columbus Partnership and the Columbus Chamber of Commerce," said Stu Nicholson, executive director of the rail and transit advocacy association All Aboard Ohio. "That made a huge difference. They sent a message to the Governor that we're going to press ahead with this anyway, with or without you. We're very grateful that he has done this now. Ohio really needs to have more options in moving people and having a mobile workforce."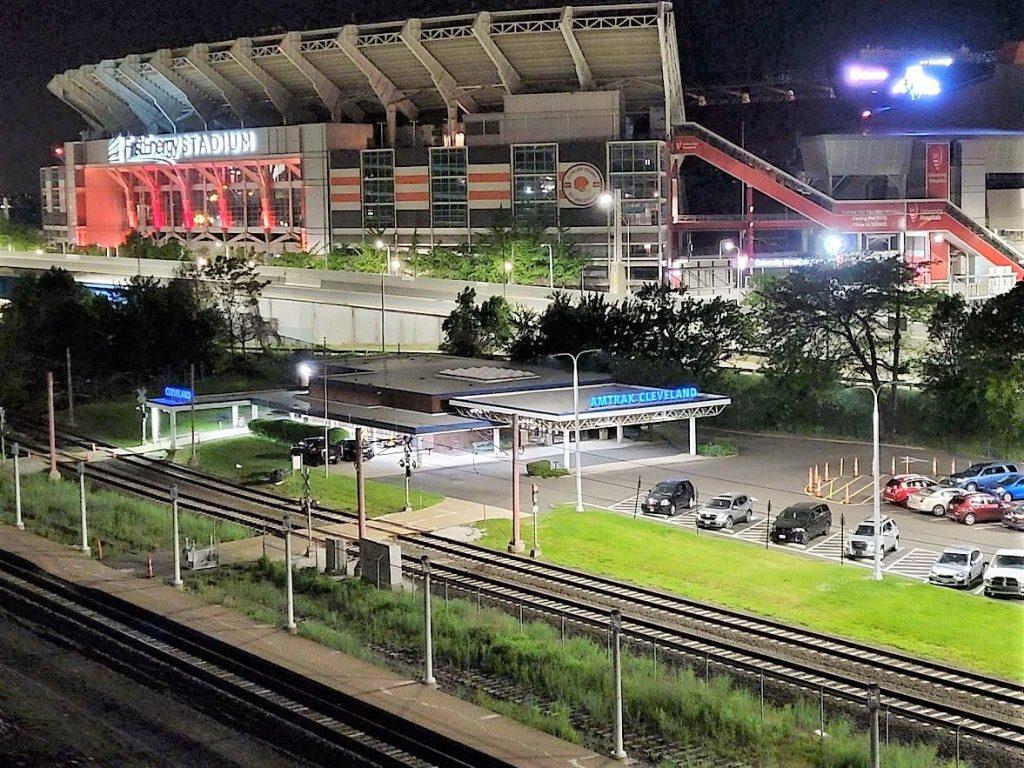 Amtrak's Lakefront Station in downtown Cleveland is tiny even without the massive FirstEnergy Stadium dominating the background. The Northeast Ohio Areawide Coordinating Agency is seeking to partner with surrounding states to increase service on existing routes but on daytime schedules as a near-term step for improving Amtrak service to Cleveland (John Goetz).
DeWine directed the Ohio Rail Development Commission (ORDC), a semi-independent commission within the Ohio Department of Transportation, to apply for the first phase of funding to study expanding passenger rail service in Ohio. The Federal Railroad Administration's Corridor Identification and Development program would assist the state in assessing potential intercity passenger rail corridors. Applications are due by March 27.
"This is the first step of many in this process," DeWine said in a written statement. "We have a lot of questions that need to be answered before we make any commitments. The information we gather from this effort will help us make informed decisions about federal opportunities for passenger rail in Ohio."
If the application is successful, the Federal Railroad Administration would provide $500,000 per corridor. These funds would allow Ohio to bring in a consultant to prepare a scope of work for a Service Development Plan. This would be a comprehensive plan that includes information about the track improvements, equipment, stations and other facilities, operating costs, ridership, and required state subsidy that are needed to start service. NOACA, MORPC and OKI are all seeking funding for routes that are of additional interest to them.
"Under Gov. DeWine's direction, we have been talking with Amtrak for quite some time to explore options and gather information," said ORDC Executive Director Matthew Dietrich. "Our work with Amtrak was necessary for a federal application but it is just the first step. The Governor has been very clear that for this to work for Ohio, it is not just a matter of cost. It has to be done in a way that does not impede freight rail traffic in the state that is so important to our economy and our businesses."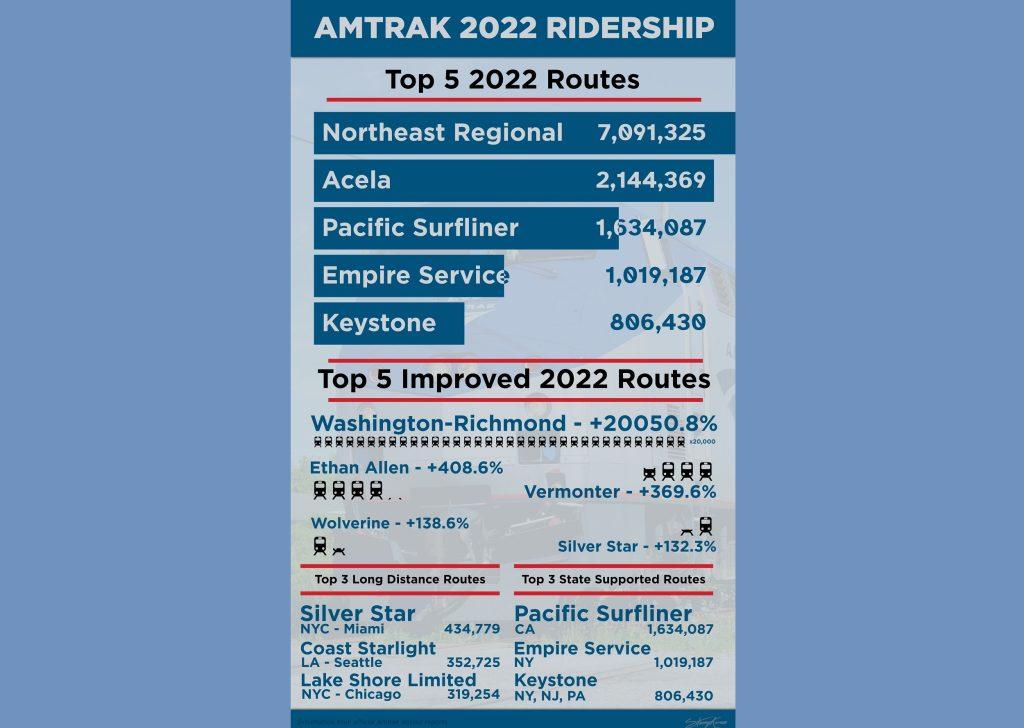 The Chicago-New York/Boston "Lake Shore Limited" through Cleveland was one of Amtrak's highest-ridership long-distance (750+ miles) routes in 2022. Three routes that end just shy of Ohio also were among Amtrak's top performers last year — the Chicago-Detroit "Wolverine" Corridor, the New York City-Buffalo "Empire Service" and the New York City-Pittsburgh "Keystone" Corridor (Amtrak).
The Corridor ID Program is a comprehensive intercity passenger rail planning and development program that will help guide intercity passenger rail development throughout the country and create a pipeline of intercity passenger rail projects ready for implementation.
"NOACA congratulates Gov. DeWine for his recently announced plans to explore expanded passenger rail service for Ohioans," Gallucci said. "NOACA had urged state participation in the new Federal Railroad Administration's Corridor Identification program, created through the Bipartisan Infrastructure Law (BIL), to improve passenger rail opportunities. NOACA also plans to submit applications to the Corridor ID program that seek to establish Cleveland as a significant hub on the national rail network – improving several rail corridors that meet in Cleveland in order to add daytime arrivals and departures for Amtrak passengers, improve on-time performance to popular destinations, improve rail stations in Northeast Ohio, and improve freight capacity for economic development and jobs."
Ohio has lost a lot of organizational knowledge and capacities when it comes to passenger rail ever since then-Gov. John Kasich gave back $400 million in federal funds in 2011 to help Ohio build 79 mph passenger service in the 3C&D route. Kasich also returned $15 million in federal planning money to improve rail infrastructure to allow service to speed up to 79 mph and to expand service to other routes in Ohio.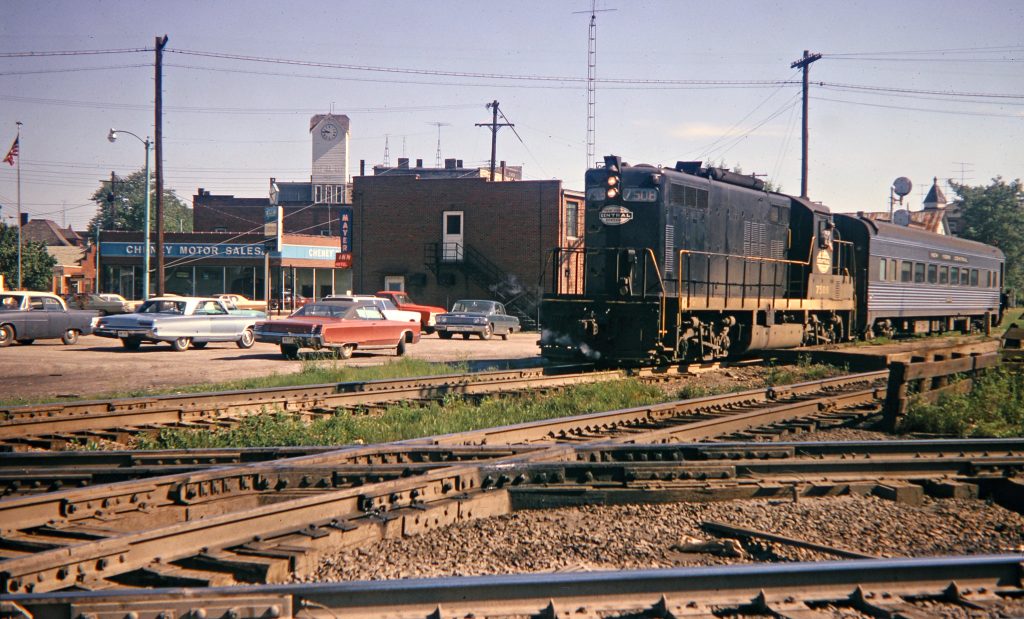 Direct Cleveland-Cincinnati train service had only three months left when this picture was taken in May 1969 at Crestline, west of Mansfield. Penn Central train No. 15 headed south with only one car that was always full despite it being dirty, always late, and seldom having working air conditioning or heat. It was replaced in September 1969 with separate trains that required an overnight stay in Columbus. This was done to discourage ridership on these surviving trains that ended April 30, 1971 (John F. Bjorklund).
The Ohio General Assembly soon passed legislation forcing ODOT to relinquish its membership in the Midwest Interstate Passenger Rail Commission (MIPRC), a federally chartered compact of states which coordinates and facilitates passenger rail projects across state lines. The state's MPOs, led by NOACA and through their statewide group the Ohio Association of Regional Councils, joined MIPRC in ODOT's place. Also, ORDC's only vacancy on its board of commissioners is a person representing passenger rail issues. And, since 2011, ORDC lost to retirement its only two staff persons who had experience in passenger rail planning.
Nicholson said All Aboard Ohio is urging the state to create a cabinet-level department that's separate from ODOT to develop passenger rail and public transportation in Ohio. He said ODOT is good at building roads but has few capabilities for developing trains and transit. With the kind of funding that coming out of Washington DC for rail and transit — with up to $66 billion just for passenger rail — he said now is a good time to develop the capacity for administering those funds. Even airline subsidies for Ohio flights to Europe are provided by the Ohio Department of Development, not ODOT, he noted.
"The next step for us as advocates and other supporters is to heap as many letters on (Federal Railroad Administrator) Amit Bose in support of these funding applications," Nicholson said. "We need to be forward-looking. We're looking at a passenger rail system that can be as transformational a project as when the Interstates were built."
END