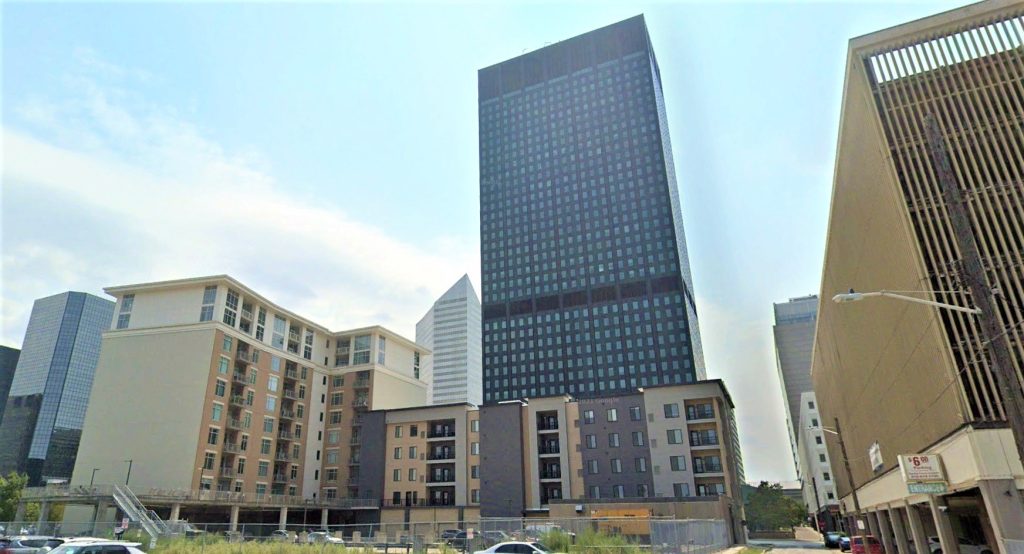 Redevelopment of the Erieview Tower in downtown Cleveland appears headed back to the drawing board after two large, proposed tenants have reportedly backed out of the project. This follows the recent and impending departures of two major law firms from the property as well (Google). CLICK IMAGES TO ENLARGE THEM.
W Hotel, co-working biz may be out
Despite winning $23 million in tax credits to enable a $100 million historic and transformational redevelopment of the Tower at Erieview, two major proposed tenants are reportedly backing out of the project. Conversion of the 1964-built, 40-story office tower and its Galleria mall, 1301 E. 9th St., with more mixed uses could be facing an uphill climb with the apparent withdrawal of a luxury W Hotel and co-working chain Industrious.
According to two sources who spoke on the condition of anonymity, the owner of Cleveland's fourth-tallest tower (soon to be fifth) and development team leader James Kassouf is continuing to pursue Erieview Tower's redevelopment despite those reported setbacks. A message left for Kassouf on his Web site was not returned prior to publication of this article. Same for W Hotels and Industrious whose media relations staff were sent e-mails seeking confirmation and more information. This article will be updated pending their responses.
Kassouf's redevelopment plan envisioned converting the upper floors of the 1964-built tower to 227 apartments plus a restaurant on the 38th floor where the Top of the Town establishment was decades ago. About 300,000 square feet of office space would remain in the 703,000-square-foot, 529-foot-tall skyscraper. More than a dozen floors in the tower are vacant. In the adjoining 138,000-square-foot Galleria that was built in 1987, 40,000 square feet is occupied by the Parker Hannifin Downtown YMCA fitness facility with a lap pool, yoga and spinning studios plus a spa/wellness clinic. The remaining 98,000 square feet retail space suffers from high vacancies. Below it is a heated, 421-space parking garage.
On the lower floors of Erieview Tower, W Hotel planned 210 hotel rooms plus a 15,000-square-foot ballroom, event center and conference facilities. It would be the luxury hotel's first location in Ohio. Reuters reported last week that "Tighter lending standards from regional banks are making it harder for U.S. hotel developers to secure funding, slowing construction of new hotels at a time Americans' appetite for travel is ripe. Hotel developers, private equity firms, and general contractors told Reuters the financial stress on regional banks — the largest lenders to hotels and other commercial real estate markets — has forced developers to postpone projects or find other creative ways to raise capital."
In local media outlets last year, W Hotel officials said they hoped to open their Cleveland location in 2023. But on the site of W Hotel's parent Marriott International, the global hotelier reported that it planned to open 35 luxury hotels around the world in 2023 and it identified the cities in which it planned to open. None of them are Cleveland.
Both W Hotel and Industrious have removed references to their Cleveland projects from their Web sites. Industrous created a Web page for its Cleveland office which it had hoped to open on the 14th floor of Erieview Tower as early as last December. But that page is now devoid of content and produces only an error message when opened. Industrious has locations in Columbus and Pittsburgh but nothing in Cleveland.
Based in New York City, Industrious doesn't lease spaces in the properties its occupies. Instead it forms partnerships with landlords who share in the revenues from co-working users, so the landlord has an incentive to maintain the property to attract more occupants. Industrious had intended to occupy 19,766 square feet or nearly the entire 14th floor. Industrious had looked at other downtown Cleveland buildings before choosing Erieview and may yet open somewhere else downtown, one of the two sources said.
Cleveland Building Department records show Industrious filed documents in September 2022 to begin $150,000 worth of interior demolition work at Erieview Tower. While it paid a $150 filing fee, it so far has yet to pay the remaining $17,280 in building department fees in order to secure a permit for the work.
Only three other building permits were requested in the past year for 1301 E. 9th including two for the Galleria and its Erieview Commercial Condos. Most recently, Galleria tenant Dollar Bank requested permits this spring totaling $26,000 worth of work to install two exterior wall signs on the building's west and south elevations and two plaques on an existing monument sign for the financial institution, as part of a rebrand by Dollar Bank. Another permit application, this time by a local architect was made starting in December 2022 for $8,000 worth of interior alterations for a first-floor tenant space measuring 3,290 square feet for The Browsing Room Bookstore.
A third building permit was for a $21,000 monument sign for the overall Erieview property, to be located at the northwest corner of St. Clair Avenue and East 12th Street. An application was submitted in April and a permit awarded in December. The sign included some of the larger tenants either in the commercial condo or in the tower. The application included law firm Walter Haverfield. But in March, the firm announced it had signed a 15-year lease at K&D's Post Office Plaza, 1500 W. 3rd St. in the Tower City complex. There, Walter Haverfield is renovating 36,077 square feet for $3.5 million according to documents filed with the city by HSB Architects & Engineers.
That's the second major law firm to depart Erieview Tower in recent years. In 2020, Weston Hurd moved across the street to the AECOM Centre, 1300 E. 9th St., where it now occupies 30,000 square feet. That was a reduction in space from the 40,000 square feet across two floors, but with an internal stairwell, that had it occupied for many years at Erieview.
In separate awards last December, the Tower at Erieview Tower and Galleria won two tax credits totaling $18 million. First it won a $13 million Transformational Mixed Use Development (TMUD) tax credit and then, later that same month, a $5 million state historic tax credit. This followed a $5 million historic tax credit award from August 2020. Erieview was able to win historic tax credits twice thanks to Senate Bill 225 that was passed last summer. Erieview Tower is on the National Register of Historic Places and the surrounding district is similarly registered.
Kassouf and his investor group, whose identities are unknown, bought the property from Philadelphia-based RAIT Financial Trust for $17.7 million in 2018. In Cleveland, Kassouf owns and operates a number of parking lots as well as a 207,404-square-foot building at 1501 Lakeside Ave. downtown that houses the regional headquarters for the FBI. A real estate source said the FBI is planning to move its 6headquarters when its lease runs out at the end of 2024. Kassouf's family also owns the Liberty Textiles Building, 1277 W. 6th St., in the Warehouse District. Three years ago, his family sought to redevelop the century-old structure with apartments and build a new apartment building on the adjacent parking lot. So far, nothing has happened.
END