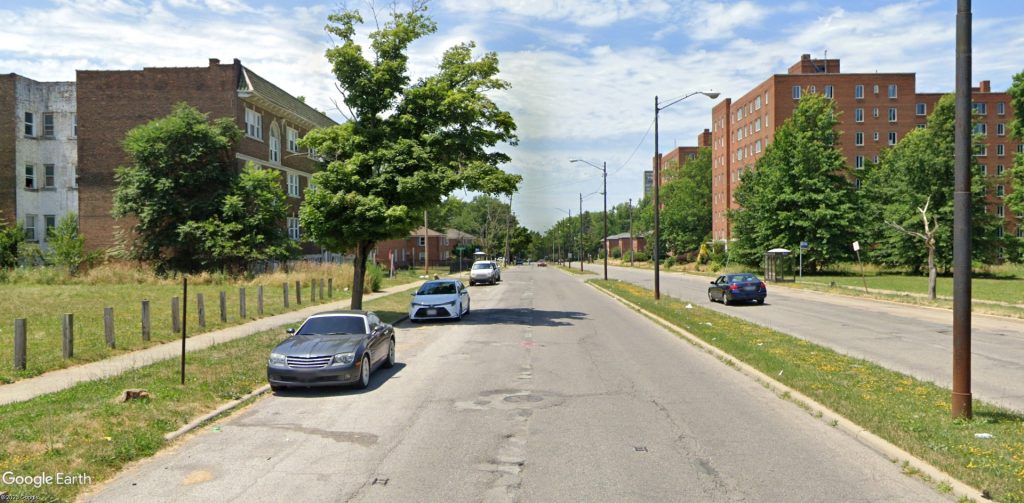 Sixty years ago, my mother and two older brothers lived in the Superior Glen Apartments at left, at the corner of Superior and Glenmont Avenues in East Cleveland. Across Superior, at right, a small portion of Forest Hill Park is visible. The city has fallen far in the six decades since and isn't done falling. Multiple apartment buildings at left were demolished. The apartments at right were vacated in the late 2010s. The fate of Forest Hill Park and East Cleveland is not hopeful (Google). CLICK IMAGES TO ENLARGE THEM.
Racism, pride, corruption & closures wreck city
A COMMENTARY
In the 1950s, after my mother Edith March Prendergast divorced her first husband, she moved herself and her two boys to Greater Cleveland to be near family. After a brief stay at the Alcazar Hotel, she settled at the south end of Glenmont Avenue in Cleveland Heights. Then she moved to the north end of Glenmont which is in East Cleveland. There, she, Dale and Dean stayed until the early 1960s when she married my father James and moved into his home in Lyndhurst.
Although poor and raising two boys on a secretary's salary from Medusa Cement, she had fond memories of her time in East Cleveland. She would often walk down Superior Avenue hill into the heart of East Cleveland to go shopping and return on the bus back up the hill. She also took the bus to the Superior Rapid station to go downtown to shop for nicer or harder-to-find things, or on holidays like Thanksgiving she and the boys rode crowded Erie Railroad trains from Cleveland Union Terminal to Youngstown to visit her mom and her sister's family. A densely developed suburb allowed a poor, single mother to have access to shopping or the world, and East Cleveland was Greater Cleveland's most densely populated suburb.
Across the street from her apartment was Forest Hill Park, a 235-acre greenspace that was the summer estate of Standard Oil Co. founder John D. Rockefeller until donated to the cities of East Cleveland (two-thirds) and Cleveland Heights (one-third) by the Rockefeller family two years after John D. died in 1937. The large estate was converted into a huge recreational setting including playgrounds, a swimming pool, basketball courts, fields for football and baseball diamonds, tennis courts and picnic areas. My older brothers enjoyed living across the street from such a wonderful place.
Today, my mother's apartment building still stands but is in poor condition. Neighboring apartment blocks were razed in the 2010s after East Cleveland's population collapsed, especially in the prior decade. Across the street, the two eight-story Forest Hills Apartment buildings sit empty and vandalized. Forest Hill Park itself, where my brothers played almost daily, is not a safe place and mostly in poor condition.
Four nights ago, at the bottom of Forest Hills Drive near the vacant 13-story Huron Place Apartments, a man with a gunshot wound allegedly fired his own gun at approaching police officers. The incident occurred across the street from where the 850-employee Huron Hospital stood for 80 years until 2011. Shootings occur in the area with great frequency. In 2021, a man plowed his car into Forest Hill Park, crashing through a fence and into other vehicles before speeding across baseball diamonds with kids on them. Two adults in the park pulled their guns and opened fire on the motorized marauder who later was arrested.
For the good people of East Cleveland and the Cleveland Metroparks, stabilizing the park was seen as a way of providing a safe zone in East Cleveland. It might also protect neighboring Cleveland Heights from the spread of crime, violence and blight which doesn't respect city boundaries. The Metroparks was ready to lease East Cleveland's share of the park and revitalize it until another in a sad series of internal failures at City Hall forced the Metroparks to walk away.
East Cleveland is the suburb that turned corruption into a pastime. The latest involved its protectors — 16 current and former police department employees, or one-third of the force including Police Chief Scott Gardner, are accused of various crimes including brutality, violation of civil rights, theft of cash, guns and drugs, plus money laundering. City Council members blamed Mayor Brandon King for a culture of corruption. But the city's corruption isn't anything new. Former Mayor Gary Norton and his assistant pleaded guilty to federal obstructing justice charges two years ago in an investigation of bribery and fraud at City Hall.
Another former East Cleveland mayor, Emmanuel Onunwor served from 1998 until 2004 when he was convicted for racketeering, extortion, mail fraud and tax evasion. He was a rare Republican in this Democrat-dominated suburb. Regardless of party, the result was the same. Onunwor's story turned tragic when his son Clifton was convicted of murdering his mother Diana in 2008 because he apparently believed she helped investigators send his father to prison.
Tragedy, corruption, violence and decline weren't always the routine in East Cleveland, of course. Not only was it the summer home of Rockefeller, it was home to the 3,000-employee, 92-acre Nela Park world headquarters of GE Lighting. But it's bright light soon dimmed too. GE Lighting was sold in 2020 to Savant Systems, Inc. and the 110-year-old Nela research park was bought by Milwaukee-based Phoenix Investors. Today, fewer than 250 people work there.
East Cleveland was incorporated as a city in 1911, one year after its population surpassed 10,000 and two years before Nela Park opened. It twice rebuffed attempts by the city of Cleveland to annex it in the 1910s. The suburb grew rapidly over the next 40 years, reaching its peak population of 40,047 in 1950. It remained a solid suburb for another 20-plus years.
"Although the housing stock was aging, Charles A. Carran, who served as city manager from 1922-62, operated a strong housing inspection program, and East Cleveland enjoyed a reputation as a stable, well-run city," wrote Mark Souther for Case Western Reserve University's Encyclopedia of Cleveland History.
But change was brewing to the west in Cleveland. The Central neighborhood, long Cleveland's black neighborhood with more than 100,000 residents, was targeted with racist urban renewal and highway construction projects. Just as the Great Migration brought tens of thousands of African-Americans from the rural south to the industrial north in search of jobs, Cleveland's black community was pushed east into Glenville and Hough, leading to overcrowding and ultimately riots in the 1960s.
Middle-class African-Americans moved out to East Cleveland, where the population changed from 2 percent African-American in 1960 to 67 percent in 1970. In the early 1960s, my brothers' elementary school class photos showed a couple of black kids in them one year, to where my brothers were the among the few white kids left in their classes the next year. Among homeowners, blockbusting real estate tactics caused panic selling among whites and blacks. Despite this, the suburb's population remained stable, dipping only slightly below 37,000 in 1980. But it started to drop faster as GE Lighting factories along the railroad tracks began to close and thousands of jobs were lost.
In 1988, the city entered a state-declared fiscal emergency and has remained there for 29 of the next 35 years. It continues under fiscal emergency to this day. By 2000, the city had lost one-fourth of its population, leading many to wonder how much worse could it get. The answer soon came. The subprime mortgage crisis of the late-2000s devastated East Cleveland, leading to hundreds of abandoned homes and apartment buildings. More than 7,000 people fled East Cleveland in the late-2000s, causing its population data to fall off a cliff, from 27,217 residents in 2000 to 17,780 in 2010. The drop continued, most recently to 13,747 in the 2020 Census. Nearly half of the city lives in poverty.
There are few solutions for East Cleveland. The state isn't going to set a precedent or assume the risk of taking over a municipal government. It has with the East Cleveland school district because it has prior experience with taking over other under-performing school districts. The state in 2016 did encourage a merger between the cities of Cleveland and East Cleveland, offering a paltry $10 million to Cleveland to help rebuild its neighbor. Neither city was interested in the offer. East Cleveland officials feared the loss of control and they still believed they could stop the decline. Cleveland officials shied away due to the massive financial drain such a merger would have on Cleveland, which has its own in-progress rebuilding efforts to contend with.
East Cleveland has little taxbase left and a massive, costly rebuilding job ahead of it. There are those who are trying. The Cuyahoga County Land Bank is in the midst of a $95 million effort to rebuild infrastructure and housing in the six-block Circle East area along Euclid Avenue, just east of Cleveland's booming University Circle. Expanding that a couple of blocks further east to near the Superior Rapid station involves another $100 million redevelopment, proposed by New York City-based developer Genesis Global Holdings LLC. If those projects pan out, they will help rebuild a corner of the city that has the most to offer.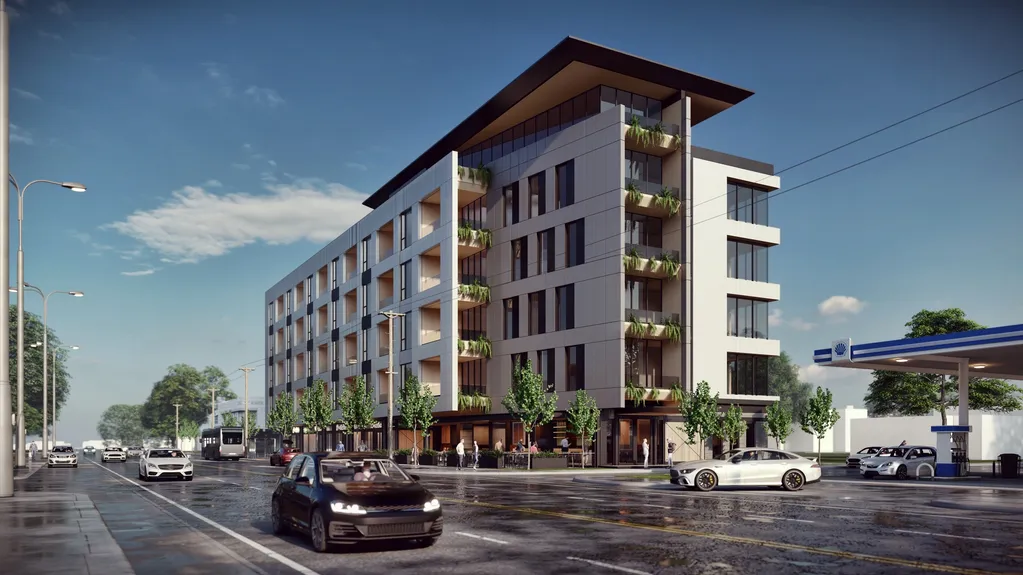 Genesis Global Holdings LLC of New York City won a bid to acquire Cuyahoga County's abandoned East Cleveland Adult Activity Center and its 4.25 acres of land. Genesis plans to repurpose an existing 43,489-square-foot building with retail and develop mid-rise apartment buildings next to it, including this one at Euclid and Rosalind avenues (GGH).
But it's a small corner. It's 0.12 square miles of a 3-square-mile city. Projecting that nearly $200 million of investment over the entire city suggests that $5 billion would be needed to rebuild East Cleveland from the sewers up. No one is offering that level of investment to stop this once vibrant suburb from circling the drain. And given the precedents of the Central, Hough and Glenville neighborhoods, a community has to hit rock bottom before it starts to recover. Central peaked at 100,000 people in 1940, Glenville at 65,000 in 1950 and Hough at 76,000 in 1960. Central and Hough saw their populations fall to 10 and 13 percent of their respective peaks while Glenville dropped to 16 percent of its peak. Central has actually grown by 2,000 people since it hit rock-bottom two decades ago.
And that's probably what's going to have to happen with East Cleveland. Its population is likely to keep falling until it bottoms out at 10-15 percent of its peak, or about 4,000 to 6,000 people. At that level, East Cleveland may cease governance as a city and become a village again, ripe for annexation. Entire neighborhoods of East Cleveland will be demolished, streets closed and utilities shut off. The urban prairies created by this abandonment will become tomorrow's opportunities. They will be sites for new, large warehouses or industries, and new walkable neighborhoods along a rapid transit line that has occasionally been proposed for extension to at least Noble Road if not the city of Euclid.
It's a sad prospect for a city my family once called home and provided fond memories. But there is nothing visible on the horizon to stop its drop until it can fall no further. Worse, many more people will become victims of this fall through loss of life, freedom, happiness, property and equity. Precedents show the only hope for East Cleveland is a clean slate from which to start over and build anew. And those precedents suggest the reset is still another decade or two away.
END