Karam Senior Apts/Walz Library may be re-bid this fall
Delayed for more than a year, the proposed Karam Senior Living apartments over a new Walz Library branch at Detroit Avenue and West 80th Street in Cleveland's Detroit-Shoreway neighborhood, just received the first of two funding boosts to address rising construction costs. While this funding, $2 million in American Rescue Plan Act (ARPA) funds awarded by the city of Cleveland, will close half of the funding gap for the residential portion, the remainder is still being finalized by Cuyahoga County. But it's apparently enough to re-bid the project this fall to see what the construction numbers look like, officials said.
Those same officials had hoped to start construction in the summer 2022 on three stories of 51 senior apartments above a new two-story 10,300-square-foot branch of the Cleveland Public Library system. But rising construction costs resulting from the pandemic have nearly doubled the project's estimated cost over the last two years from $11.6 million to $22 million, according to the project's sponsor and developer, the Northwest Neighborhoods Community Development Corp. (NWN).
The city's award follows a recommendation last spring by Cuyahoga County Executive Chris Ronayne to provide $2 million in ARPA funds to the project. The county council set up a Housing Gap Financing Fund and directed to it $35 Million in ARPA funds to incentivize the development of 1,500 new affordable housing units and 1,650 new market rate housing units county-wide. The county's share of funding to the residential portion of the project will reportedly come from that fund but has not been finalized as yet.
John Lang, chief operations officer for the library system said in May that NWN "were successful with their gap financing ARPA request from Cuyahoga County and they have a similar request in Cleveland. If they are successful with their Cleveland request, then the Karam Senior Living share of the project will be fully financed and we can proceed to rebidding by the fall. If they are unsuccessful and do not receive city ARPA funds then we will have to take a step back and re-evaluate options including a stand-alone library."
"We are deeply grateful for the city's award of $2 million, and we are working diligently to fill the project's remaining budget gap," said NWN's Interim Director Bridget Kent Márquez. "Our community's support and patience have been essential for the full vision of Karam Senior Living and the Walz library. We thank Cleveland Public Library for their steady commitment, Councilmember Jenny Spencer for her continued advocacy, and Cuyahoga County and Enterprise Community Partners for their ongoing partnership on this project."
Karam Senior Living will provide residential units to seniors 55 years and older who earn 60 percent or less of the area median income. The new, energy-efficient, accessible building will hold spaces for social connection and wrap-around programming with a new Walz Library branch, developed in partnership with Cleveland Public Library on the building's ground floor. The project is located adjacent to the existing St. Augustine Health Campus and will serve neighborhood residents.
"Cleveland Public Library is committed to a new, five-star library in a joint facility with Karam Senior Living to meet a wide range of community needs and serve as a neighborhood anchor," said Cleveland Public Library Executive Director and Chief Executive Officer Felton Thomas, Jr. "This investment in our Walz branch is part of our 10-year plan to reimagine all 27 of our branch libraries through renovation, expansion, and new library construction for stronger neighborhoods, and to fulfill our commitment to all Clevelanders."
Cleveland voters in 2017 approved by a 69-31 margin a 10-year, 2-mill increase in the library's property tax levy. With those funds, Cleveland Public Library will rebuild or replace all 27 neighborhood branches for $100 million and renovate the Main Library downtown for $65 million. Construction is already done or underway on multiple library branches throughout the city.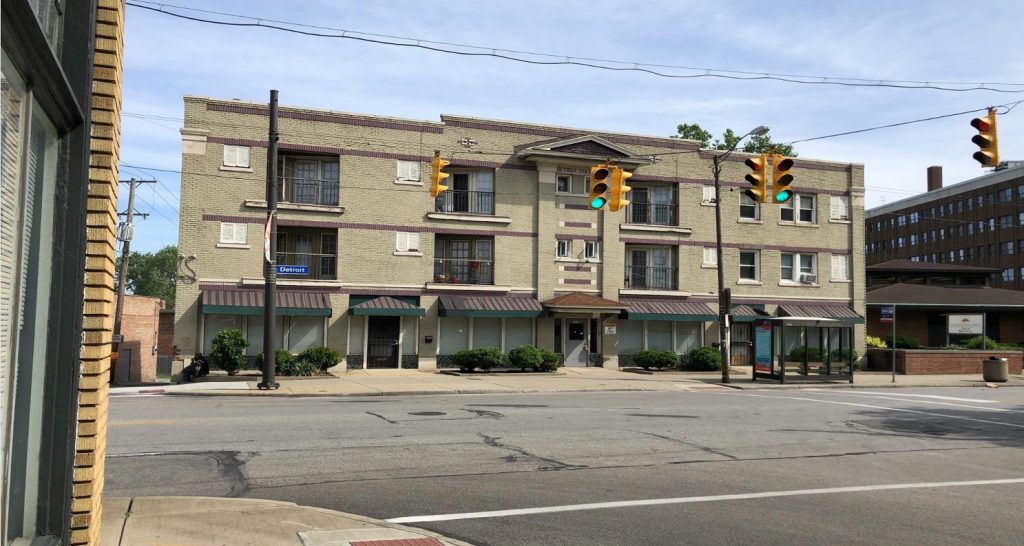 This 2020 view shows the 100-year-old Detroit Chateau apartments and a portion of the Walz Library at far right. Both were demolished two years later in anticipation of starting construction of senior apartments over a new Walz Library. But construction costs had nearly doubled and put the project on the hold (Cleveland Landmarks).
Walz Library, 7910 Detroit Ave., closed on March 5, 2022 and the 1967-built library branch was demolished soon thereafter, along with the neighboring 19-unit, century-old Detroit Chateau apartment building, 7918 Detroit Ave. The latter building was owned by the Detroit-Shoreway Community Development Organization, predecessor of NWN and had only seven occupied low-income apartments. Its residents were relocated but the lot has sat empty for nearly a year and a half.
As the culmination of years of community efforts, Karam Senior Living will address an urgent need for quality, affordable housing for vulnerable seniors while simultaneously creating a multigenerational hub for community services. NWN secured $1 million in Low-Income Housing Tax Credits for the project from the Ohio Housing Finance Agency in 2021. Following City Council's approval in 2022 of American Rescue Plan (ARPA) funds, NWN and its partners responded to the city's request for housing gap financing proposals. NWN said it will establish a new construction timeline after completing the project's fundraising.
NWN's development work for Karam Senior Living is fulfilling one of its core goals: to maintain, provide, and increase housing affordability for residents with low incomes. In its forthcoming, five-year, organizational strategic plan, NWN's board and staff said they have committed to a vision of "A place where anyone can thrive." They said the Karam and Walz facility will achieve that vision by "creating shared spaces for young scholars, older residents and all community members to grow in their economic mobility together."
END