OCI, Clinic, developers to reveal vision for W. 25th site
Sooner or later, development pressures will find their way to Lutheran Hospital's huge surface parking lot on West 25th Street in Cleveland's Ohio City neighborhood. All around the 5-acre Cleveland Clinic Foundation-owned Lutheran Hospital parking lot, investors have built on or have big plans for just about every available piece of land. Even an unstable hillside across West 25th is being reborn as Irishtown Bend Park. There isn't much room to grow. So the Cleveland Clinic, Ohio City Inc. and others are trying to get a handle on how best to develop the Lutheran lot someday in the future while making sure Clinic employees still have a place to park.
The 530-space Lutheran lot is one of the largest potential development sites in Cleveland west of downtown and the Cuyahoga Valley, and is the subject of a conceptual development masterplan commissioned last spring by Ohio City Inc. (OCI) from Sasaki Associates Inc. of Boston. In the coming weeks, the masterplan will be presented to City Planning Commission's design review committee. While Clinic officials said they're supportive of development on some of their properties, they cautioned planning for the Lutheran lot is still early on.
"We continually seek opportunities to support the strength and growth of the communities we serve," said Angela Smith, director of corporate communications at Cleveland Clinic. "Early discussions are underway to explore potential development near Lutheran Hospital. We do not have additional information to share at this time."
No land use details are publicly available of what is being included in this masterplan, but it is influenced in part by two developers — My Place Group of Cleveland and Weston Group of Warrensville Heights. My Place has developed extensively in Ohio City, including residential and mixed-use projects along Lorain and Clinton avenues. Weston develops residential and commercial projects nationwide but is shifting more into commercial development that is benefitting from reshoring activities — bringing more manufacturing back to America.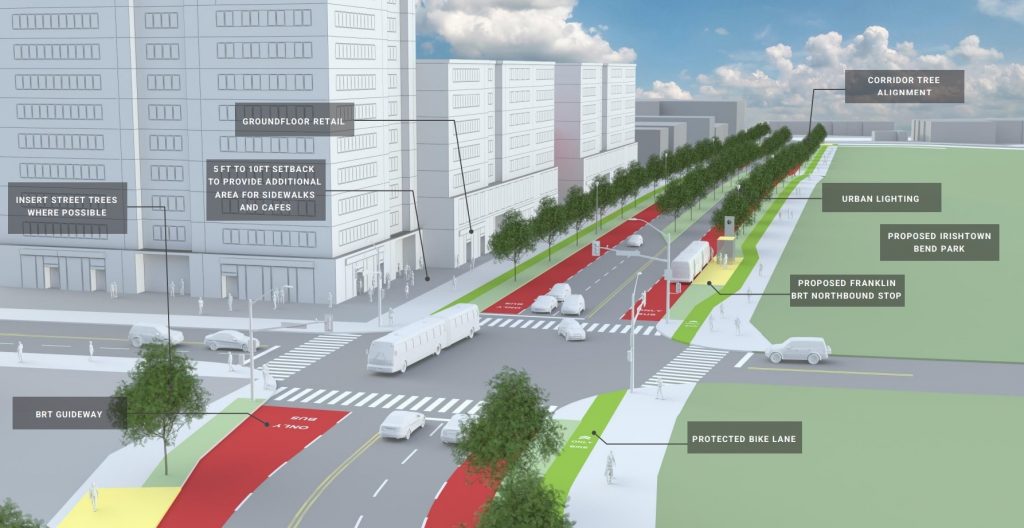 Planning work for the Greater Cleveland Regional Transit Authority's MetroHealth Line Bus Rapid Transit produced this north-looking image of a proposed Franklin Station at West 25th Street and Franklin Boulevard, plus transit-oriented development on the Lutheran Hospital's employee parking lot (GCRTA).
My Place and Weston formed a joint venture called I.B. Development LLC in 2017 that, soon thereafter, acquired two parcels totaling a half-acre on West 25th. Those adjoining parcels are surrounded on three sides by the Lutheran lot. The joint venture's desire to develop the site was reportedly shared and supported by then-OCI Executive Director Tom McNair who became the city's new economic development director last week.
McNair has declined to comment on the prospects for developing the windswept Lutheran lot ever since the developers planted their stakes within it six years ago. Ben Trimble, OCI's chief real estate officer, and city planning officials said this week that they had no comment at this point on the development masterplan. My Place Group President Chad Kertesz did not respond to an e-mail from NEOtrans.
"Chad is the managing partner for any interest Weston may have on the West 25th Street site and he is the point person for all communications," said Kurt Updegraff, director of development at Weston.
The working title for any development here is reportedly dubbed Lutheran Lofts, according to sources who spoke on the condition of anonymity — a name which infers multifamily land uses. The site, offering unobstructed views of downtown and easy access to Irishtown Bend Park, will also be influenced by the Greater Cleveland Regional Transit Authority's remake of West 25th as the MetroHealth Line Bus Rapid Transit from Detroit Avenue to the Cleveland Metroparks Zoo. The $48.5 million project has nearly half the funding in hand for new infrastructure and buses. Transit-oriented development land use planning is also being utilized along this transit corridor.
Apartment buildings constructed at the Lutheran lot would need to have ground-level retail along West 25th to conform to the pedestrian retail overlay street frontage zoning and to take advantage of the Irishtown Bend Park across the street. The height district for most of the site allows buildings as tall as 115 feet, or about 11 stories, with a strip of 60-foot maximum height along and to within about 100 feet north of Franklin, according to the Planning Commission's online zoning viewer.
Developing the Lutheran lot would probably mean building a parking deck measuring at least 200,000 square feet to offer upwards of 530 spaces. How many more spaces depends on any long-range expansion hopes the Clinic may have for Lutheran Hospital and whether the deck is shared with tenants of the development that would replace much of the lot. The current lot does not allow overnight parking.
Parking garages are expensive to build and maintain. Construction of a new above-ground, multilevel parking garage can cost upwards of $100 per square foot, or about $20 million in this instance. Sources also said that one or more buildings might have to be built near the maximum height limit with 500-plus apartments to generate enough revenue to substantially finance the parking deck. Significant public incentives would likely be necessary to offset costs of such a huge parking deck.
But large-scale multifamily projects in Cleveland and elsewhere around the country are running into fiscal headwinds lately. A tight lending market is forcing projects like Intro phase two to be put on hold, or Bridgeworks reduced in height and cost, or broken up into bite-sized pieces like downtown Lakewood. Other large-scale projects simply aren't being considered.
At this point, completing the masterplan for the Lutheran lot is the first big step of many that will likely take years to progress through. Sasaki is familiar with Cleveland, having completed a $650 million campus development masterplan for Cleveland State University last year and which is already being implemented thanks to public dollars being available for major civic projects.
Development of the Lutheran lot may not be directly aided by the deep-pocketed, global institution that is the Cleveland Clinic. But the Clinic has provided indirect financial support to other private developments near their facilities. As a nonprofit institution, Cleveland Clinic is exempt from paying property taxes. Next to its main campus, located in Cleveland's Fairfax neighborhood, is a piece of Clinic-owned land on which Fairmount Properties of Shaker Heights is building the 199-unit Medley apartments over a Meijer grocery store. The Clinic is retaining ownership of that property.
Unlike the Lutheran lot, that Fairfax site at East 105th Street and Cedar Avenue was not being used by the Cleveland Clinic or its employees. While Clinic officials said they're supportive of efforts by others to develop the Lutheran lot, they reportedly have no financial interest in the project other than wanting to be made whole regardless of what others build, according to sources.
Hospital visitors park in a 1.3-acre lot off Vestry Avenue which is not part of the masterplan effort nor is any other property south of Franklin that's associated with Lutheran Hospital. It is not clear whether privately owned properties next to the Lutheran lot, such as the land Kan Zaman restaurant leases, are part of the masterplan. The Lutheran lot is slightly larger than the city-owned lots behind the West Side Market in Ohio City.
END