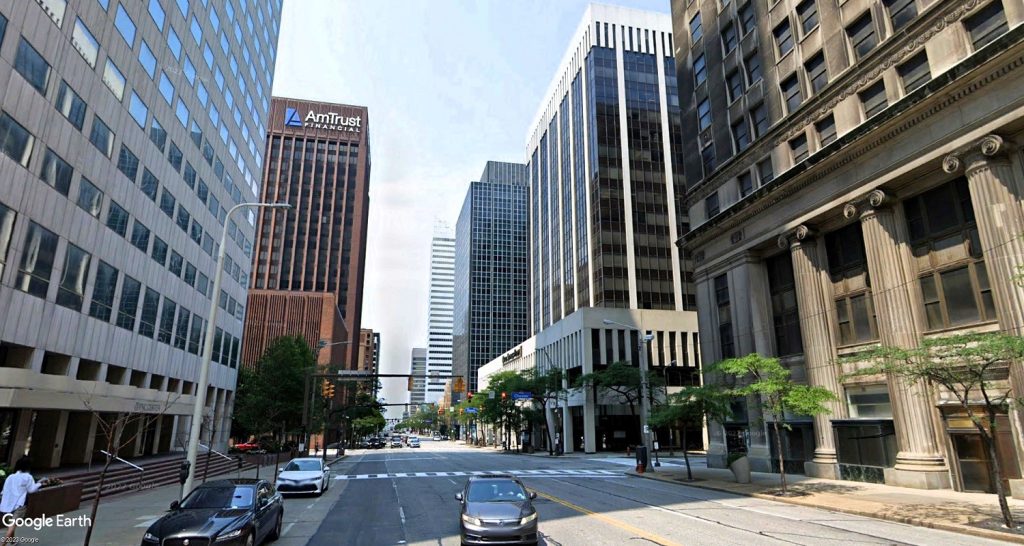 Ohio Savings Plaza, seen as the black and white building in the middle of the image, has a little brother hiding around the corner and both buildings reportedly have a buyer. The structure visible here at East 9th Street and Chester Avenue in Downtown Cleveland reportedly will be converted from office to residential with the ground-floor retail remaining (Google). CLICK IMAGES TO ENLARGE THEM.
Another office-to-residential conversion in the works
NEOtrans has learned that the two-structure Ohio Savings Plaza in Downtown Cleveland has a buyer who has put the property under contract while its real estate team does its due diligence. NEOtrans has also learned that the buyer intends to partially convert the half-full, 500,000-square-foot. two-building property to residential. The larger of the two buildings, an 18-story tower at 1801 E. 9th St., is tentatively to be converted to apartments. The smaller building, called Park Plaza at 1111 Chester Ave. that faces Perk Park, will likely remain an office building.
What NEOtrans hasn't yet learned is the identity of the buyer. What we do know about the buyer is that it is a regional player, focusing on the Ohio and Great Lakes regions and probably isn't located in Greater Cleveland, based on information from sources who spoke on the condition of anonymity. The buyer's broker, Johno Norian of NXT Commercial Real Estate Services, is located in the Detroit suburb of Plymouth. NXT Commercial is based in Miami. He did not respond to two e-mails from NEOtrans seeking more information.
Two Metro Detroit-based regional developers have been active in Cleveland — Bedrock Real Estate and City Club Apartments. Bedrock used to handle real estate deals almost exclusively in house. But last spring, Bedrock start outsourcing office leasing to New York City-based Newmark and Farmington Hills-based Friedman Real Estate. There is no information about Bedrock outsourcing real estate buys, let alone to NXT Commercial. Similarly, no references could be found online showing any business relationships between City Club Apartments and NXT Commercial. Spokespersons for Bedrock and City Club Apartments did not respond to e-mails.
Selling the property is New York Community Bank. Its broker, Colliers Vice President Christian Rahe located in Cincinnati, opened an e-mail from NEOtrans seeking comment but otherwise didn't respond to it prior to publication of this article. Interestingly, Colliers' listing for the property was removed from its own Web site although it continues to remain active on LoopNet. But LoopNet often is delayed in updating or removing listings.
A purchase agreement was reached only in recent weeks. Given the size of the property and need to conduct environmental assessments, the due-diligence period and amount of paperwork could take six months to one year before any sale closes. It's possible that the identity of the buyer may not be known until then, but NEOtrans will continue to work sources to learn who it is.
When NEOtrans first learned in February of buyer interest in Ohio Savings Plaza, we contacted Cleveland-area real estate developers who recently have been involved in converting downtown office buildings to residential. All of them said they had no interest in making a play for Ohio Savings Plaza. If correct, then an out-of-town buyer has stepped up.
The Ohio Savings Plaza facing East 9th was built in 1968 and renovated in 1996. It measures 333,592 square feet but has a three-story podium with approximately 107,000 square feet of space. The podium would likely retain its commercial uses, with retailers on the first floor and offices on the second and third floors. The 15-story tower above the podium would have enough space for about 225 apartments. The roof of the podium could be developed with a 20,000-square-foot outdoor amenity deck for both office and residential tenants.
Facing Perk Park, the nine-story Park Plaza building, built in 1970, has 166,760 square feet of office space. It would reportedly remain an office building. Interestingly, with about 250,000 square feet spoken for by 25 office and retail tenants, assuming they all remain and renew, they would nearly fill out what could be approximately 274,000 square feet of non-residential spaces remaining in the two buildings. Tenants include Ohio Savings Bank, FedEx/Kinko's, Pearne & Gordon, LLP, and Gries Financial, among others. Between Ohio Savings Plaza and Park Plaza is a 1,100-space parking garage owned by another party and not part of the deal.
There is no asking price and no sale price is known. In a transaction overseen by the Federal Deposit Insurance Corp., NYCB acquired the two-building property in 2011 from Ohio Savings Bank for $13.1 million, public records show. In 2022, the property was appraised by Cuyahoga County at $18.5 million for tax purposes. New York Community Bank owns the property through an affiliate, the Walnut Realty Holding Co., public records show.
Across Walnut Avenue, the 21-story former East Ohio Gas Co. headquarters built in 1959 was converted by K&D Group into The Residences At 1717 a decade ago. To the south, The Millennia Companies continues to try to get renovations underway for The Centennial, although a partial conversion to 600 residences and a hotel was put on hold to offer the 1.3-million-square-foot building as a candidate for the county's new Consolidated Courthouse.
Ohio Savings Plaza is at the south end of the federally designated Erieview Historic District, an area bounded by Lakeside and Chester avenues plus East 9th and East 12th Streets, making office-to-residential conversion projects like 45 Erieview, now called The Bell, eligible for historic tax credits. Renovations at The Bell are on schedule to welcome its first residents in April 2024.
END