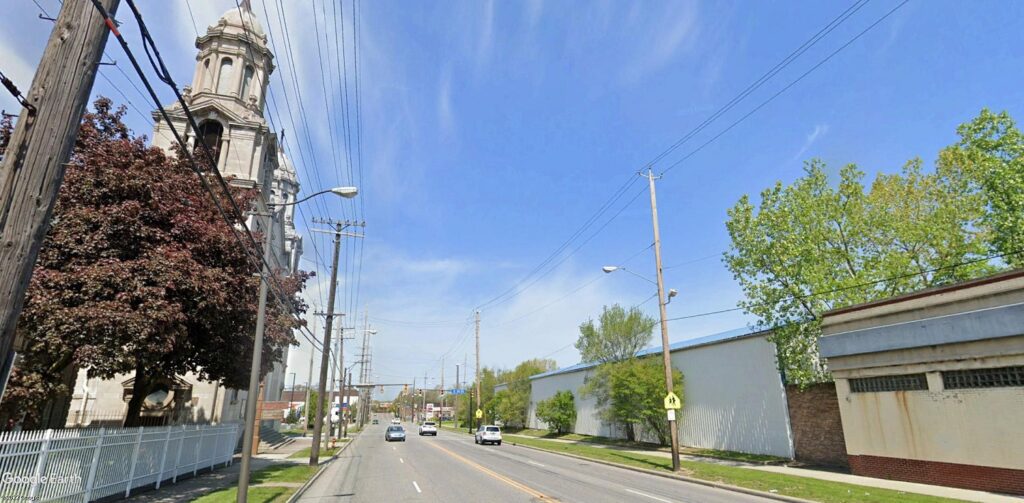 Across Buckeye Road from St. Elizabeth of Hungary Catholic Church are two buildings owned by the city of Cleveland that Miceli Dairy Products Co. would like to acquire and renovate for expansion. Miceli's offices and production facility are located behind the century-old church at 2721 E. 90th St. (Google). CLICK IMAGES TO ENLARGE THEM
Dairy biz expanding on Opportunity Corridor
When Miceli Dairy Products Co. turns 100 years old next year, it hopes to open its latest cheese-making expansion in Cleveland's Lower Buckeye neighborhood, near where Buckeye Road intersects with the new Opportunity Corridor Boulevard.
That's where Miceli has been since 1949 and where the family-owned company hopes to take advantage of its own opportunity by acquiring two city-owned, vacant buildings it intends to renovate. Both are on the other side of Buckeye from its offices and plant. The opportunity actually came when E & L Properties in 2010 sold a 1.42-acre property to the city, including the site's largest structure, a 17,280-square-foot all-metal warehouse built in 1998.
The city intended to use the site at 9103 Buckeye Rd., including a 0.1-acre vacant parcel off Cumberland Avenue acquired in 2012 for Cleveland Public Power's (CPP) South Side Service Center. But CPP never followed through on those plans and the site has sat unused for more than a decade.
Miceli officials reportedly hope the City Planning Commission will set in motion the property's reactivation so it can expand the manufacturing and distribution of its cheese products. At its regular meeting May 20, the commission could sign off on a Department of Public Utilities request to City Council that it should approve the sale of the property.
Miceli executives approached city officials about acquiring the city-owned property and renovating two of four buildings on the site for new, productive uses including a dry goods warehouse, maintenance and fabrication workshop, plus offices for staff, according to a project summary provided to planning commission by the Department of Public Utilities.
"Sale of the CPP properties will put them into productive re-use while allowing Miceli to fully realize their goal of a state-of-the-art campus on Opportunity Corridor which would provide additional jobs," the summary reads. "Miceli is working with ED (Economic Development Department) on financing incentives."
An e-mail sent by NEOtrans to Miceli's Vice President of Marketing Maria Miceli with questions about the project was opened yesterday but not responded to prior to publication of this article.
Of the four buildings Miceli will acquire, two small structures dating from 1910 and 1940 will be razed. Another 1940-built structure measuring about 7,200 square feet and set next to and east of the metal warehouse along Buckeye will be retained and renovated. For tax purposes, the county has valued the buildings and land at 9103 Buckeye at $278,200 and the vacant lot at 9108 Cumberland for $2,900, public records show.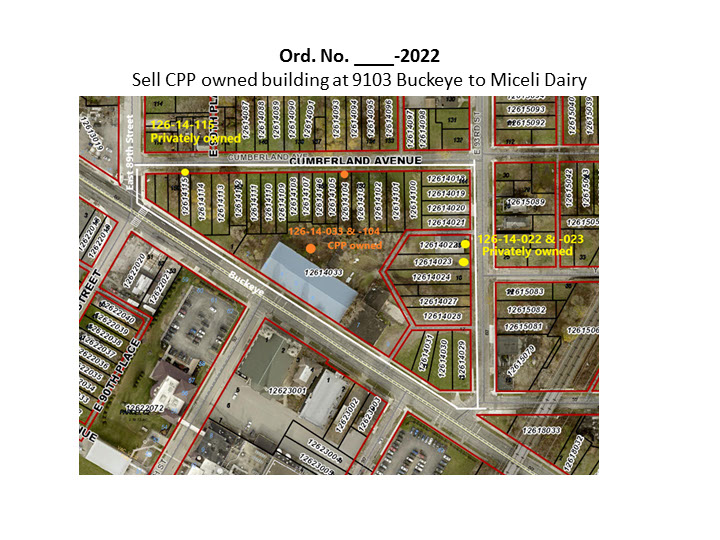 A wider view of parcels that could become available for Miceli's expansion, including all parcels in the block bounded by Buckeye Road, East 89th Street, Cumberland Avenue and East 93rd Street. Miceli's plant and offices are at the bottom of this map. The Opportunity Corridor Boulevard is just out of view to the left (DPU).
But the Department of Public Utilities says it intends to sell the property for book value, not market value. Book value is the net value of a firm's assets found on its balance sheet, and is roughly equal to the total amount all shareholders would get if they liquidated the company after paying all debts and obligations.
The Department of Public Utilities said in its notice to Planning Commission that "the aggregate book value of the CPP properties (to be sold to Miceli) is not more than one percent of the book value of the total assets of CPP."
In 2020, according to the most recent, publicly available city financial statements, CPP's total assets were valued at $447,875,000 with total liabilities of $288,993,000. However, one percent of book value equals nearly $1.59 million which is likely more than what Miceli would pay, based on the county's valuation.
Adjoining the CPP properties are 30 city land bank-owned properties in a block bounded by Buckeye, Cumberland, East 89th and East 93rd streets. In that block are just three privately owned parcels and two houses left standing. If all properties in the block were acquired, they would amount to about 5.75 acres, according to county records.
There are several large warehouse development projects popping up along the Opportunity Corridor. Unlike Miceli's project, each of those warehouse developments involve new construction. One is a 156,000-square-foot cold storage warehouse on East 75th Street led by the Orlando Baking Co. Another is a 182,000-square-foot facility on East 55th Street planned by Reserve Premier.
Two other warehouse projects nearby could add to the mix. Up to 500,000 square feet of distribution center facilities are planned at Commerce Park 77 in Slavic Village. Farther north on East 55th, Snap Gourmet Foods is expanding a 120,000-square-foot facility it acquired just two years ago by adding 82,000 square feet next door. All of these would put hundreds if not thousands of entry-level jobs within walking and biking distance of low-income neighborhoods as well as rail and bus transit stops in the area.
END