$72M+ dorm development recovers from pandemic
A plan for adding 600 dormitory beds to the housing-constrained Case Western Reserve University (CWRU) campus is back after getting quarantined for two years by the pandemic. Two new dormitory buildings would be built on CWRU's parking Lot 5, located at the intersection of Murray Hill and Adelbert roads in the South Residential Campus.
CWRU's plans will get their first public airing in front of city review panels tomorrow, starting with the Cleveland Landmarks Commission. The project's location in the south end of the Little Italy Historic District gives the commission jurisdiction to review the university's plans.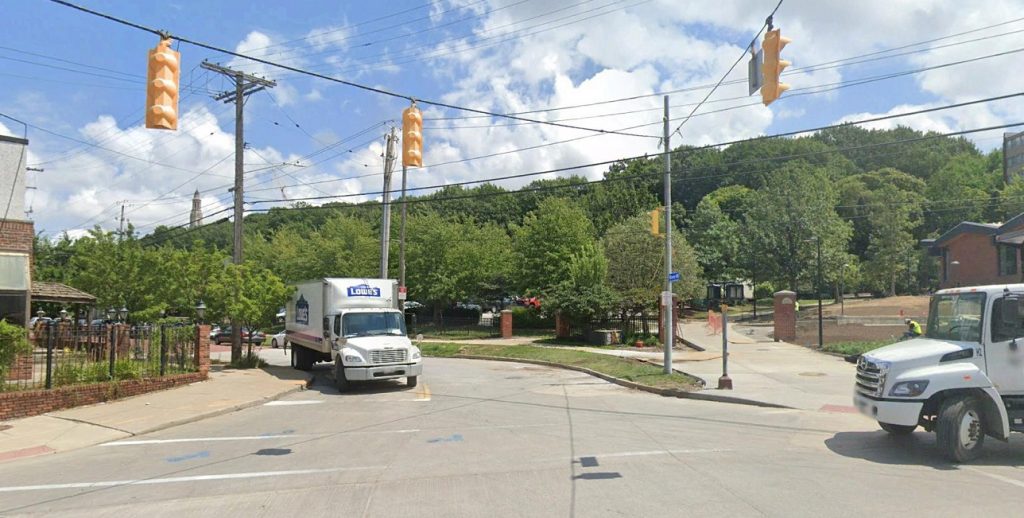 Site of phases one and two of the South Residential Campus are straight ahead in this northeast-looking view in July 2021 from the intersection of Murray Hill and Adelbert roads. Fribley Hall and commons is at right. Behind the camera is the site of phase three of Case Western Reserve University's dorm expansion in the south campus (Google).
Prior to the pandemic and likely to reoccur after it, CWRU's freshman and underclass populations have gotten bigger each year. So CWRU seeks to add capacity to accommodate more enrollment which has surpassed 12,000, compared to 9,600 students in 2000. In recent years, expansion of off-campus housing options for upperclassmen freed up a small amount of dorm space for freshmen and other underclassmen — but not enough. The reason is that the 196-year-old university hasn't added any new residence halls in seven years.
The current plan is almost identical to one that was reported on exclusively by NEOtrans and presented to CWRU students in January 2020, less than two months before the nation's economy was shut down and students were sent home to complete their studies virtually. A decision was made to put the plans on hold indefinitely six months later although contractual work to start renovating the neighboring, 1964-built Fribley Hall and commons was too far along to stop. That project was completed last year.
Originally planned with 185,000 square feet of space, the new dorms are now programmed with 196,000 square feet — a 139,100-square-foot, six-story Hill Building below the wooded Cedar Hill and a 56,900-square-foot, four-story Murray Building along the street. Connecting them will be a tunnel at the north end of each.
All rooms would be doubles, with two beds in each and rooms measuring 170 to 171 square feet. Furnishings are proposed to include bed/dressers, wardrobes and desks. Students provided input on the layout, decorations and furnishings at scheduled meetings. Dorms would feature study areas, laundry rooms, lounges, communal bathrooms, multi-purpose rooms and a grassy courtyard between the two new buildings.
The two new dorms, called phases one and two of the South Residential Campus, were to be completed in 2023. But the new effort hopes to start construction of them by this August and be completed in two years or less. Christopher Panichi, director of planning, design and construction at CWRU, said in 2020 the original construction cost was estimated at $72.46 million. But the sharp rise in the cost of construction materials may bump that up to about $80 million. Panichi opened an e-mail this week with questions from NEOtrans but did not otherwise respond to it.
Phase three of the South Residential Campus would add two more buildings and another 450 beds or so on what's called CWRU Lot 44 across Murray Hill, next to the Greater Cleveland Regional Transit Authority's (RTA) Cedar-University Red Line station. CWRU officials said development of the new dorms will meet building code requirements including for parking, despite that the new buildings will add new spaces. Instead, they will create parking demand for 154 more spaces while eliminating Lot 5 and its 174 parking spaces.
But they said that nearby lots can easily accommodate the new and shifted demand for 328 parking spaces. The 1,070-space parking garage on the other side of the RTA tracks, called Lot 53, regularly has excess capacity of 272 spaces, according to a CWRU presentation submitted to the Landmarks Commission. Four other surfaces lots — Lots 44, 47, 57, 85 — are expected to handle the demand for the remaining 56 spaces. CWRU officials said those lots have excess capacity of 91 spaces.
That number will be constrained further whenever the 137-space Lot 44 is developed for phase three of the South Residential Village. While there is no publicly stated timeline for phase three, its priority could be accelerated based on student enrollment growth, said CWRU Director of University Housing John White.
The university's long-range plans suggest that construction of new buildings for the South Residential Village could allow CWRU to demolish dorms at the top of the hill in Cleveland Heights. The South Quad at the top of the hill could then be used for recreation or sold for redevelopment, according to the long-range plan.
But given the university's growing enrollment, that plan may be delayed or see greater reliance placed on private investments like Integrity Realty Group's 58-unit boarding house it built last year on Euclid Heights Boulevard in Cleveland Heights. And right across the street from it is Flaherty & Collins' Ascent at the Top of the Hill, a mixed-use development now under construction with 261 apartments plus ground-floor retailers along Cedar Avenue.
Additional residential developments were recently built, are planned or underway throughout the University Circle area, offering a mix of workforce and luxury housing options. A summary of many of those and other developments was published by NEOtrans at the start of this year.
The architect for the new South Residential Village dorms is William Rawn Associates of Boston. The firm's portfolio has one local project — Cleveland Clinic's Taussig Cancer Center, 10201 Carnegie Ave. The general contractor for the dorms is Donley's Inc. of Valley View which has overseen numerous construction projects locally and nationwide although its specialty is parking garages and masonry work.
END