These are busy times for development teams in Greater Cleveland and especially in the urban core. These three development projects were submitted to the city last in one day week for eventual building permits. They are, from left, The 70 apartments on East 70th Street in Midtown, the Superior Mixed-Use Development downtown in the 2100 block of Superior Avenue, and the West 73rd Street Apartments on its namesake street in the Detroit-Shoreway neighborhood (Grassroots, Google, Horton Harper). CLICK IMAGES TO ENLARGE THEM
Pace of new Cleveland construction projects jumps
If it seems like there's been a sudden increase in real estate development projects in Cleveland lately, you're not alone. And last week, the city's Building Department received applications for zoning reviews and eventual building permits of three decent-sized projects — in one day.
There is a demand side to this equation, as urban core housing in Cleveland remains a strong market as evidenced by recent leasing activity. And the latest census showed that, while Cleveland and Cuyahoga County's population dipped slightly, their adult, working-age populations grew. Nationally, multi-family construction has increased 37 percent so far this year compared to the same period last year, driven by low inventories and high prices. In Greater Cleveland, a recent CoStar report said one-third of all apartment leasing activity is in downtown and in nearby neighborhoods.
But another part of it is that, as interest rates rise in response to inflation, real estate developers are trying to get their projects under way to secure lower-cost loans. And locally, the city of Cleveland's residential tax abatement program is up for renewal this year. How or if it will be renewed with a new mayor and five new City Council members plus a new council president is an uncertainty.
"A lot of developers are refinancing or selling off properties right now so that they can prepare a permitted project before the abatement deadline," said a local real estate market analyst who asked to not be named publicly.
These factors have led to a surge in new construction projects. On April 7, three projects were submitted to the city — The 70, 2024 E. 70th St.; Superior Mixed-Use Redevelopment, 2104 & 2110-2130 Superior Ave.; and West 73rd Street Apartments (North Building), 1325 W. 73rd St. All are projects that have been written about before in the media but the first two projects below had faded out of the public light, until now.
West 73rd Street Apartments — Detroit-Shoreway
The West 73rd project had been attempted previously and in different forms by two different local developers. Now a third developer, SGW Properties LLC of Brooklyn, NY, is taking its shot at this site in the Detroit-Shoreway neighborhood where United Community Developers and Cleveland Custom Homes could not deliver. SGW specializes in acquiring and developing multi-family and residential. Until now, their activity has been almost exclusively in the New York City metro area.
In the first of what appears to be two phases, SGW proposes to build a five-story, 120,000-square-foot apartment building with 108 units. The units are a mix of one- and two-bedroom apartments with nearly all of them having their own private balconies. There will be an interior courtyard and 70 covered parking spaces located behind the lobby and amenity spaces fronting West 73rd, according to plans submitted to the city.
The first and second floors of the West 73rd Street Apartments are shown here with West 73rd across the bottom of each. The parking area is screened from West 73rd by first-floor resident amenity and utility spaces. The second floor shows the interior courtyard. The levels above it have similar floor plans (Horton Harper).
This phase would be built on 0.64-acres bought last month by the developer and Michaella Hajjar of Strongsville, doing business as MH Quality Plus LLC, for $775,000, according to Howard Hanna. A vacant, single-story, 13,700-square-foot light industrial building on the site will be demolished. For later phases to the south, the developer would build on two additional parcels at 1345 and 1351 W. 73rd totaling 1 acre. Those parcels were acquired by the developer for $1.04 million, county records show.
There is already significant development occurring nearby with more planned. Less than a block north, two large apartment buildings totaling 250 units are under construction by Avenue Partners of Columbus. Between those and the proposed West 73rd Street Apartments is a 1.1-acre parcel that Avenue Partners acquired one year ago for $825,000 for future development, according to public records. Several blocks west, a 10-story apartment building is planned as part of an expansion of The Shoreway complex.
The 70 — Midtown
The other project that had seemingly faded away roared back to life last week, at least publicly, was The 70. This 5-story, 64-unit apartment building is configured with four floors of apartments above an amenities area and vehicular parking. It was approved by the City Planning Commission in the summer of 2019 with design modifications accepted a year later. The 72,000-square-foot building will have 16 two-bedroom units, 28 one-bedrooms and 20 studio apartments, according to plans submitted to the city.
Its developer, the Sabor Group of Budapest, Hungary, focuses mainly on projects in its home country. Sabor's US projects are limited to Detroit and Cleveland, including the Euclid Lofts, 3800 Euclid Ave. and a private home in suburban Pepper Pike. The 70 would be its largest development in Cleveland.
Located midway between Euclid and Carnegie avenues, The 70 would not have a presence on either major thoroughfare and would have stood out like a residential oasis in a mostly commercial neighborhood. the site is located between the Dealer Tire headquarters and the Midtown Tech Park.
But since it was approved by the city, the site of The 70 has gained a residential neighbor — Signet Real Estate Group acquired nearly 6 acres of land in the 7200 block between Euclid and Carnegie avenues, including the Allen-Sullivan mansion. It was demolished for the 160-unit Foundry Lofts apartments and a small retail space fronting Euclid. That project is due to be completed this summer.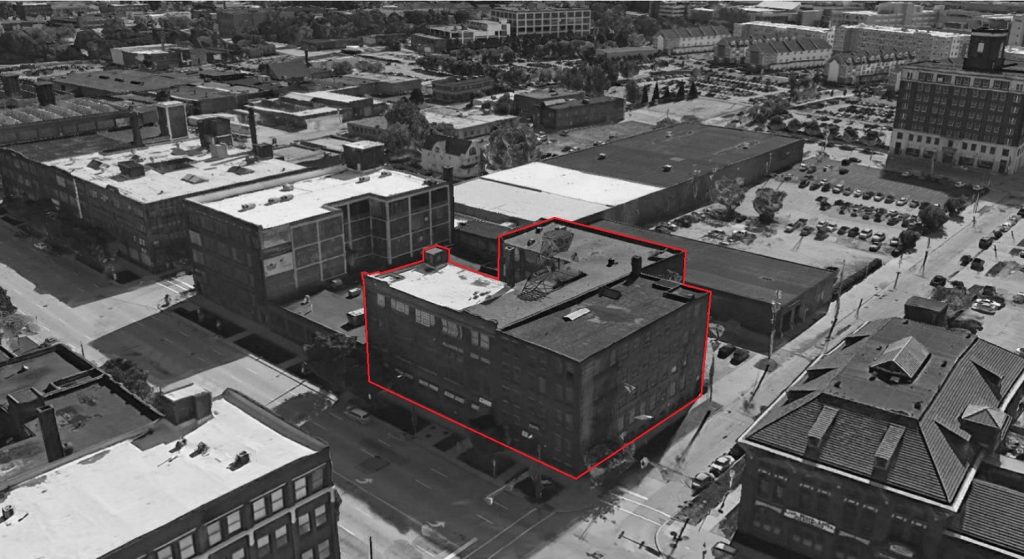 Outlined in red, the two 110-year-old former commercial buildings that make up the Superior Mixed-Use Development in the 2100 block of Superior Avenue are shown here. These buildings will be converted into apartments over restaurant and retail spaces. To the left of them in this image is the new headquarters of CrossCountry Mortgage (Vocon).
Superior Mixed-Use Redevelopment — Downtown
Unlike the previous two projects, this one has remained visible and active in recent years. The reason is that this residential-retail project is associated with the relocation of CrossCountry Mortgage's headquarters and up to 1,000 jobs from suburban Brecksville to downtown's Superior Arts Improvement District. Renovation of the ex-Tap Packaging Solutions' (former Chilcote Co.) offices and plant, 2140-2160 Superior, into the new HQ for the fast-growing firm is well underway.
Next door to the west, a consortium led by CrossCountry President Ron Leonhardt Jr. and BEK Developers of Beachwood is about to get to work on a $15 million renovation of two 110-year-old buildings totaling 82,000 square feet in to 43 apartments over at least two commercial spaces.
This project, including neighboring buildings already under renovation, was awarded an $8.5 million Transformational Mixed Use Development tax credit by the Ohio Tax Credit Authority in early March. There are additional historic buildings owned by the consortium CC Superior Holding LLC or by Leonhardt affiliates in the immediate area that are due to be renovated, but no plans have been submitted to the city yet.
For this phase of development, 2104 Superior will be converted into a restaurant on the first and second floors, with apartments on the third and fourth floors. Meanwhile, 2110-2130 Superior will become a multi-family project with retail on the first floor and apartments on floors two through four. Exterior improvements include small additions to accommodate ADA-access, site improvements, window replacement and a façade restoration, according to plans submitted to the city.
The Superior Arts Improvement District, which is part of the larger Campus District, is a special improvement district supported by property owners. Their funding provides for clean and safe services in the neighborhood such as graffiti removal, safety escorts, litter removal and additional off-duty police officers, as well as business development and neighborhood marketing services.`
END