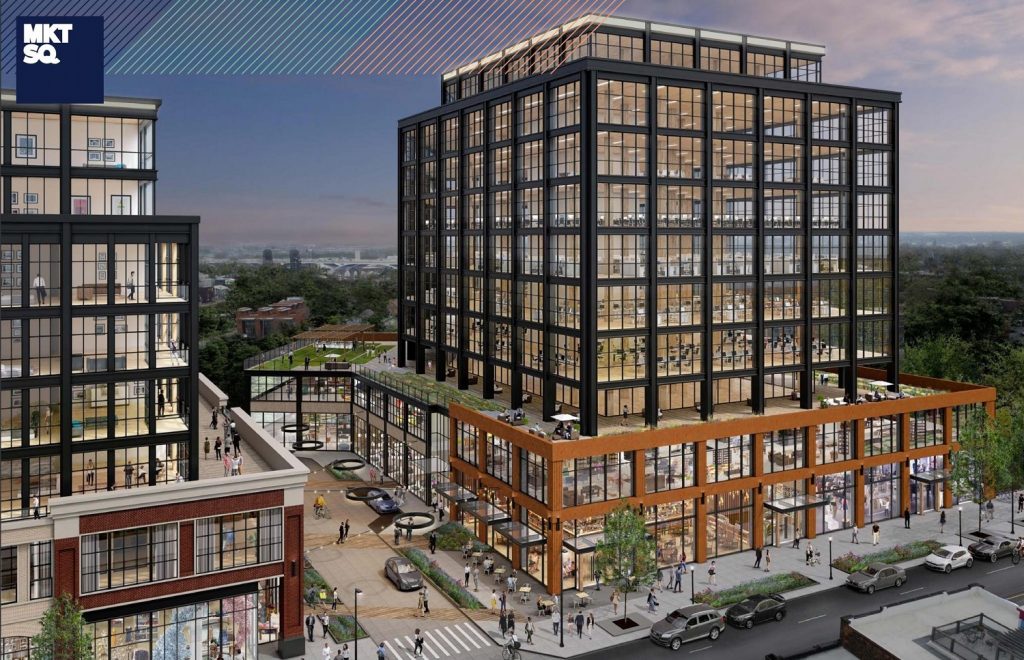 Add five or six more stories onto this early rendering of phase two of Harbor Bay Real Estate Advisors' Market Square development, sources said. That's what the Chicagoland-based developer is reportedly considering for its next project in Cleveland's Ohio City neighborhood. The nine-story phase one called INTRO is at left (HBREA). CLICK IMAGES TO ENLARGE THEM
Market Square developer has lofty ambitions
Successful leasing of apartments at the INTRO mixed-use project is reportedly encouraging its developer to pursue a 15- to 16-story high-rise as its next phase of the Market Square development, across the street from the West Side Market. INTRO and its high-rise follow-on phase are part of the Market Square development led by Harbor Bay Real Estate Advisors LLC, based in the Chicago suburb of Northbrook.
Three sources who spoke off-the-record said that the second phase of the Market Square development might go as high as 18 stories but, whatever is built, would stay below the 175-foot height limit in the zoning code for the site. Based on the height per floor of other recently built and proposed apartment buildings in Downtown Cleveland and Ohio City, it suggests a building in the 15- to 16-story range. The site on which Harbor Bay intends to build phase two is just south of INTRO, along West 25th Street near the intersection of Chatham and Gehring avenues.
Construction on the mass-timber INTRO is wrapping up this spring but residential leasing for its 297 market-rate apartments began last October. The market's response to that leasing would have a strong influence on how but not whether Harbor Bay would pursue a second phase phase at Market Square, said Dan Whalen, vice president of design and development at Harbor Bay, in a NEOtrans interview in August 2021.
In that interview, Whalen confirmed that Harbor Bay was looking at a multi-family building rather than their original plan of offices for phase two. Thus, residential leasing progress at phase one would be instructive on how phase two would be designed. So how is residential leasing going at INTRO after five months?
"Outstanding," Whalen said two days ago. "Absolutely crushing it."
According to the INTRO website, there are 84 studios, 43 one-bedroom units and only a pair of two-bedroom units still available for leasing. That means Harbor Bay has leased 55 percent of its 287 units — not counting the 10 penthouses — at INTRO. At this rate, the first phase could be 90 percent leased a mere two to three months after it opens for occupancy. Real estate experts say a new building is performing well if it reaches 90 percent occupancy within the first two years of opening.
As for commercial leasing, the first phase has filled up nearly all of the ground-floor spaces plus a rooftop event center totaling 30,000 square feet — although most are Harbor Bay-owned tenants like Leaps & Bounds coffee/café, Jaja tapas bar, Pioneer restaurant and Truss Cleveland event center. The first tenant to open at INTRO is a Bank of America branch. An AT&T store is soon to follow.
Whalen said that, while phase two will be mostly residential, it won't be all residential. Because his firm is still working through how much space will be devoted to residential versus commercial uses, he could not yet say for certain what the scale of the next phase would be, including how tall or how many square feet it would have.
Even as residential leasing was just getting underway at INTRO, there were other indicators that Harbor Bay was confident its leasing of INTRO would be successful to justify developing phase two.
For example, in October, Harbor Bay paid $2 million to acquire a parcel measuring only 0.366 acres located just south of INTRO, according to Cuyahoga County property records. The acquisition was made by a Harbor Bay affiliate called Ohio City Legacy II LLC. The land on which INTRO was built is owned by another affiliate called Ohio City Legacy LLC. For phase one it acquired 2.363 acres for $5.85 million, or $2.476 million per acre. This latest acquisition represents a value of $5.46 million per acre.
That kind of investment means a developer expects to get a significant amount of revenue from that property. That will require a project of significant scale. To do so will probably require public incentives, such as a Transformational Mixed Use Development (TMUD) tax credit. To be eligible for a TMUD credit, a major city development must have a construction cost of $50 million and be either 15 stories tall or higher or measure 350,000 square feet or larger, among other requirements.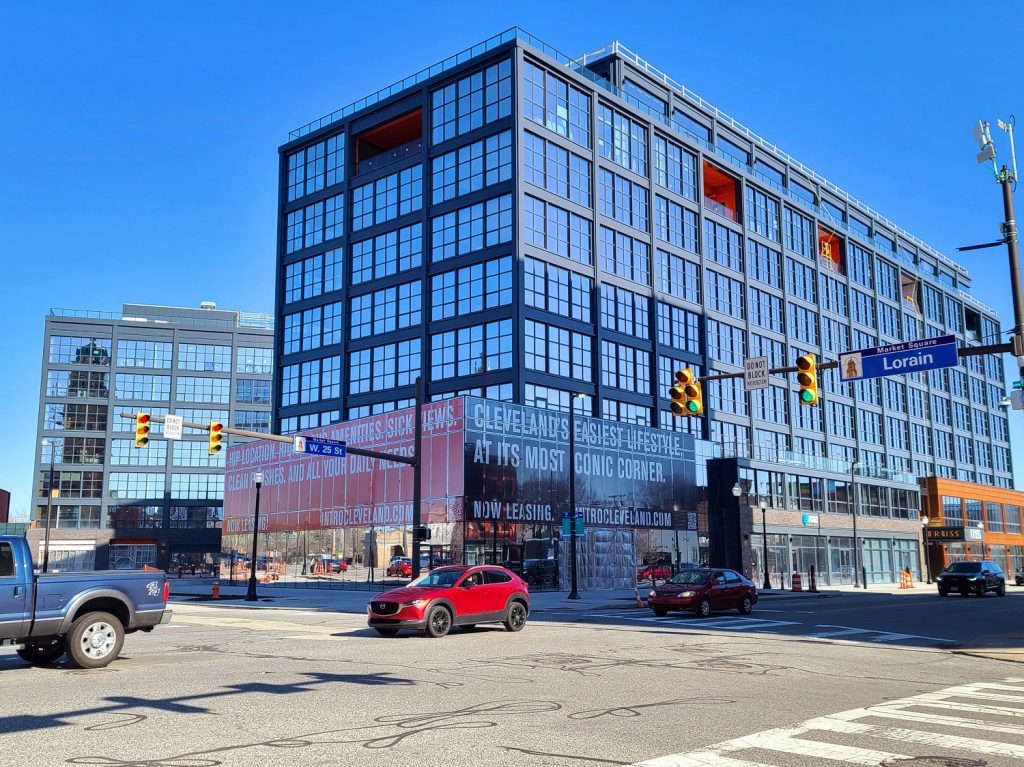 INTRO is nearing its spring completion at the southeast corner of Lorain Avenue and West 25th Street in Cleveland's Ohio City neighborhood. It's the first phase of the Market Square development. The second phase, to rise just out of view to the right, will be taller but likely not as massive as the first (KJP).
Although Whalen had no comment on whether Harbor Bay would seek a TMUD credit for phase two, the other sources familiar with the project said they expect a TMUD will be sought. Ohio Department of Development spokesperson Megan Nagy the state will solicit the next round of TMUD applications "in the coming months." Requests for applications last year, the first of four rounds, went out in September.
Tom McNair, executive director of Ohio City Inc., said he was aware of Harbor Bay's strong interest in developing a second phase for the Market Square area but had no comment regarding the specifics of the potential development.
"The southeastern part of Ohio City is very active" he said. "After INTRO, we may see phase two. Across the street is the Voss (Industries) property. Along the Red Line tracks and greenway is the future MRN (Ltd.) development. And just across the tracks is the Realife (Real Estate Group's) site. There's a lot to look forward to along West 25th Street."
At the north end of West 25th, the proposed Bridgeworks development has undergone a redesign to reduce its cost of construction in the hopes of seeing a groundbreaking before summer. That involved reducing the height of the mixed-use building from 16 stories to 15, and from 186 feet to 162. That works out to 10.8 feet per floor. At that ratio, a 16-story phase-two, Market Square tower could fit under the site's 175-foot-limit height restriction.
Tyler Kapusta contributed to this article.
END