But major makeover of The Avenue still in planning
Bedrock Real Estate is making small improvements to Tower City Center in effort to attract more retail and other commercial tenants, but a much larger, promised makeover to the downtown Cleveland railroad station-turned-shopping mall has yet to be announced.
This week, Bedrock filed construction permit applications to the city to start making $1.5 million worth of renovations to portions of the 366,000-square-foot The Avenue at Tower City Center. The renovations include new wiring, electricity regulators, transformers, sanitary piping, heat tracing, heat pumps, security/fire systems and more involving only about one half of the mall.
"Work includes shell revisions for tenant spaces interior," wrote Jeff Wysocki, a senior technical designer at Nelson Worldwide's office in suburban Independence. "Tenant Improvement revisions will be submitted by others under separate cover."
The permit applications show the improvements will directly affect 22 retail spaces, all of them vacant, in the northern half of The Avenue between Public Square and Prospect Avenue. The affected retail spaces range in size from 776 square feet to 7,483 square feet and are located on all three levels of the mall.
That portion of Tower City Center, called the Tower Court, saw significant water damage in June 2021 when a water line in Terminal Tower broke. Bedrock made $5 million worth of repairs this winter to the Tower Court, according to documents filed with the city's building department.
Additional permit applications were being filed today and early next week by Nelson for Bedrock. Based on their titles, these appear to be for concourses and other common areas, as well as for features such as fountains. However, the applications aren't yet completed so more information may soon be available.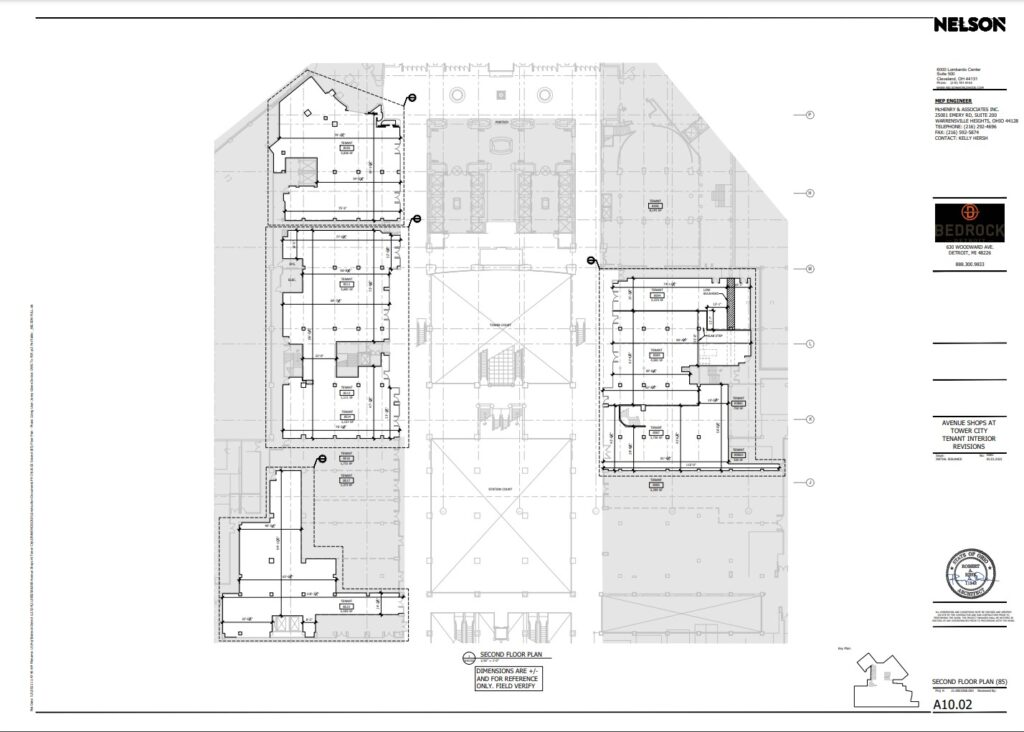 This is the floor plan for the second level (called Level 85 ) including the portico entry from Public Square at the top of the image. This is mostly the Tower Court area of The Avenue at Tower City Center. However the unshaded tenant area at the lower left, formerly a PNC Bank branch, is directly below Prospect Avenue (Nelson).
NEOtrans has reached out to Bedrock's PR firm Falls & Co. for more information, including whether Bedrock has any tenants in line to occupy those 22 spaces. Lora Brand, vice president of communications at Falls & Co. opened two e-mails from NEOtrans but did not respond to them.
We also reached out to Jason Russell, senior director of operations and leasing at Bedrock in Cleveland, but he didn't respond to NEOtrans' e-mail either.
In the last couple of weeks, Bedrock has been promoting Tower City Center on social media as a place for retailers and other businesses to open up shop. The tweets have highlighted the history of Cleveland's former main railroad station that was converted to a shopping mall three decades ago but has struggled to retain retailers, as many malls have.
"We wanted to be able to bring something to Cleveland that was a lot more Cleveland," Bedrock Chief Operating Officers Ivy Greaner said on Twitter. "It's our goal to preserve what makes sense and to do what speaks to people's hearts."
He has said for months in press releases and media interviews that a major makeover to downtown Cleveland's shopping mall was being planned but would be carried out in two phases. The first phase involves making building repairs, hosting events such as boxing matches and small concerts to draw more foot traffic, and adding new tenants. That part is already happening.
Last November, Bedrock added five new, locally owned retailers to The Avenue. They included Red Velvet Men's Grooming Co., The Feet Geeks, 360 Clothing Studios, Styles of Imagination, and CityBreaks Barbershop. The landlord offered up to 18 months of free rent as part of a good-will effort.
The major renovations to The Avenue at Tower City Center yet to surface. Greaner has said that a 12- to 18-month-long major renovation project of The Avenue would be announced and commence this year. But no details have been announced.
The only rumors of the major renovations NEOtrans has heard involved improvements to the parking deck under Tower City where the former Cleveland Union Terminal's railroad tracks and passenger loading platforms were located. Tower City Center remains the main station for the Greater Cleveland Regional Transit Authority's rail rapid transit system.
Bedrock, based in Detroit, acquired The Avenue at Tower City Center in 2016. It reportedly is interested in making major investments to the riverfront area between Tower City and the Cuyahoga River, including new office, residential and hotel building plus expansive public spaces. Bedrock recently hired world renowned architect Sir David Adjaye to help design its riverfront project.
END