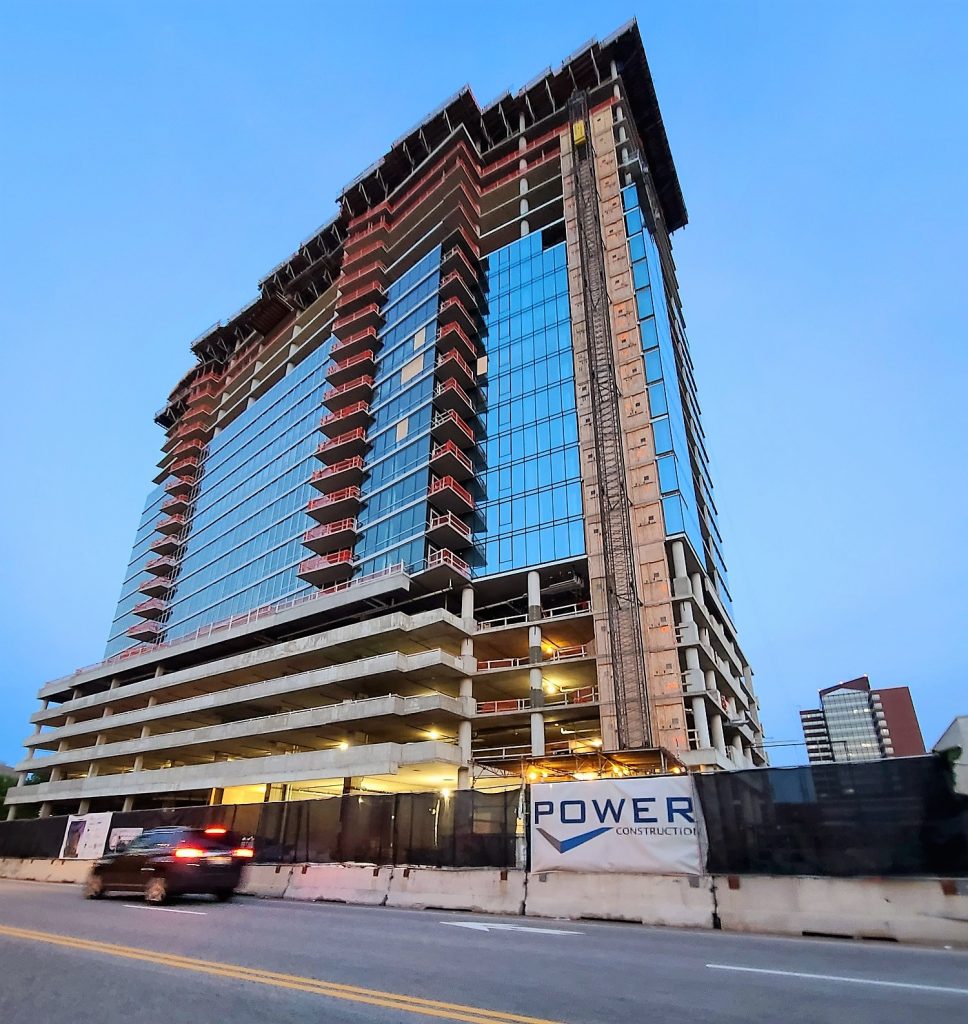 The Artisan, a 24-story apartment building, towers over Chester Avenue in Cleveland's University Circle. It is just one of a handful of large structures planned or under construction in the massive Circle Square development that is seeking for the second time a state tax credit intended to help such complicated, expensive projects round out their financing packages (KJP). CLICK IMAGES TO ENLARGE THEM
Circle Square in, Market Square out
ARTICLE UPDATED JULY 11, 2022
While a complete list of applicants for so-called "megaproject" tax credits won't be available until sometime next week, NEOtrans has learned who a few of the local applicants are and aren't, including at least one surprise. The deadline was today at 5 p.m. for submitting applications to the Ohio Department of Development for the second round of Transformational Mixed Use Development (TMUD) tax credits that could total $100 million worth of awards.
Several real estate developers confirmed that they submitted or had planned to submit applications for the 2023 TMUD program. The state's 2023 fiscal year began July 1, 2022. Among those were the massive Circle Square development in Cleveland's University Circle, Studio West 117 bracketing the Lakewood-Cleveland line and the Bridgeworks development in Cleveland's Ohio City neighborhood.
One surprise potential applicant that chose not to submit was Harbor Bay Real Estate Advisors. It has been making noise about building a phase two of its Ohio City Market Square development after the resounding success of its first phase called Intro, a $145 million, mass-timber-framed mixed-use project featuring 297 apartments and 30,000 square feet of retail and restaurant spaces. The complex at Lorain Avenue and West 25th Street opened last month. Nearly all of its retail spaces are leased as are all apartments, aside from 22 studios. The apartments are commanding top-of-the-market rents in the vicinity of $3 per square foot.
Dan Whalen, vice president of design and development at Harbor Bay, confirmed his company had not applied for a TMUD credit for phase two. But it wasn't because of any lack of interest by his firm in seeking a second phase — reportedly a 15- to 17-story residential tower just south of phase one that would approach the site's 175-foot zoning code height limit set by the city, according to two sources familiar with the project.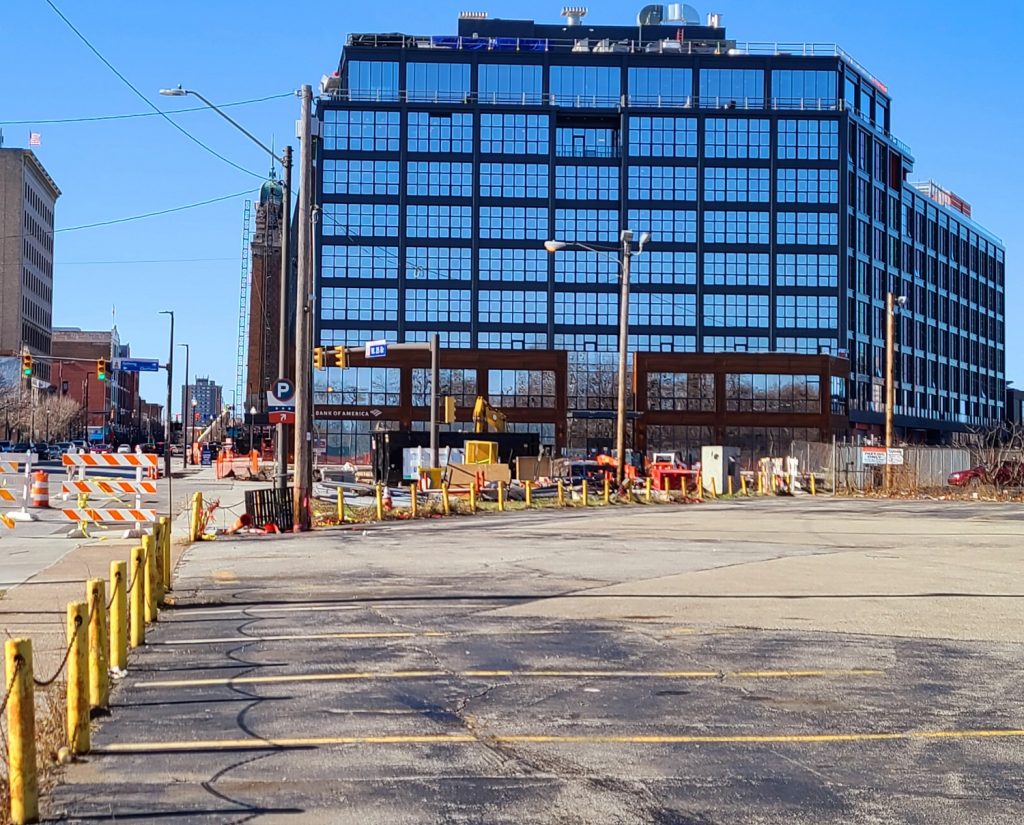 It may be that Intro, seen wrapping up construction in the background last spring, was so successful in its leasing that a towering phase two could move forward in the foreground without a megaproject tax credit being needed to fill in any gaps in financing. At left is West 25th Street with the West Side Market's distinctive clock tower visible next to Intro (KJP).
"We don't have a TMUD application," Whalen said in a text message. "We are not far enough along in our plans to determine financing options just yet."
Last year, in a NEOtrans interview, he said his company would consider a phase two if leasing at Intro went well. But Harbor Bay in October appeared to have anticipated Intro's success as it purchased a 0.366-acre parcel for phase two for $2 million, property records show. This year, Whalen expressed excitement at how well leasing at Intro was going. He hinted that there could be some news soon about phase two.
(It) shouldn't be too long before I can provide some more thoughts," Whalen said.
Just up West 25th Street is Bridgeworks, a 15-story mixed-use development that will seek a TMUD credit for the second time, confirmed project partner Michael Panzica. But this time, the project was redesigned slightly to save on construction costs and potentially reduce its ask. Last October, Bridgeworks LLC, a partnership between M Panzica Development and Grammar Properties, sought $7,944,817.92 in TMUD credits to build 140 market-rate apartments on floors two through 10, an 11th-floor restaurant with outdoor patio, and 130 hotel rooms on floors 12-15. The brand of the hotelier hasn't been released publicly. Ground floor retailers and cafes are also planned.
But when when the first round of TMUD awards was announced March 2, Bridgeworks wasn't among them. So the building was redesigned from a 16-story, 186-foot-tall building to one with 15 stories that stood 162 feet high while retaining the same number of apartments and hotel rooms. The economizing was done with the goal of closing the gap between projected costs and available financing so that construction might begin by summer. But the uncertainty wrought by inflation made that goal impossible. While Panzica would not say the amount of TMUD credits they're requesting, the redesign done in March with a subsequent refinement in May might allow a smaller, more obtainable amount.
Grammar Properties founders Graham Veysey and his wife Marika Shioiri-Clark appeared before the Landmarks Commission in May where they won conditional approval to demolish historic structures on the site. However, they said the earliest the demolition would occur is in October. That's also near to when the Ohio Tax Credit Authority is expected announce which projects will win the second round of TMUD credits.
Hoping to be among them is the development team leading the massive Circle Square development in University Circle. Leading that team is Midwest Development Partners whose Chief Operating Officer Steve Rubin confirmed today that it will essentially resubmit their first TMUD application but with greater specificity as to what will be funded by the tax credits. Midwest Development Partners last year sought $19 million to help finance phase one of the $300-plus million Circle Square project.
Phase one consists of everything west of Stokes Boulevard — The Artisan, a 24-story apartment tower that's well underway; Library Lofts, an 11-story apartment building over a new Martin Luther King Jr. Branch Library that's started construction; a public parking garage; demolition of the old MLK Branch Library for a new hotel and ground-floor retail; plus public spaces and significant new infrastructure. Later phases east of Stokes are proposed to have an apartment tower of comparable size to The Artisan, an office building that's roughly 15 stories tall, plus a parking garage with ground-floor retail and restaurants.
TMUD credits can be used for multi-phase projects whose earliest components are already under construction. Up to $80 million in TMUD credits are to be awarded for projects in or within 10 miles of cities having 100,000 or more residents. Awards are limited to developments that are at least 15 stories tall, or have more than 350,000 square feet of space and exceed $50 million in value. At least another $20 million in TMUD credits can be granted to smaller projects in smaller cities.
Studio West 117 on both sides of West 117th Street at the Lakewood-Cleveland line also missed out on a TMUD credit last time — a $8,687,615.20 request. Daniel Budish, president of Gaslamp Capital, said his firm is seeking approximately $6.2 million this time to build-out this multi-structure, multi-phase, mixed-use development. He said the tax credit is needed to ensure the commercial spaces remain affordable to potential tenants to aid entrepreneurs.
Studio West 117 is centered around the Phantasy Theater, formerly the Homestead Theater, but its biggest piece is a proposed seven-story, 212-unit apartment building over a parking garage at Detroit and Coutant avenues. On that site is a closed National Tire & Battery (NTB) repair shop. Gaslamp Capital recently won two awards from the state that approximate the prior TMUD request — a $5 million State Historic Tax Credit to renovate the theater and a $4 million Brownfield grant for site clean-up and demolition.
"We are still pursuing a TMUD award for the project to ensure that the project can contend with rising construction costs and interest rates and ensure that the spaces can remain affordable to our LGBTQ+ entrepreneurs and small businesses," Budish said in a recent interview. "We still have a long way to go on planning and design for the new construction NTB property, including formulating the designs, taking the designs to the community and city of Lakewood approvals."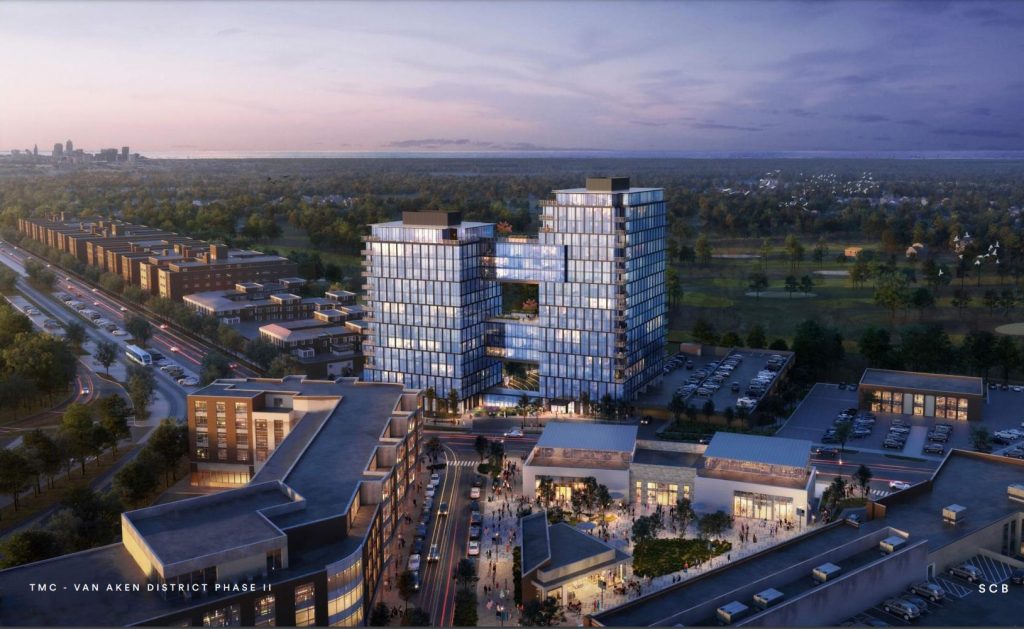 Two connected towers forming the proposed Farnsleigh Apartments at the Van Aken District in Shaker Heights remain an active project and thus are still in need of a Transformational Mixed Used Development tax credit in order to move forward. The project at Van Aken Boulevard and Farnsleigh Road missed out on a credit the last time and has not attempted any design changes to advance without the credit (SCB).
It is unlikely that RMS Investment Group will resubmit a TMUD application for its proposed 15- and 18-story Farnsleigh Apartment towers at the Van Aken District in Shaker Heights. Instead, RMS has secured from the city a $4 million forgivable loan and a change in the project's tax-increment financing formula yielding $3 million to fill its financing gap that could allow the 228-unit apartment project to break ground next month. RMS's $11 million TMUD application was not approved last time for the project at Van Aken Boulevard and Farnsleigh Road. RMS representatives did not respond to a phone message left with their receptionist seeking more information.
NEOtrans also reached out to no avail to Bedrock Real Estate executives this week to confirm rumors that they might seek a TMUD credit for their massive, multi-structure development plan along the Cuyahoga River, below Tower City Center. According to a city official, an office building, hotel and residential tower are all reportedly in the works and could be included together in a first phase along with public greenspaces, plazas and other connective infrastructure along the riverfront and linking to Tower City.
In March, four Northeast Ohio projects won a total of $53 million in TMUD credits. Most of that, $40 million, was awarded to a single project — the 1.36-million-square-foot, $465 million Centennial redevelopment of the former Union Trust Bank at 925 Euclid Ave. in downtown Cleveland. The $40 million award represents the maximum allowable credit that can be given to any single applicant. Centennial could see construction start by Labor Day, a source familiar with the project told NEOtrans.
The other award winners in Northeast Ohio were CC Superior Holding LLC which won $8,562,068 for its $100 million mixed-use development next to Cross Country Mortgage's newly relocated headquarters. Downtown Elyria Redevelopment won $3,414,100 for a $35.7 million project. And Uptown Mentor won $1,158,577 for a $14 million redevelopment of a blighted stretch of Mentor Avenue in its namesake suburb.
END