Great Lakes Brewing Co.'s production facility is spread among multiple structures, both new and old in the heart of Cleveland's densely developed Ohio City neighborhood. As the neighborhood continued to densify and the facility became constrained, the prospects for relocating the entire brewery to the Flats increased (Google). CLICK IMAGES TO ENLARGE THEM
OSHA violations, Ohio City development prompt move
A number of factors have come together to prompt the Great Lakes Brewing Co. to seek a relocation of its production facilities from its longtime location in the heart of Cleveland's Ohio City neighborhood. Previously, the large craft beer brewer had considered expanding production to properties it acquired over the last four years along the Cuyahoga River on Scranton Peninsula in the Flats. Now it appears that it may move all of its production to the nearly 10-acre site.
Adding to this situation is the potential that a high-rise residential or mixed-use building may be built on a parking lot next to and south of Great Lakes' property. And, if and when Great Lakes moves its production facility out of Ohio City, the 1-acre property on which it now sets could figure into the development equation, too.
The factors started coming together before Great Lakes acquired land on Scranton Peninsula in 2018. The brewer, founded in 1988, had grown quickly over the years and expanded into several historic and modern buildings in the block bounded by West 26th and 28th streets south of Carroll Avenue. It also established its offices, brewpub and gift shop along Market Avenue, between West 25th and 26th streets.
But while Great Lakes is not in a dire situation facilities-wise, it could be doing better. According to company sources, Great Lakes is not at full production capacity and could fill several more years of growth at current sales increases of about 2-3 percent annually. Yet it cannot expand its production facility's footprint to appease federal regulators or ensure the availability of employee parking in the future.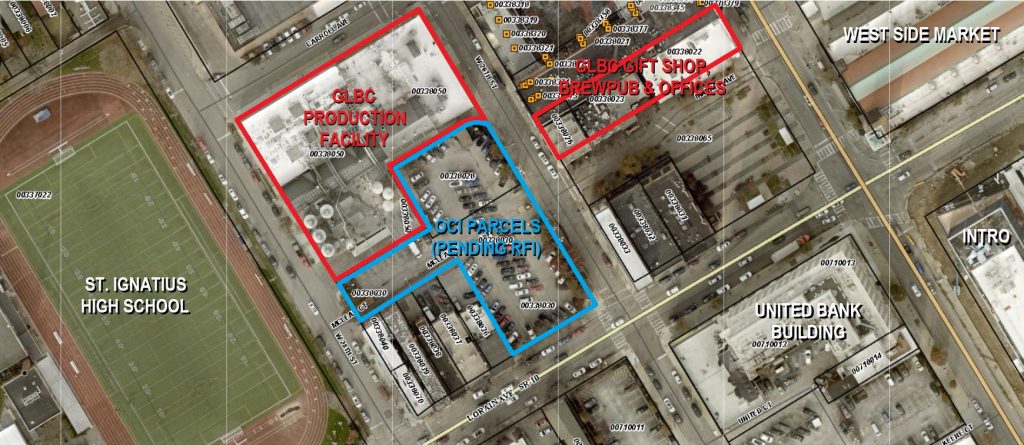 A 90-space parking lot owned by Ohio City Inc., outlined in blue, could be redeveloped with residential pending the outcome of a solicitation by the development corporation. That would further constrain Great Lakes Brewing Co. But OCI has made its position clear a long time ago that it doesn't want the brewer to expand its production facilities in the heart of the neighborhood (MyPlaceCuyahoga.us).
One reason is that the community development corporation Ohio City Inc. (OCI) has owned a 0.3-acre parking lot at 1950 W. 26th St. since 1998. That lot abuts a portion of Great Lakes' nearly 40,000-square-foot production facility. OCI acquired the next parking lot south of it at 1960 W. 26th St. in 2018, a 0.53-acre property which fronts Lorain Avenue and includes a narrow strip over to West 28th, according to county records. That effectively hems in Great Lakes' production plant on all four sides. And OCI had already stated its opposition years ago to Great Lakes' expansion of production at that location in Ohio City.
"We've never considered allowing expansion of (Great Lakes') production facilities on our lot," said OCI Executive Director Tom McNair. "(OCI) always felt the additional volume and subsequent truck traffic was too much for the site and not the best use for the long term future of the neighborhood. And we love Great Lakes! It's just really hard from a practicality standpoint to put a factory at Main and Main."
This past spring, OCI issued a request for interest in their two West 26th parcels that total 0.83-acres. The request invites developers' ideas for potential uses of the site and their capacity for delivering it based on their track record. The deadline for responses is July 29. Two sources who spoke off the record said there are several interested respondents including Intro developer Harbor Bay Real Estate Advisors of the Chicago area and My Place Group of Cleveland which is seeking to expand its mixed-use developments along Lorain. McNair didn't reveal the respondents but made it clear that OCI may not do anything new with the parking lot.
"There are no firm plans for our lot though we've been exploring what's possible," McNair said. "We've been very public and transparent in our willingness to explore a new future for that site. But we have no idea what, if anything, we will do there."
The parking lot is zoned for local retail which allows all uses permitted in a multi-family district plus all retail businesses for local or neighborhood needs. The maximum building height allowed is 115 feet which equates to an 11-story residential building. A Great Lakes source said the potential development of the parking lot on West 26th was a factor in relocating all of their production facilities to Scranton Peninsula.
"For what it's worth, they've literally not even inquired about doing so (expanding onto OCI's lot) in seven to eight years so I do find it odd they'd use that as a reason," McNair said. "They've been trying to figure out expansion for the entirety of my 12 years in Ohio City."
But another source at the brewer said there was a different motivation for Great Lakes looking into moving all of its production facilities to Scranton Peninsula.
In February 2021, the Occupational Safety & Health Administration (OSHA) made a surprise inspection of Great Lakes' production facilities in Ohio City. Inspectors cited Great Lakes for eight violations — four for excessive noise, one for having confined work spaces without a permit and three for inadequate grain-handling facilities. OSHA proposed $31,600 in penalties but reduced them by settlements to $15,800, according to public records. Although five of the violations were addressed by unidentified, informal settlements, two petitions to modify the violations were filed in May and a third is due to be filed this December.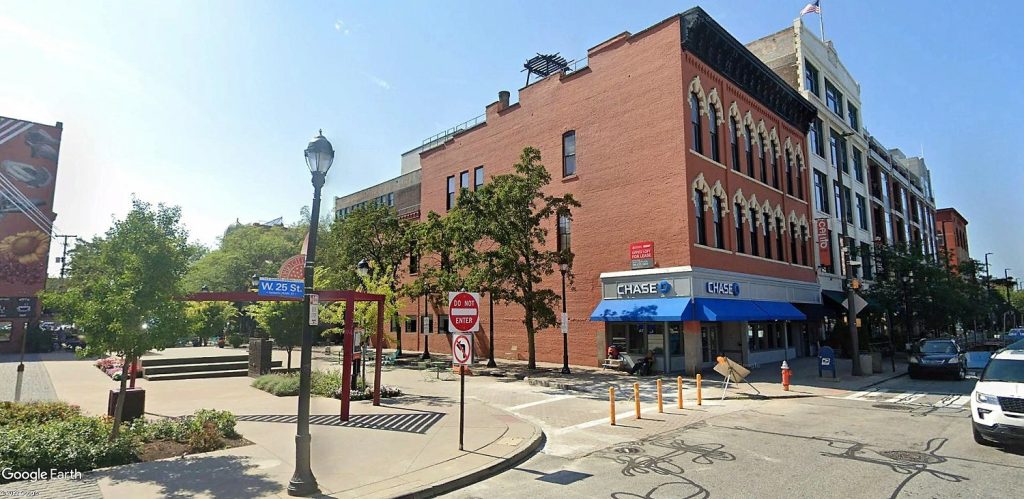 Earlier this month, Great Lakes Brewing Co. bought the Gehring Building on West 25th Street at Market Avenue. The brewer could expand its brewpub from behind the Gehring and into its ground floor, replacing the Chase Bank branch and giving the brewpub a more visible presence on West 25th by West Side Market (Google).
An e-mail sent by NEOtrans to Great Lakes Brewing Company CEO Mark King seeking more information was opened but not responded to prior to publication of this article.
On July 5, the historic Gehring Building, 1958 W. 25 St., was sold to an affiliate of Great Lakes for $2.24 million, county records show. The building, named after one of the city's oldest breweries that stood at 2056 Gehring Street until it caught fire in 1935, holds some of Great Lakes corporate offices and could hold more after the Cleveland International Film Festival moves its offices to Playhouse Square. King told Crain's Cleveland Business the purchase allows the company to continue using its offices so it won't have to build more in the future, should the company "proceed with a new build out of the brewery" such as for a future user.
One of the two sources who spoke to NEOtrans about OCI's request for interest for its West 26th parking lot said one of the respondents had inquired about the availability of the property on which Great Lakes' production facilities are located. The respondent wasn't identified. The other source said Great Lakes would at least entertain the idea of selling the brewery property to a developer after moving the entire brewing operation to Scranton Peninsula. A new development on OCI's lot could also eliminate 90 parking spaces that are used by Great Lakes employees and customers.
The brewpub is likely to stay and possibly be renovated and expanded into the ground floor of the Gehring Building, eventually replacing Chase Bank, one of the two Great Lakes sources said. That would give Great Lakes' brewpub a much-coveted presence on West 25th — right across the street from the West Side Market. The other source said that if Great Lakes keeps the Ohio City brewpub and adds a Scranton Peninsula brewpub/tasting room, the two would have to differentiate their public offerings so as not to compete with each other.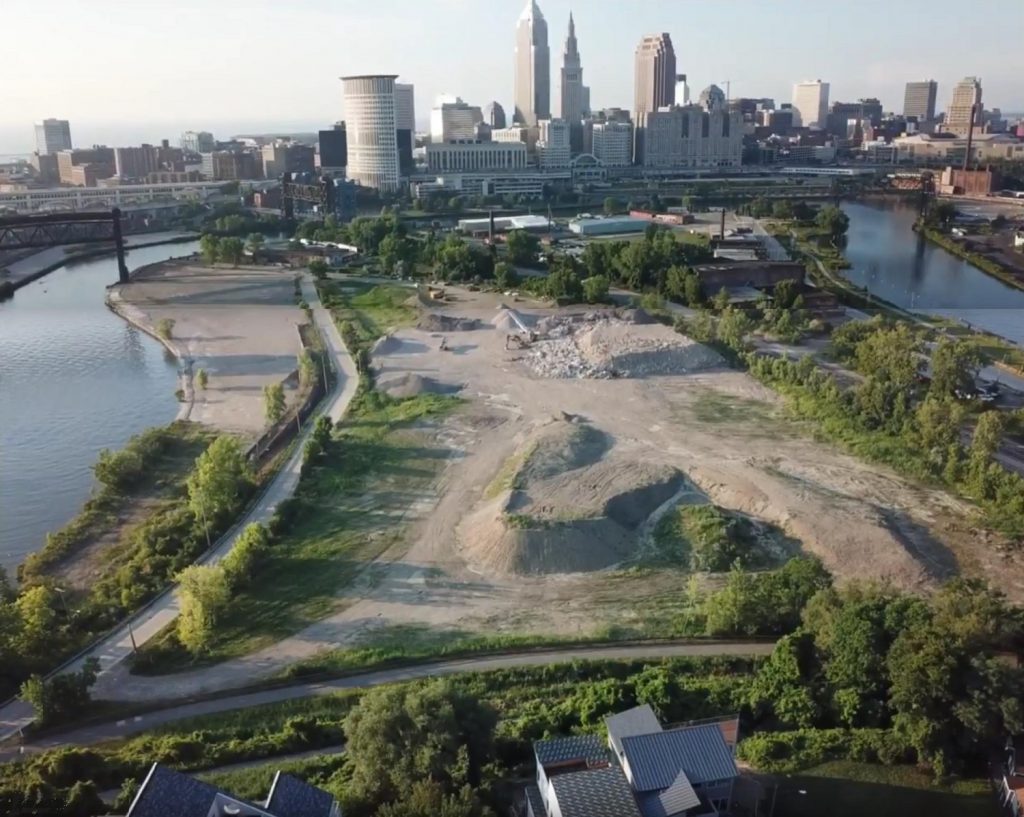 Much of Scranton Peninsula is a blank canvas, especially the area in the foreground that Great Lakes Brewing Co. purchased in 2018. It added to its holdings in 2021 buy acquiring the narrow strip of land between Carter Road at left and the river. Its riverfront parcel ends roughly where the thicker vegetation ends. Leveling of the site can begin as soon as a contractor for the brewer picks up the approved building permit (Aerial Agents).
Originally, Great Lakes acquired 8 acres of land at the southern portion of Scranton Peninsula under the name Carter Inland LLC for an expansion of its production facilities. That property was on the land side of Carter Road. Then in June 2021, Great Lakes added another 1.87 acres of land on the river side of Carter under the name Carter Riverfront LLC for a riverfront brewpub/tasting room.
The property was part of a 22-acre plot of land on Scranton Peninsula, across the river from downtown and Tower City Center. It was owned and marketed by a partnership called Thunderbird with most of the remaining 12 acres being sold so they can be developed with more than 600 apartments by two separate developers. Construction permit applications for both residential developments are being processed by the city.
Great Lakes, through its consultant Environmental Design Group, submitted revised site preparation plans June 2 for its Scranton Peninsula properties that involve leveling earthen piles, raising the land 1-3 feet and seeding the site. The plan's minor revisions, compared to a plan previously submitted in December, involve adding a gravel driveway to the inland site. According to the city's Building Department web portal, the revised plan was approved June 28; a construction permit is awaiting pick-up any day now by a city-registered contractor on behalf of Great Lakes. Cost of the work described in the application is estimated at $650,000. No structural permit applications have been submitted for that site yet.
END