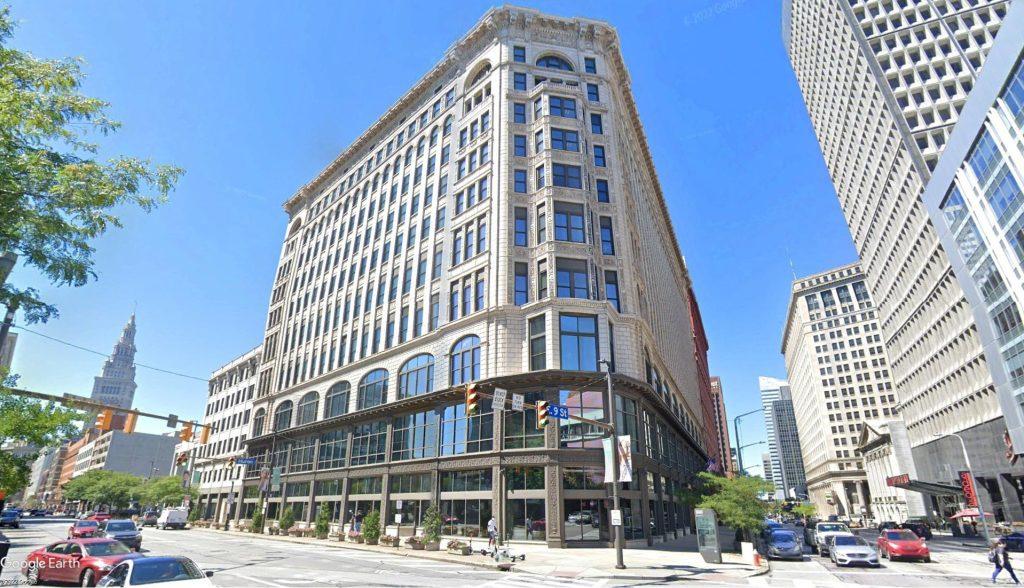 Medical Mutual's 10-story, 120-year-old Rose Building in downtown Cleveland has been mostly empty since the pandemic, as many of the insurance company's employees are working from home. They will not return to work in this building in 2023 and will instead report to work at the company's operations center in suburban Brooklyn on a hybrid work basis (Google). CLICK IMAGES TO ENLARGE THEM
HQ leaving for Brooklyn; Rose Building may go residential
A spokesperson for health insurance industry giant Medical Mutual confirmed that the company's headquarters will leave downtown Cleveland in 2023. However most of their roughly 1,000 downtown office employees never returned from remote-working during the pandemic, leaving the historic Rose Building at East 9th Street and Prospect Avenue mostly empty over the past two-plus years. Today's news has led to some wondering if the building could be converted to residential as with other old office buildings downtown.
"Like many other companies, we now have the majority of our staff on a hybrid schedule or working from home," said Sue Walton, manager of corporate communications at Medical Mutual in an e-mail to NEOtrans. "We have very few full-time employees currently working in the Rose Building. As a mutual company, we have to weigh the economic feasibility of maintaining multiple underutilized sites in Northeast Ohio with the responsibility we have toward our members, who are a top priority."
She said employees will begin moving to its Brooklyn offices in a phased approach throughout the year beginning in January 2023. In 2017, Medical Mutual acquired the 381,000-square-foot Rose Building for $37.9 million where its corporate office had been located since 1947. That same year, it also consolidated several suburban offices into the former American Greetings headquarters in Brooklyn. The latter involved leasing a newly renovated, four-story, 324,000-square-foot office building which is part of an adjoining 1-million-square-foot multitenant commercial structure that was also renovated. Medical Mutual is the oldest and largest health insurance company based in Cleveland.
City officials said they were caught off guard by Medical Mutual's decision, having learned about the announced move only today. The insurance company was prepared to make $12 million worth of renovations to the Rose Building in 2020 but then the pandemic hit. That renovation was to be supported by a $1 million, 20-year loan from the city that was deferred for 10 years when some or all of the loan may be forgiven based on the job creation within the city.
Front entrance to Medical Mutual's operations center in the Cleveland suburb of Brooklyn, which is where the company's staff who aren't working from home will be based. This building was the former corporate headquarters of American Greetings before the gift card maker moved out to Westlake (jljiinc.com).
"I'm very disappointed in this decision by Medical Mutual and I hope they reconsider," said Ward 3 Councilman Kerry McCormack, whose ward includes downtown, in a text to NEOtrans. "The city of Cleveland has been nothing but a great partner to Medical Mutual, even passing incentives for their downtown building a few years ago. The city is also a large customer of Medical Mutual through our insurance plan. It's hard to take the statement seriously about the company 'remaining committed to Cleveland' when they abandon the city. Cutting a check to philanthropy doesn't cut it. I wish they would have followed the example of companies like Sherwin Williams and remain committed to Cleveland."
According to industry insiders, the 120-year-old Rose Building no longer served the company's needs, especially in the post-pandemic era. The building has outdated air filtration systems, narrow corridors and traditional closed office spaces which made it difficult for office sharing in a hybrid work environment. Also, starting next year, Medical Mutual employees working early in the day or late into the evening would have been competing for spaces in a 540-space parking deck that will be shared by the new, 23-story City Club Apartments, 776 Euclid Ave.
Construction of the 304-unit apartment tower could be afforded because a new parking deck didn't need to be built for it. Instead, City Club Apartments residents would use the existing parking deck at night while workers at neighboring companies like Medical Mutual would continue to use it during the day. But not all Medical Mutual employees arrive or leave the office before City Club residents' cars will out of the parking deck. And many City Club residents will also work downtown, including in their own apartments, while keeping a car all day at the parking garage.
In addition to Medical Mutual's offices in downtown Cleveland, the company has nine other locations in northern Ohio, all of which in suburban offices. McCormack said he intends to make the case to Medical Mutual that leaving downtown may hurt the company's ability to recruit young talent who want to work in a walkable, urban setting. That, he said, is reason enough for it to retain a significant presence downtown.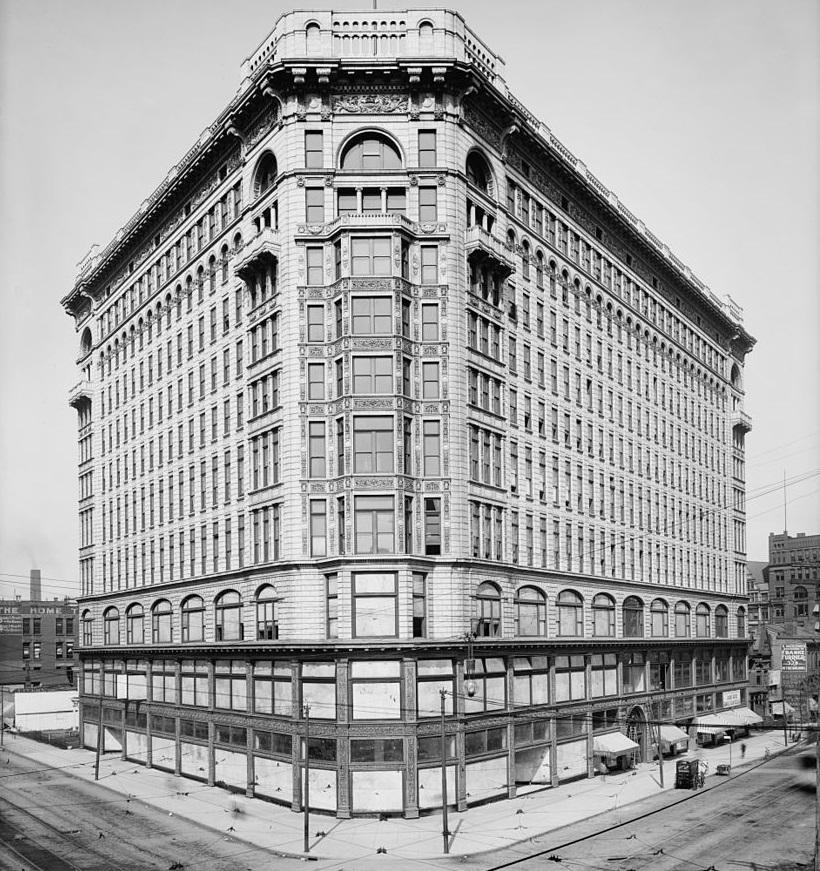 The Rose Building was Ohio's largest office building when it opened in 1902 in a part of Cleveland that was not yet considered the city's central business district. Indeed, a stone townhouse stands next to the Rose Building's wrought-iron façade on its East 9th Street side, then called Erie Street (Wiki).
"Not only is it the right thing to do, it's critical for competitive recruitment for their company," he said. "Decisions like this also increase sprawl and contribute to the regional problem of connecting workers to work places."
Over the past decade, 7 million square feet of leasable office space has been removed from downtown's inventory by conversions of obsolete office buildings to other uses, primarily residential. McCormack said it was too soon to consider alternatives to retaining Medical Mutual's offices downtown. Walton also said it was too soon to consider how the Rose Building might be used in the future or who might own it.
"We are exploring all options for the Rose Building," she said.
The structure was Ohio's largest office building when it was built in 1902 by businessman and philanthropist Benjamin Rose. It was built so far out from the city's central business district at that time that it was called Rose's Folly. The 10-story building was designed by George Horatio Smith who also contributed to the design of The Arcade linking Euclid and Superior avenues and the Colonial Arcade, now the Fifth Street Arcades, between Euclid and Prospect avenues.
END
Our latest Greater Cleveland development news