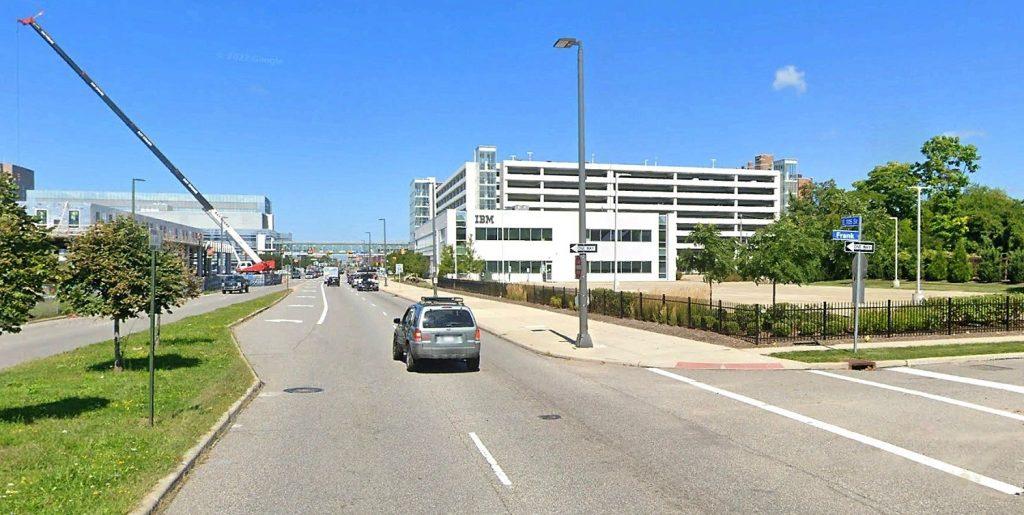 Opportunity Corridor, in Cleveland's University Circle and the Cleveland Clinic's main campus, appears to be the favored location for the new Canon Healthcare USA headquarters. And if rumors from several years ago remain true, it is also the favored site for Canon Healthcare's research, production and warehouse facilities. This view looks north on East 105th Street at Frank Avenue with the mostly vacant IBM Explorys building at right (Google). CLICK IMAGES TO ENLARGE THEM
Opportunity Corridor sites reportedly favored
Three years ago, the first rumors of Canon seeking to increase its presence in Cleveland surfaced. NEOtrans couldn't report all of the gory details back then because it would compromise a source. So only some of the information was shared once it became publicly available. But the rest of the information from back then can be shared now that the Japanese imaging company let the cat out of the bag that it's putting the headquarters for Canon's newly created Canon Healthcare USA Inc.'s subsidiary in Greater Cleveland.
Three years ago, a source at Cleveland City Hall informed NEOtrans that "a Japanese medical imaging company would move its research and manufacturing operations to Cleveland." A review of news and developments in that field showed that Canon was the one making the big moves, including acquiring industry giant Toshiba Medical Systems just three years earlier for $6 billion. It renamed the Toshiba outfit as Canon Medical Systems.
When asked if Canon was the company coming to Cleveland, the source acknowledged it and said that it just acquired a Cleveland-area company to give it a foothold here. That company was Quality Electrodynamics LLC (QED) of Mayfield Village. The acquisition was announced Oct. 31, 2019, less than two months before the source opened up to NEOtrans.
Now comes the most exciting part. The source said that Canon would locate large manufacturing facilities in Cleveland and had eyes on the Opportunity Corridor for them. The facilities were described as employing thousands, if not tens of thousands of workers, although that higher number may have gotten mixed in with the in-the-works Cleveland Innovation District for the HealthTech Corridor to be unveiled a year later by JobsOhio. The district offers the promise of 20,000 jobs over the next 15 years. Canon's employment contribution may have figured into that calculus.
What wasn't part of the calculus at that time was where Canon Medical Systems would put its headquarters, or that there would even be a Canon Healthcare USA spinoff resulting from Canon's long-range vision. And typically, Japanese companies think long-term and they think strategically. They don't jump at acquiring land just because it's available right now for a good price. They wait until something becomes available that fits its strategic goals over many years if not decades.
"The Canon group is currently working towards a grand strategic transformation of its business portfolio in order to realize future growth," the company said in a press statement. "Canon is striving to increase its competitiveness in various spheres of the medical industry, including diagnostics such as CT (computerized tomography), MRI (magnetic resonance imaging), diagnostic ultrasound systems, as well as medical component businesses such as X-ray tubes, X-ray detectors and key MRI components. In addition, the company is making strides in the field of healthcare IT (information technology) and in vitro diagnostics."
QED's Mayfield Village location has sufficed in getting Canon into the market. But it is a relatively small piece of the overall, long-term picture. QED, with nearly 200 employees, makes only one component (the coils) in only one type of equipment (MRI). The coil-maker is located in a 140,000-square-foot office-warehouse facility built in 1970 at 6655 Beta Dr. It was expanded by 53,000 square feet in 1995. The office building itself is 12,420 square feet, which is enough room for 50-75 employees. The facility, including its offices, is shared with Mars Electric that supplies heating, ventilating, lighting and power distribution equipment. QED is actually in a pretty tight space for its limited manufacturing activity.
It was a good place for QED to incubate its growth over the last 16 years. But it's about to enter the big time as Canon Healthcare USA. And it needs the right pad from which to launch. Unless Progressive Insurance is willing to sell its 54-acre parcel it has held in reserve for future expansion next to Interstate 271 and north of Highland Road in Mayfield Village, there aren't many high-profile, expansive sites nearby that can easily be developed for the grand vision Canon has in mind.
In 2020, before Opportunity Corridor was completed and connected to the Interstate highway system, East 105th Street was a quiet thoroughfare both in terms of traffic and development. But the undeveloped east side of the street, south of Frank Avenue and seen across the roadway, remains available for multiple significant developments (KJP).
Don't be deceived by Canon's innocuous start, coming out of the gate next month with approximately 20 employees. The new HQ is expected to grow to 200 or more employees in the next several years, according to an article this week in Crain's Cleveland Business. Canon Medical Systems USA will transfer a portion of its product sales and service operations to Canon Healthcare USA.
"This will integrate operations with downstream marketing, thereby enabling the company to focus on increasing its share of medical diagnostic systems in the American market," the company said. "The establishment of this new company and expansion of business operations is expected to require USD $300 million of investment capital. This investment will empower Canon's medical business to grow by deepening its understanding of customer and market needs, as well as redouble its efforts in the American market, thereby contributing to the global medical industry."
Fairfax Renaissance Development Corp., a nonprofit community improvement corporation, established a 30-plus-acre district called the New Economy Neighborhood for locating innovative businesses, including their offices, research centers, production facilities and warehouses. Fairfax Renaissance and the city continue to acquire land in the area bounded by East 105th Street/Opportunity Corridor, Cedar Avenue, Stokes Boulevard and a railroad corridor that includes the Greater Cleveland Regional Transit Authority's Red Line. The rail transit line goes to the airport as do highways easily connected from the Opportunity Corridor. Access to the airport will be critical for new startup.
Canon Healthcare USA picked Cleveland as its headquarters not only because of the presence of the Cleveland Innovation District, Cleveland Clinic, University Hospitals and Case Western Reserve University. Canon picked Cleveland because it is easily accessible to Midwest and Northeast healthcare markets including Chicago and Boston. In Vernon Hills, IL, one hour northwest of downtown Chicago, the company's Canon Medical Research Institute USA, is based. In Boston, Canon has been conducting advanced technological research activities with Massachusetts General Hospital and Brigham Women's Hospital at the Healthcare Optics Research Laboratory for 10 years.
"Canon is considering the possibility of expanding U.S. based development, manufacturing and other capabilities, with the goal of further strengthening its business in the country," the company said, but has yet to announce where those activities will be based.
But if the rumors from three years ago are still valid, don't be surprised to see Canon Healthcare USA putting down deeper roots here with multiple research and manufacturing facilities that add hundreds if not thousands of workers along the newly opened up Opportunity Corridor. Indeed, one of those properties could include an already existing building. IBM Explorys' 41,630-square-foot headquarters, 10500 Cedar Ave. The building is owned by Geis Companies and sets on land owned by the Cleveland Clinic.
According to a source, the Explorys building, constructed in 2018, is mostly empty despite IBM's decade-long partnership with the Cleveland Clinic to speed up scientific discoveries by deploying a quantum computer at the Discovery Accelerator. That program is located in the Clinic's Lerner Research Center, 9620 Carnegie Ave. Angela Smith, senior director of corporate communications at Cleveland Clinic did not respond prior to publication of this article regarding the potential future uses' of the IBM Explorys building, including whether Canon had any interest in leasing or buying it.
The still-new IBM Explorys building is nearly twice as large as QED's office building in Mayfield Village which it shares with another company. At 200 square feet per employee, it could easily accommodate the 200 employees envisioned for Canon Healthcare USA's headquarters in the coming years. And there is room to expand the Explorys building on the same property as the new company grows. There is a 3,000-space parking garage right across Cedar Avenue in case Canon needs more parking in the short term until Canon can build its own parking facility. Among all of the options available to Canon Healthcare USA for establishing its launch pad, this site appears to be among the most propitious.
END
Our latest Greater Cleveland development news