A key to transforming an area south of the Opportunity Corridor Boulevard into a vibrant neighborhood is the replacement of a station on the Greater Cleveland Regional Transit Authority's light-rail Blue/Green line. This is a vision for that area which has been supported by civic leaders including the Cleveland Planning Commission (City Architecture). CLICK IMAGES TO ENLARGE THEM
Station is key to Kinsman reinvestment strategy
Early last year, the Greater Cleveland Regional Transit Authority (GCRTA) opened a new station at East 79th Street on its Airport-Windermere rail transit Red Line. Late next year, and less than 2,000 feet south, the transit agency could start construction on a new East 79th station on its downtown-Shaker Heights rail transit Blue/Green Lines. Both stations are seen as a key strategy to improve access for everyone to reach job sites being added along the new Opportunity Corridor Boulevard.
Plans to replace the crumbling, 41-year-old East 79th station facility on the Blue/Green Line for $10 million got a big boost last week when GCRTA won an $8 million grant from the Federal Transit Administration to rebuild the two-level facility. GCRTA will fund the remaining costs. The station has decaying concrete stairs from the street up to track level, where its two concrete platforms are also falling apart. The lack of a ramp or elevator, plus the condition of the station means it doesn't meet Americans with Disability Act (ADA) standards. The existing station site dates to 1920 but was modernized when the Blue and Green lines were rebuilt from the ground-up in 1980-81, nine years before ADA became law.
Federal funding for the upcoming station work will be provided from the All Stations Accessibility Program (ASAP) Act of 2021 which was co-sponsored by U.S. Sen. Sherrod Brown (D-OH) and funded at $1.75 billion over six years. That new program was included in the Bipartisan Infrastructure Law that was signed into law by President Joe Biden last year. While the ASAP program has a large budget, the needs are even larger. The competitive program has more applications with larger dollar amounts than the ASAP program has funds. For that reason, GCRTA's CEO India Birdsong Terry was happy to win the funding.
"We are elated to receive notification of the ASAP grant award in support of the facility upgrades at our East 79th Street light-rail station," Terry said in a written statement. "As a provider of public transportation, we are committed to the ideal of improved accessibility and mobility options for our ADA customers. Financial support from our state and federal partners is invaluable, and we thank Senator Sherrod Brown and the Department of Transportation for their continued support of public transportation in Greater Cleveland."
An updated rendering of the proposed station was not immediately available as GCRTA office staffing was reduced this week due to the holiday season, said Robert Fleig, public information officer for the transit agency. GCRTA has invested nearly $60 million in the past decade into rebuilt tracks, signal systems and stations on the Blue/Green Line "trunk" between East 55th Street station and Shaker Square, where the Blue and Green lines split into the Shaker and Van Aken branches.
"There's no reason that 100 percent of our transit systems shouldn't meet or exceed ADA standards and I'm proud to have pushed for legislation that will get us there," said Brown. "This funding will allow the Greater Cleveland Regional Transit Authority to improve station accessibility for anyone, no matter what disability they may have."
Both rail stations on East 79th were so lightly used that GCRTA had considered closing or relocating them. But after hearing input from the community, GCRTA agreed in 2015 to rebuild the stations on East 79th if the city and the Burten, Bell, Carr Development Inc. (BBC) would promote redevelopment of the area with a mix of commercial and residential uses in a walkable setting that would bring ridership back to those stations. The Kinsman neighborhood was filled with worker cottages and 19th-century industries that are almost entirely gone.
Masterplan for the East 79th Street corridor from south of Kinsman Avenue at left to the Opportunity Corridor and Red Line station at the upper-right corner. The Blue/Green Line station is just to the right of center of this image which shows a mix of single- and mulit-family housing, commercial buildings of various sizes, both existing, under construction and proposed (City Architecture).
In 2017, the Cleveland Planning Commission approved a masterplan for the East 79th corridor in the Kinsman neighborhood. The plan accommodated large warehouses and light-industrial facilities with huge floorplates and the potential for thousands of entry-level jobs. And it also reserved land near the rail stations for densely developed mixed uses that can host affordable housing, pedestrian activity, more ridership for transit and access to jobs.
The commission fought off attempts to ignore that vision. Proposals to build asphalt and concrete plants were rebuffed as they would have discouraged new housing and not mixed well with food industry employers already in the neighborhood, including Orlando Baking Co., Miceli Dairy Products Co., Rid-All Green Partnership and the 156,000-square-foot Cleveland Cold Storage warehouse, now under construction at Opportunity Corridor and East 75th Street.
Also, site plans for the Cold Storage warehouse were redesigned at the urging of the planning commission. Land along the west side of East 79th, north the Blue/Green Line station, was rezoned for mixed use. It forced the developers of the warehouse to push its 11-acre site about 160 feet to the west so residential over ground-floor commercial uses could be built someday along East 79th.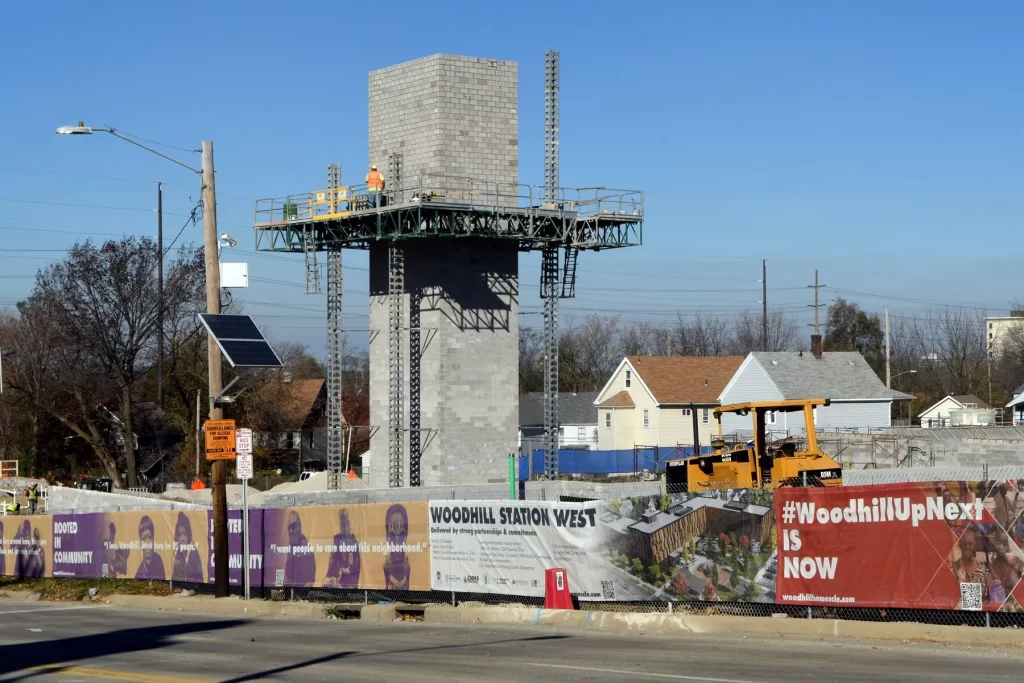 Construction work is progressing on a 120-unit apartment building which represents the first or west phase of Woodhill Station, as seen from the Buckeye-Woodhill Blue/Green Line station — the next stop east on the light-rail line from East 79th Street. Similar developments are planned at the East 79th rail station (WoodhillHomesCLE.com).
BBC Executive Director Joy Johnson opened an e-mail from NEOtrans seeking comment regarding those potential developments but otherwise did not respond to it prior to deadline. While there may be no immediate plans for developing housing north of the station, there is activity south of the station. Numerous infill homes are being constructed along Colfax Road and Minnie Avenue while the Heritage View Homes IV, a 60-unit apartment building, was built at East 79th and Kinsman Avenue in 2016.
At light-rail stations east of East 79th are recent, planned or underway developments at every stop to Shaker Square. Projects include Woodhill Station's 189 mixed-income apartments divided among two phases that are under construction, the former St. Luke Medical Center that was renovated into 72 senior apartments at the East 116th-St. Lukes station, plus redevelopment of Shaker Square along with apartment renovations and new construction projects east and west of the square.
Transit-oriented developments get more scarce but larger in scale in Shaker Heights. The biggest one is rising at the Warrensville station at the east end of the Blue Line, site of the growing Van Aken District. Construction is underway on two connected, high-rise apartment towers, one 18 stories tall and the other 15 stories. Plans were announced in August for another 250,000 square feet of mixed-use development on the site of a former car dealership. That follows the $102 million first phase of the Van Aken District in 2019 which introduced more than 260,000 square feet of apartments, retail and offices.
END
Our latest Greater Cleveland development news