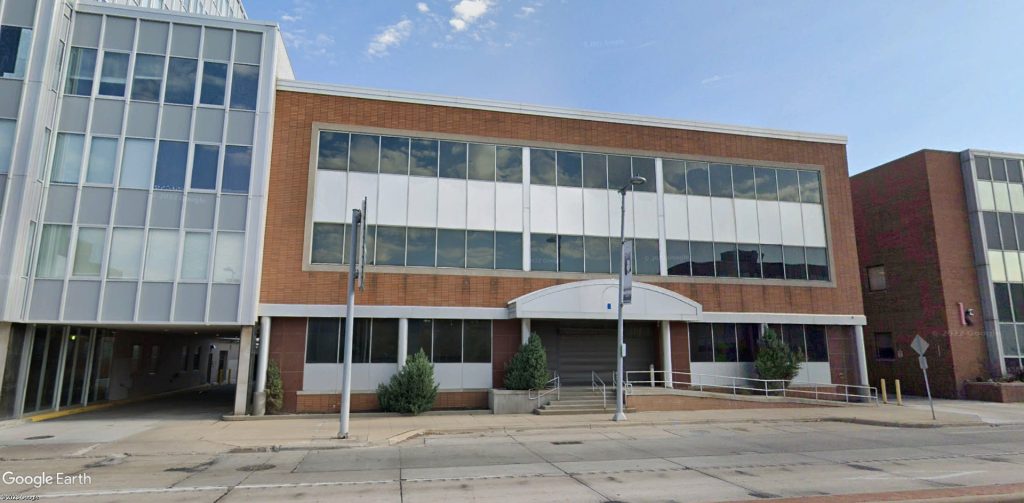 A 50,000-square-foot building at 3121 Euclid Ave. in Cleveland's Midtown is proposed to be renovated into a data processing training center for Oracle's Cerner healthcare software division. The facility is proposed to accommodate up to 704 trainees simultaneously plus dozens of instructors and other staff (Google). CLICK IMAGES TO ENLARGE THEM.
Software giant's health care arm grows local presence
Cerner Corp., a healthcare division of software giant Oracle, is planning to open a training center at 3121 Euclid Ave. near downtown Cleveland that could accommodate hundreds of people in classrooms simultaneously. The proposed training center speaks to Oracle/Cerner's growing presence in Greater Cleveland and the addition of another major healthcare employer to the region's economy.
Cerner, headquartered in North Kansas City, MO and with more than 24,000 employees worldwide, is a major supplier of health information technology services, devices, and hardware for Santa Clara, CA-based Oracle. Oracle is the world's second-largest software company as measured by 2022 revenue, according to Investopedia. Some of Cerner's most well-known products include Java and cloud-based platforms such as for patient records, supply-chain management and others that are used by Cleveland-area health care systems including the Cleveland Clinic Foundation.
In late-2021, Oracle bought Cerner for $28 billion. A major reason why Oracle bought Cerner was to expand Oracle's relationship beyond hospitals and other health care providers, according to a recent Forbes interview of Oracle founder and CEO Larry Ellison. In it, Ellison said he wanted to develop better relationships with medical device manufacturers and others. Cleveland recently landed Canon Healthcare's headquarters and could also result in the addition of Canon labs and production facilities.
But at this time, the Oracle/Cerner training center is intended to serve only local hospital systems, according to a building permit application submitted to the Cleveland's Building Department. Nevertheless, the capacity of the training facility is huge. Oracle/Cerner will lease out the entire 50,186-square-foot former Bryant & Stratton College. Spread among all four floors, including the basement, the center will offer 44 classrooms with 16 workstations for training in each classroom. That's enough to train 704 people simultaneously, building plans show.
There will also be 39 enclosed office spaces plus rooms for servers, a lobby and reception desk, breakout and hallway spaces, storage/mechanical areas and restrooms on each floor. No break rooms, lounges or cafes are shown in the building plan. However, there is a kitchen shown for the basement. Behind the building is a two-level parking garage for 150 cars, according to its listing with real estate brokerage Cushman & Wakefield-CRESCO. The building is located a short walk from the East 30th Street station on the HealthLine bus rapid transit.
"(This is for) interior renovation only — renovations of the former Bryant & Stratton business school into a new training center for Oracle Corporation to train medical data staff to serve local hospital systems," according to a filing with the city by project architect Kevin Hengst of Cleveland-based HSB Architects + Engineers. The renovation work outlined in the building permit application filing with the city was described as "Minor work only – drywall, power, painting, etc." Cost of the renovations are estimated at $700,000 which doesn't include computer servers or related equipment. The general contractor is Hill Street Construction Inc. of Cleveland.
Oracle/Cerner will reportedly lease the property, as that is how the building was listed with the brokerage. It was not listed for-sale. The owner, Titan Realty Group of Solon, was asking for rent of $17 per square foot. Titan is a fourth-generation family-owned real estate company that bought the property in 1955, constructed the building in 1956 and has owned it ever since, county records show. Today, the company is run by CEO Lowell Mintz. E-mails sent to him and to Partner Jacquline Mintz were opened but not responded to prior to the publication of this article.
Similarly, two e-mails sent to Bill Rundle, Oracle's director of cloud applications public relations were not responded to. Neither were e-mails sent to Cushman & Wakefield-CRESCO brokers Connor Redman and Robert Garber who listed the building for lease. When asked to comment on the project, Ashley Shaw, executive director of community development corporation MidTown Cleveland Inc., said in a Feb. 8 e-mail to NEOtrans "We are reaching out to the owner to see if they'd be willing to speak with you. We'll make a connection if we hear back."
In 2018, Oracle and Cleveland Clinic reached an agreement on establishing a cloud-based healthcare platform for resource planning and supply-chain management that was rolled out at Cleveland Clinic London in 2019 and expanded to Cleveland Clinic's domestic locations in 2020. However, Angela Smith, senior director of corporate communications at Cleveland Clinic said "The Oracle/Cerner Training Center you're asking about is not related to our partnership."
Bryant & Stratton College's Cleveland campus on Euclid Avenue closed during the pandemic in 2020-21 but never reopened. Its business school campuses in Parma, Solon and Akron reopened after the pandemic, however.
The planned Oracle/Cerner Training Center is located in an area that has seen significant investment recently and could see more after it was recently nominated to the National Registry of Historic Places as the MidTown Historic District. Immediately west of the future training center building is the Midtown Apartments, 3101 Euclid, into which Inspirion Group invested $12 million in 2021 to convert a 1950s-era office building into 91 residences.
The 1960s-era Innerbelt Buildings, 2728-2800 Euclid, were renovated in 2010 into modern office and educational spaces for business and culinary incubators for $5 million by J&M Real Estate Advisors. Innerbelt Lofts, 2828 Euclid, was a 58,000-square-foot office building that was turned into 50 apartments by Innerbelt Lofts LLC for $5 million in 2018. And an eight-story office building at 2901 Euclid was converted into 130 micro-apartments called University Studios for $1.7 million by NM Residential in 2011.
END