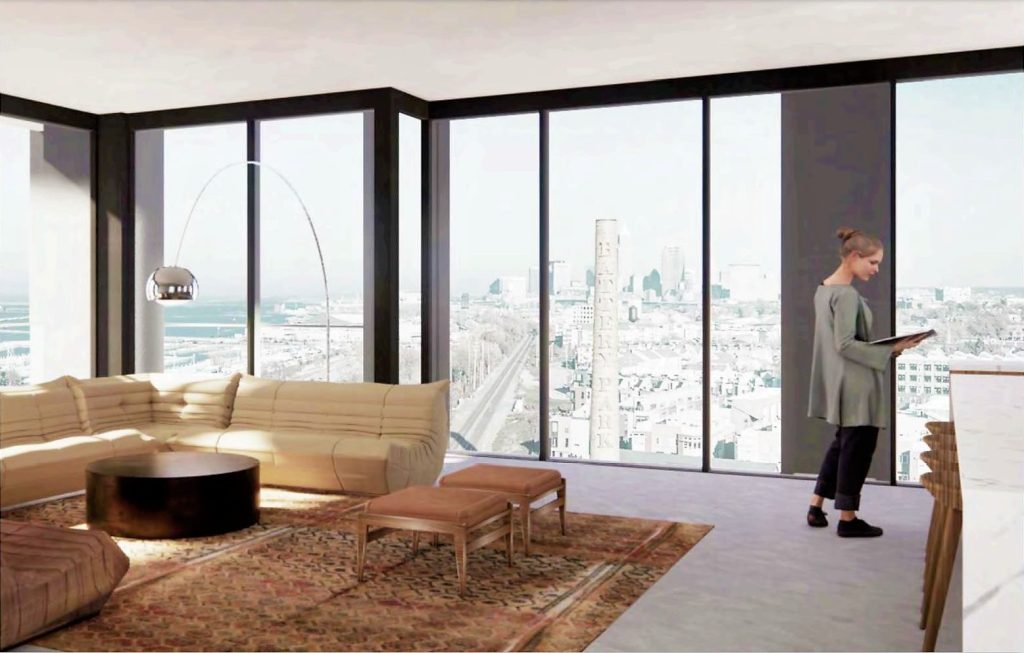 Looking east along the Lake Erie waterfront from the proposed Shoreway Tower offers views of Edgewater Park, Battery Park and downtown Cleveland faintly in the distance. Several other lofty developments will be visible from this new tower as properties along the West Shoreway continue their metamorphosis from industrial to residential (EAO). CLICK IMAGES TO ENLARGE THEM
Projects to add height along Cleveland's west lakefront
In the coming weeks and months, the continued metamorphosis of land uses along Cleveland's West Shoreway from industrial to residential will yield some new features that will show just how much Cleveland is changing. Several projects along the Shoreway-turned-Edgewater Parkway will be under way at roughly the same time and offer some lofty symbols about Clevelanders' evolving regard for its often-ignored lakefront.
Those projects are the 16-story, 170-foot-tall Bridgeworks, the 13-story, 143-foot-tall Shoreway Tower and the eight-story, 136-foot-tall Westinghouse building. Of course, the latter already stands but has been dark since 2019 when automotive frames manufacturer Paramount Stamping, Welding & Wireforming Co., employing 300 people, closed after 38 years in business at 1200 W. 58th St. Previously, for nearly a century until 1979, the Westinghouse Lighting Division had operated there, adding its signature tower in 1915.
Although construction has not commenced on the redevelopment of the 3.6-acre Westinghouse complex, now under Trebilcock family ownership, it is the only one of the three high-rise developments along the West Shoreway that has crews currently working on site despite not having a redevelopment plan approved by the city. A mass demolition permit was approved and, since last fall, nearly half of the 281,800-square-foot Westinghouse complex has been razed including interior demolition within the structures that will remain. Interior demolition includes removing plumbing, electrical conduits, lighting and other fixtures. Temporary lighting was installed in the building under a separate permit.
The tower is proposed to be redeveloped with 30 apartments on the top two floors and 92 rooms for an as-yet unidentified boutique hotel. An additional eight-story building with residential may be constructed to the west of the existing tower. Then an arcade potentially featuring an art walk, event and meeting spaces, fitness center and/or co-working space, a small eatery and a barista space are planned in the ground-level of the former foundry building south of the tower, according to preliminary, conceptual plans received by NEOtrans. The western portion of the 19th-century foundry was demolished along with a 102,000-square-foot manufacturing building that will be replaced with a parking garage and a new warehouse for the Trebilcock's computer hardware recycling business called MCPC. The water tower building at the southwest corner of the site may remain and possibly feature a restaurant, plans show.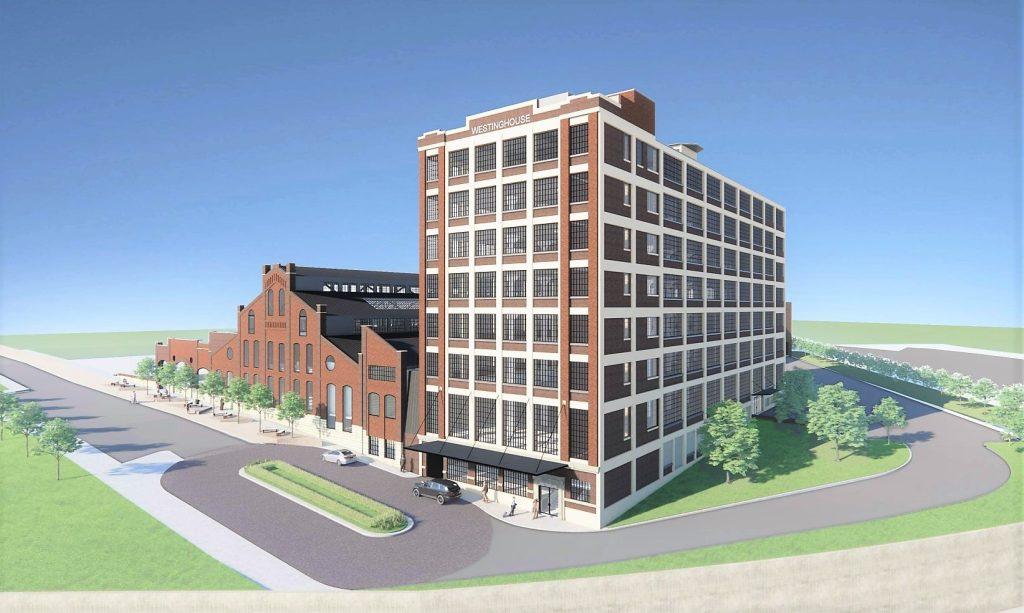 Overlooking the West Shoreway, which is just out of view at the bottom, is the former Westinghouse complex that is proposed to be repurposed with hotel, residential and restaurant uses. Although only eight stories tall, as an industrial building with loftier ceiling heights, the structure tops out at 136 feet high. West 58th Street is at left (AECOM).
The demolition permit was silent on when construction of the mixed-use development might start but stated it was anticipated to conclude in December 2024 — a goal which is becoming increasingly more elusive the longer the Trebilcock family delays in submitting development plans for approval to the city. Michael Trebilcock Jr., a managing partner at Trebilco Inc., did not respond to a message left by NEOtrans via LinkedIn.
Peter Grealis, a senior associate at real estate brokerage Colliers International, says the market for new housing in Cleveland's hot neighborhoods, which are expanding into former industrial areas like those along the lakefront, is strong. Grealis is a member of the Cooper MultiFamily Team, a division within Colliers that focuses on the buying and selling of workforce apartment housing across the Midwest.
"Cleveland has grown into one of the top towns for college-educated millennials," Grealis told NEOtrans. "They want the fit and finishes of new projects in the CBD (central business district) but don't want to live in the CBD. Millennials are expecting to work from home and no longer need to live within walking distance to work, like in the CBD. Plus they want a neighborhood feel that they can walk and ride their bike and walk the dog. Gordon Square and sites just west of that are perfect for this. They offer a neighborhood feel, and industrial land that is extremely under-used."
With relatively little public drama, the next-tallest building to see construction will likely be the Shoreway Tower — if the construction permit application it submitted to the city this week is any indication. The permit was for the construction of the building's slab foundation on which a multilevel, 145-space parking garage topped by nine floors of apartments would be built. There are 98 homes proposed for the Shoreway Tower apartment building that will be in addition to the existing 45-unit Shoreway Apartments, 1200 W. 76th St. It was originally built in 1918 as the Globe Machine and Stamping Co.
"We are emulating the scale of the Westinghouse complex and using it as a guiding principle for the project which is an historic warehouse complex that mixes more vertical and horizontal buildings," said William Neburka, founding principal of Evident Architecture Office (EAO) of Portland, OR which is designing the project.
The new tower and parking deck, on the site of the Shoreway Apartments' existing parking area, will measure about 183,376 square feet. The existing Shoreway Apartments building totals 85,401 square feet, including a 3,401-square-foot ground-floor commercial space, leased to Good Company, a specialty sandwich restaurant. Kyle Konczos, director of construction at J Roc Development, which is developing the project, didn't respond to an e-mail from NEOtrans seeking more information including their anticipated construction timeline.
The Shoreway Tower is moving forward relatively quickly and with apparently little trouble, other than a redesign resulting from the discovery of an old, unmarked sewer on their property that increased project costs and the building's unit and floor count to generate more revenue to overcome those costs. A real estate source who spoke to NEOtrans on the condition of anonymity about the project said J Roc is testing the top of the market when it comes to rents which makes the project viable despite rising interest rates. The source said their location, next to a pedestrian link to Edgewater Park and with unobstructed views of the park, Lake Erie and downtown, will allow the Shoreway Tower to reach new heights in rents, too. The site is also somewhat isolated from other residents which is why there was very little neighborhood pushback during city planning approvals.
"City planning is very supportive of this project," said Adam Davenport, a city planner for the Gordon Square area, at a Board of Zoning Appeals meeting earlier this year in which J Roc was given a variance to exceed the zoning code's 115-foot height limit for the site. "The site is pretty well isolated in a lot of respects … at the end of West 78th. What better spot in the neighborhood than staring at the lake and downtown in the east to put a high-rise residential structure?"
Bridgeworks, looking west along the Detroit-Superior Bridge from downtown toward Ohio City, will also tower over the West Shoreway. It will be the tallest building to be built within a few blocks of the West Shoreway since the 19-story, 204-foot-tall Lakeview Tower was built in 1973 at 2700 Washington Ave. (MASS/LDA).
Developers of Bridgeworks, the next high-rise along the West Shoreway at 2429 West Superior Viaduct, said they hope to start construction on the $108 million project in June despite not having submitted a construction permit application yet. Considering J Roc has submitted its first construction permit application already, one would think that the Shoreway Tower might see on-site work start even earlier than Bridgeworks. However, Bridgeworks LLC has demolition permits for some of the former Cuyahoga County Engineer buildings on the 2-acre site which the partnership of M Panzica Development and Grammar Properties LLC acquired in 2021. The same developers also built Church+State, with six- and 11-story buildings just south of the West Shoreway at Detroit Avenue and West 29th Street.
Bridgeworks is moving forward thanks to two pieces of public funding that were approved over the past month. Last week, Cuyahoga County Council awarded Bridgeworks a $2 million Place-Based/Mixed-Use Economic Development Loan for the project to assist with the construction of the mixed-use development project. In March, City Council authorized a 30-year tax-increment financing (TIF) agreement to divert the increase in future non-school property taxes based on the proposed improvements for up to 30 years.
That allowed Bridgeworks on April 13 to secure from the Cleveland-Cuyahoga County Port Authority $80 million in taxable Lease Revenue Bonds plus $4.13 million of taxable Bond Fund Tax Increment Financing Bonds. Bridgeworks had twice sought and failed to win $7.9 million to $9.3 million in Transformational Mixed Use Development (TMUD) tax credits from the state while other projects that had won TMUD credits aren't yet moving forward or have much more distant projected start dates.
When completed at the end of 2024, Bridgeworks will offer 140 apartments, half of which will be priced as more affordable "workforce" units, a 132-room hotel provided by a new-to-Cleveland Motto By Hilton brand, a 120-seat restaurant and bar on the 11th floor, 12,000 square feet of office space, and the addition of a 210-space parking garage just to the east of the 16-story tower. The building was recently reduced in scale from 16 to 15 stories, but the 16th floor was restored in the latest designs presented to the city.
But financing so far is not yet in place for more projects along the West Shoreway. One of those is 8400 Lake, a proposed residential development at that street address which would top out at seven floors and offer about 170 apartments and 13 townhomes. A five-story apartment building atop a two-level, 159-space garage (plus 11 more outdoor spaces) would be at the north end of the site nearer to the railroad tracks with the townhomes closer to Lake Avenue.
The site is west of a designated Opportunity Zone but in an area zoned to allow building heights of up to 115 feet, or about 10-11 stories. The development team is focusing on Opportunity Zone projects like Tremont's Lincoln Heights Apartments and Townhomes that was approved by Planning Commission today. Many of the same development team members are involved in both projects.
"Our 8400 Lake project is currently on pause because of the interest rate environment and the large size of the project," said Brad Nosan, vice president of leasing and acquisitions at Property Advisors Group. "We are optimistic that we will develop our project on that site when conditions permit. Unrelatedly, we are pursuing Opportunity Zone projects of which the Lincoln Heights development is one, which is why we are focusing on that at the moment. It's also a smaller project which makes it more achievable at this time. Additionally, on Lincoln Heights, we have our equity in place and positive responses from potential lenders. We are excited by the site, the building, and the 1.15-acre public park which will help create pedestrian and bike connections from this area of Tremont to West 25th and Ohio City."
Also west of the Opportunity Zone that ends at West 45th Street along the West Shoreway and Detroit Avenue is the huge, 4.8-acre HKM Direct Market Communications Inc. site, 5501 Cass Ave. According to public records, the property and a 72,000-square-foot printing plant were acquired in 2020 by an affiliate of the Carnegie Management & Development Corp. of Westlake but has released no redevelopment plans for the site. HKM's plant sits on a bluff which overlooks the West Shoreway and has unobstructed views of the lake and downtown. But the site has the city's most restrictive height zoning, limiting buildings to only 35 feet tall.
END