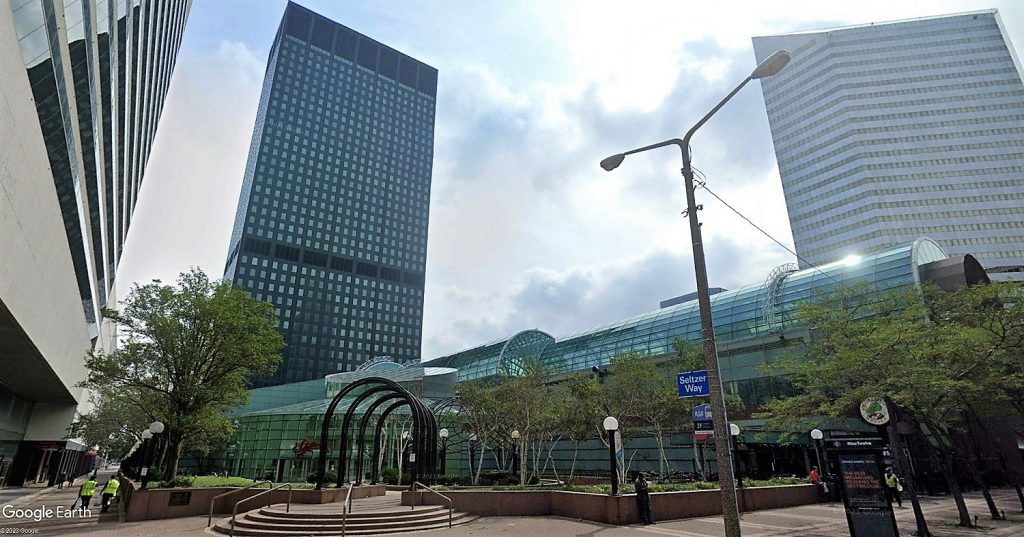 The dark-shaded Tower at Erieview stands at the east end of the Galleria, as seen here from East 9th Street in downtown Cleveland. Developer James Kassouf gained a significant development partner that is helping to make redevelopment of the tower and Galleria a reality (Google). CLICK IMAGES TO ENLARGE THEM.
Downtown Cleveland project may start this fall
Despite recent departures from the project, development team members assured NEOtrans that the $100 million redevelopment of the Tower at Erieview in downtown Cleveland is still going forward. A big reason why is because the development team has gained a potent new member — an influential Cleveland-based law firm tied into active developer TurnDev and its financing arm TurnCap.
The addition of that development team member helped retain W Hotels to provide not only a 210-room luxury hotel and 15,000-square-foot ballroom on the tower's lower floors but also 227 W-branded, high-end apartments on the upper floors of the 40-story skyscraper. Previously, a source at Starwood Hotels, parent of the W Hotel brand owned by Marriott, who spoke on the condition of anonymity informed NEOtrans that it could not work with property owner and development team leader James Kassouf. But the inclusion of TurnDev/TurnCap has apparently changed the equation not only for the hotelier but also for the Erieview Tower project that also includes the Galleria mall, 1301 E. 9th St.
"The project is absolutely moving forward and financing has been secured and rate-locked — well below current rates," said Jon Pinney, managing partner at TurnDev and at law firm Kohrman Jackson & Krantz LLP (KJK). "The capital stack is complete and we are working with the city in partnership on a daily basis. We expect to commence construction this fall."
Kassouf did not respond to an inquiry by NEOtrans via his Web site prior to our last article on the project. Neither did W Hotels when seeking confirmation of the source's information that it would not be part of the final mix of uses.
"Yes I fully support this project, which will inject new life into the very underutilized Galleria and tower," said Ward 3 City Councilman Kerry McCormack when asked if he approves of the development's team financing that includes an agreement with the city. "Getting this property back as a vibrant use is critical for downtown's future. Also, amazing views from the tower!"
TurnCap/TurnDev is an active developer and project financier locally. It is working closely with CrossCountry Mortgage on its new headquarters and nearby buildings in the Superior Arts District just east of downtown. That now includes the Cleveland Police Department's new headquarters in the historic Artcraft Building. And it's expanding to the city's West Side where it is partnering on two new projects, including The Vibe mixed-use development in Ohio City and a redevelopment of the Premium Metals site in the Gordon Square neighborhood.
TurnDev's involvement in the Erieview Tower project, however, was not enough to stop co-working chain Industrious from walking away from the property, two real estate sources said. It had intended to occupy 19,766 square feet or nearly the entire 14th floor of Erieview Tower and submitted a building permit application to get the office space ready last year. But Industrious has not paid $17,280 in fees to secure the permit, city records show. Industrous' Web page for its planned Cleveland office at Erieview is now devoid of content and produces only an error message when opened. Industrious has again begun to look for a new location downtown, said one of the real estate sources.
Also, Walter Haverfield, a major law firm located in Erieview Tower, announced in March it was moving out and signed a 15-year lease at K&D's Post Office Plaza, 1500 W. 3rd St. in the Tower City complex. There, Walter Haverfield is renovating 36,077 square feet of office space for $3.5 million according to documents filed with the city by HSB Architects & Engineers. That's the second major law firm to depart Erieview Tower under Kassouf's ownership. In 2020, Weston Hurd moved across the street to the AECOM Centre, 1300 E. 9th St., where it now occupies 30,000 square feet.
Brown Gibbons Lang & Company is handling the conversion of office spaces at the 1964-built, 703,000-square-foot Erieview Tower, leaving only about 300,000 square feet in the tower for offices. The brokerage's Managing Director and Principal Anthony Delfre was asked about the departures of office users and the challenges in filling the tower, which has more than a dozen floors vacant.
"Our focus is on the conversion of the vacant floors to hotel/residential use," Delfre said in an e-mail to NEOtrans. "The remaining office space will benefit from the adaptive reuse of those floors that will allow for additional class A tenants. KJK is finalizing the city incentive package which is the final piece of the project's capitalization in order to close."
Repairs are already being made to the property. On June 15, Great Lakes B&R High Rise Services of rural Chippewa Lake submitted building permit applications to the city to make $100,000 worth of repairs to steel columns and beams in the glassy Galleria. Some steel columns and beams for the colonnade along St. Clair Avenue's sidewalk will be replaced where necessary, the permit application noted.
The developer has won $23 million in tax credits in the last few years to finance the tower's redevelopment. ​​In separate awards last December, the Tower at Erieview Tower and Galleria won a $13 million Transformational Mixed Use Development (TMUD) tax credit and then, later that same month, a $5 million state historic tax credit. This followed a $5 million historic tax credit award from August 2020. Erieview was able to win historic tax credits twice thanks to Senate Bill 225 that was passed last summer. Erieview Tower is on the National Register of Historic Places and the surrounding district is similarly registered.
Kassouf and his investor group, whose identities are unknown, bought the property in 2018 from Philadelphia-based RAIT Financial Trust for $17.7 million. In Cleveland, Kassouf owns and operates a number of parking lots as well as a 207,404-square-foot building at 1501 Lakeside Ave. downtown that houses the regional headquarters for the FBI. A real estate source said the FBI is planning to move its 6headquarters when its lease runs out at the end of 2024. Kassouf's family also owns vacant the Liberty Textiles Building, 1277 W. 6th St., in the Warehouse District which they have sought to redevelop for the last two years but have yet to do so.
END