This is the thirtieth edition of Seeds & Sprouts – Early intelligence on Cleveland-area real estate projects. Because these projects are very early in their process of development or just a long-range plan, a lot can and probably will change their final shape, use and outcome.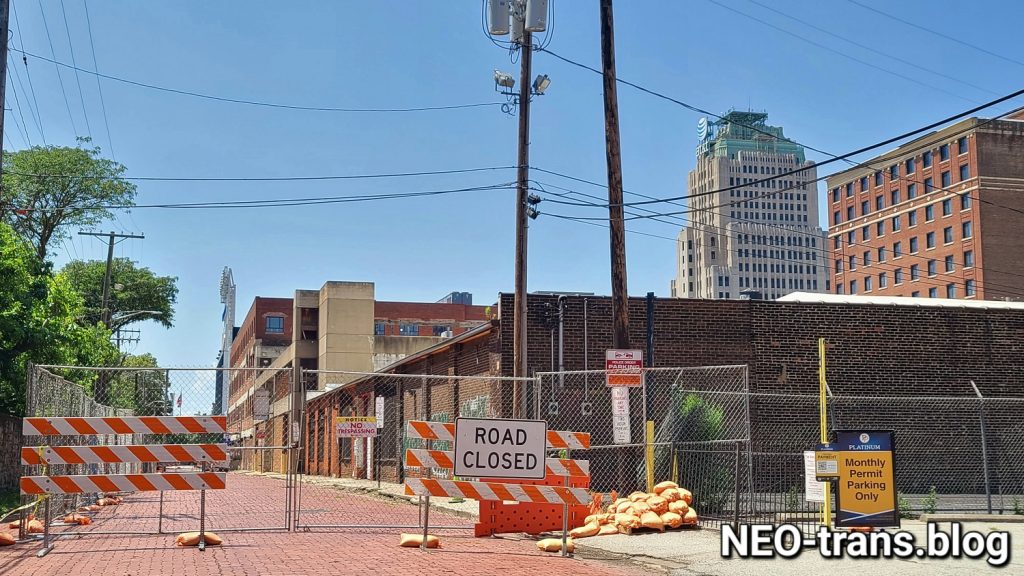 Demolition is about to begin for the Apartments at Bolivar in downtown Cleveland, to be followed by a groundbreaking before the end of the month. This view is looking east on the now-closed Erie Court, between the Erie Street Cemetery at left and the development site over to Bolivar Road at right. The single-story garage in the foreground will be razed while the three-level garage beyond it will be incorporated into the development (KJP). CLICK IMAGES TO ENLARGE THEM.
Apartments at Bolivar to break ground
After a minor delay, there is visible evidence on the landscape that work is about to get started on building The Apartments at Bolivar, 1060-1124 Bolivar Rd. in downtown Cleveland's Gateway District. Not only is demolition and site preparation work about to begin for the seven-story building, but a groundbreaking ceremony has been scheduled for July 26, according to a member of the development team who spoke on the condition of anonymity.
The development team, led by SomeraRoad of New York City and Leopardo Companies of Chicago, had hoped to conduct the demolition work and groundbreaking as early as March. But utility and property easements postponed the project only slightly from the developers' expectations more than a year ago from their hoped-for project start in the first quarter of 2023.
After a single-level parking garage dating from 1926 is demolished and the site is cleared, construction will begin for the 184-unit, market-rate Apartments at Bolivar. A two-story, newly built reinforced concrete podium will be built where single-level garage now stands. The new garage will have three leasable ground-floor retail/café spaces totaling 3,331 square feet facing Bolivar. A 1971-built, three-level parking garage at 1060-1124 Bolivar will be retained and combined with the new two-level garage next door to provide 283 parking spaces. Parking will be accessed from Erie Court but that street next to the Erie Street Cemetery will be closed to traffic during construction.
The apartments will be built on top of the 1971 garage and the new parking deck. Plans approved by the city more than a year ago show 70 parking spaces will reserved be for an adjacent office building recently renovated by SomeraRoad. That office building, a former Ohio Bell Telephone Co. operations center, also has some parking on the building's ground floor. Leopardo, a family-owned firm, opened a 3,800-square-foot office this spring in that building. This will be Leopardo's second project in Cleveland. Their first is due to be completed by this winter– The Bell, a $102 million renovation and conversion of the former Ohio Bell Headquarters, 45 E. 9th St.
Reuse of Slavic Village School site in works
The Cleveland Metropolitan School District (CMSD) has applied to the city for a permit to demolish Fullerton Elementary School, 5810-5920 Fullerton Ave., ending the site's 126-year history of hosting school facilities. It's new fate will likely be for a housing development, if the school district and city can attract a developer. So part of the effort to attract a developer is removing the 50-year-old, 39,000-square-foot building to clear and clean the property before it is made available to potential buyers and new users. The current structure replaced a prior school built on the same site in 1897.
The 3.35-acre property is a large development site for an urban neighborhood. It is in an area zoned for two-family residential with building heights restricted to 35 feet. But there is a limited retail district extending south along East 57th Street from Fleet Avenue, just one block north. The retail district ends at and includes two parcels, one vacant and the other with a house on it, at the southeast corner of Fullerton and East 57th, city zoning maps show. There are also several vacant parcels in that same area, between the school property and East 57th, that are in the city's land bank.
"The city and the CMSD will put out an RFP (request for proposals) for development" of the Fullerton School property, said Chris Alvarado, executive director of Slavic Village Development, a community development corporation. "We've had some interest but nothing solid yet. Current zoning doesn't support mixed use so, yes, residential."
Fullerton School, which had 240 students in grades K-8, is considered surplus by CMSD and closed in 2019. The school district issued a request for qualifications in 2021 to evaluate potential bidders who were interested in acquiring and redeveloping 12 closed school buildings and seven vacant district properties. Fullerton was among those offered, but only 10 school properties received any offers. Fullerton wasn't among them, likely because of the costs of demolishing and clearing the existing building. If the site was in a higher-rent neighborhood, a developer could get a return on its investment of clearing the property. But nearly two-thirds of families in Slavic Village live below the poverty line.
Glenville apartments to get renovated
Called the Buckeye Building, a 113-year-old wood-framed, brick-exterior apartment building with a corner retail space is on a path to get renovated by its owner, Brix Enterprises of Cleveland. The owner and developer, located at the Halle Building downtown, submitted its plans on July 6 to the city's Building Department to invest at least $200,000 to fix up the 10,380-square-foot, two-story structure at 7601 St. Clair Ave.
"We are seeking to renovate 13 existing apartments, one office and a commercial storefront," wrote project architect W. Daniel Bickerstaff, II of Ubiquitous Design, LTD., based in Shaker Heights, as part of his submittal of plans to the city. Brix Enterprises, Brix Construction and other affiliates are owned by Giamar Gilchrist who has been actively acquiring and renovating houses and other properties, especially on the city's East Side.
The Buckeye Building is located on the westernmost parcel of the three-parcel site that measures nearly a half-acre. Plans submitted to the city show the two parcels east of the mixed-use building will also be improved. An unpaved lot will gain a paved, 27-space parking lot surrounded by landscaping. Also, solar panels will be installed on the building's rooftop.
The 1,982-square-foot commercial storefront is currently occupied by Jasmine's Soul Food, a well-regarded neighborhood restaurant but most of the rest of the building was boarded-up after Brix Enterprises bought the property in 2021. The purchase price was not disclosed in web-based Cuyahoga County property records. But those same records show the county appraised the property for tax purposes at $33,300 in each of the last two years.
END