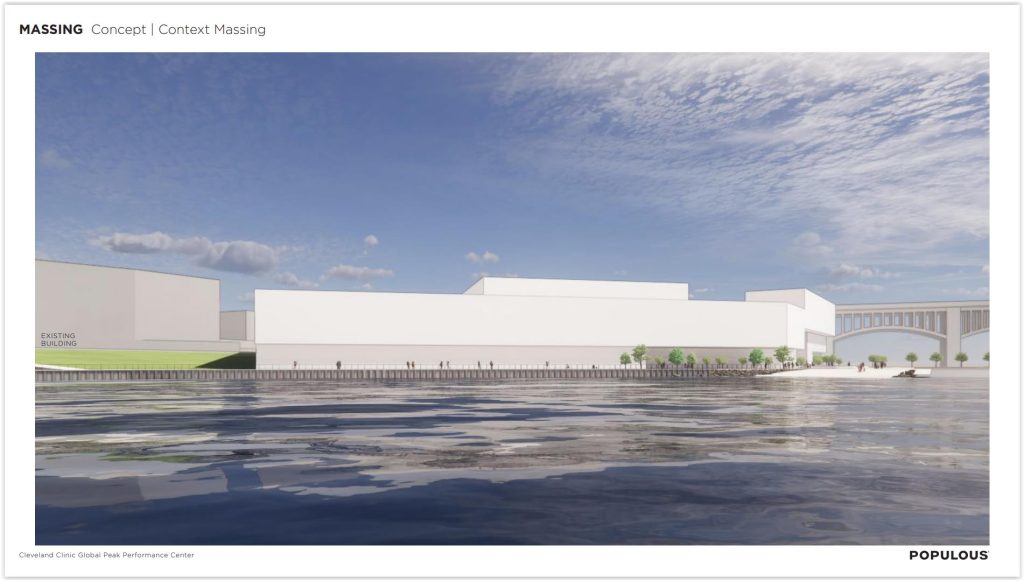 Although lacking in texture at this early stage of design, this massing of Bedrock Real Estate's planned Cleveland Clinic Global Peak Performance Center, including the Cleveland Cavaliers' new practice facility, shows the large scale of the proposed development along the Cuyahoga River. After input from the Cleveland Planning Commission is received, exterior materials will be digitally added by architects to the center (Populous). CLICK IMAGES TO ENLARGE THEM.
Planning Commission input to shape Bedrock's plans
More illustrations were made publicly available this week, showing the large size of a new facility planned next to the Cuyahoga River in downtown Cleveland for the Cleveland Cavaliers' basketball practice facility and Cleveland Clinic's sports health-related medical services. Kansas City-based architectural firm Populous submitted the plans for what would be Bedrock Real Estate's first new building in its ambitious $3.5 billion riverfront development to the City Planning Commission's Design Review Committee.
Although still in the early stages of design, the Cleveland Clinic Global Peak Performance Center is proposed to be a large, first-of-its-kind interdisciplinary training facility that would bridge over Eagle Road in what's called Flats South. Conceptual massings, which lack exterior textures and are provided to show scale and interior programming, demonstrate that size. They will be scrutinized by the design review committee starting tomorrow with give-and-take continuing for at least a month or two.
But what those massings do show is that the new facility will be large, measuring nearly 250,000 square feet. They are technically two buildings in one, connected by a bridge building over Eagle. The larger of the two sites is proposed to be about 186,000 square feet and the smaller roughly 61,500 square feet. The larger structure will contain the Cavaliers' practice facility wrapped by offices atop 105-110 parking spaces in an enclosed space.
The smaller site will contain a Cleveland Clinic sports health facility. The bridge structure will contain what is termed a Cleveland Clinic "performance space." There will be a rooftop space for staff overlooking the river on the Cavs building. Site preparation work is already underway to rebuild aging riverside bulkheads that would support the future riverwalk and building.
NEOtrans has learned that some city planners want clarification of how the new center will interface with Bedrock's proposed riverwalk along the Cuyahoga River. With the lowest level of the larger building programmed mostly with indoor parking spaces for Cavs players and staff, there is concern that the wall between the riverwalk will be opaque or expose the parking area.
There are pedestrian access points into the garage from along the riverwalk but, given the security required for the Cavs' building, it is unlikely that they will be open to the public as a retail, restaurant or café space otherwise would. Plus, a private roadway in and out of the Cavs garage is planned between the building and the riverwalk. Service vehicle accessways and loading docks for both the Cavs and Clinic buildings are located on the opposite sides of those structures, with the vehicular access on the former Baltimore & Ohio railroad right of way below an existing bridge on Eagle.
A steeper variation of the old Eagle ramp to Ontario Street, demolished 18 years ago, is proposed to be built as part of Bedrock's long-range riverfront plans. The Eagle lift bridge over the Cuyahoga River is due to be demolished. Other infrastructure investments in the area include rerouting Canal Road northwest of Eagle onto the former railroad tracks. The fate of the shuttered Cleveland Thermal steam heating plant has not been publicly revealed but there are signs that it may be the target of an acquisition.
The Cleveland Clinic Global Peak Performance Center project was pulled out of Bedrock's originally proposed phase one next to and below Huron Road, just west of Ontario, and relocated to the other side of the river's hairpin turn called Collision Bend. So now, the Clinic-Cavs project is dubbed Phase 1A and, based on current per-square-foot construction prices, may carry a construction cost of about $75 million. Due to a tight lending market, NEOtrans has learned from sources who spoke on the condition of anonymity that financing is not in place for Phase 1B next to Huron that would include a hotel, office and residential buildings, all ranging in height from mid- to high-rise.
The project would bring the Cavs corporate offices and practice facility back downtown for the first time in 16 years. Both have been located at the Cavaliers Cleveland Clinic Courts, 6101 Brecksville Rd., in suburban Independence since 2007. The 50,000-square-foot Independence practice facility is built atop a 19,330-square-foot underground parking garage, set on 32 acres of wooded, city-owned land. Billionaire Dan Gilbert owns Rock Ventures which in turn owns the Cavs and the riverfront project's developer, Bedrock.
"This center will not only serve our team on and off the court, but it will create an opportunity for the everyday athlete to receive state-of-the-art care in Northeast Ohio," Gilbert said in a written statement.
"Our sports medicine teams are known around the world for treating and taking care of athletes of all abilities and ages," said Cleveland Clinic CEO and President Tom Mihaljevic. "It would be an honor to grow this program in our hometown of Cleveland with two great partners as we engage in the revitalization of downtown."
The Cleveland Clinic Global Peak Performance Center project is also welcomed by Cleveland Whiskey CEO Tom Lix who is working toward a hoped-for mid-December opening of his new 27,000-square-foot headquarters, production facility, restaurant and gift shop at 601 Stones Levee Rd. Cleveland Whiskey's new site is located just one block west of the proposed Cavs-Clinic center. Their current site is at 1768 E. 25th St. in the former Cleveland MAGNET (Manufacturing Advocacy and Growth Network) building that's due to be demolished for Cleveland State University's new arena.
"It'll be pretty great just having neighbors," Lix said in an interview with NEOtrans. "It (the Cavs-Clinic center) will help build awareness that we're down there. Cavs players and staff, and Clinic staff will see our sign and want to come back and see what we're about. The (proposed) kayak launch and the boardwalk are real positives, and the Cavs opening up Eagle to Ontario to pedestrian and vehicle traffic will be great."
Lix said there's still a lot of work to do on Cleveland Whiskey's first phase of rehabilitating a 112-year-old, two-story brick building that overlooks the river. But he said that work is in the final steps to help it move its distillery from the former MAGNET location on or before Dec. 15. He also said he hopes to clean up an abandoned brick street between 601 and 401 Stones Levee. For future phases, Lix's Vispiri Flats LLC acquired the latter building earlier this year for $1 million, according to county records.
END