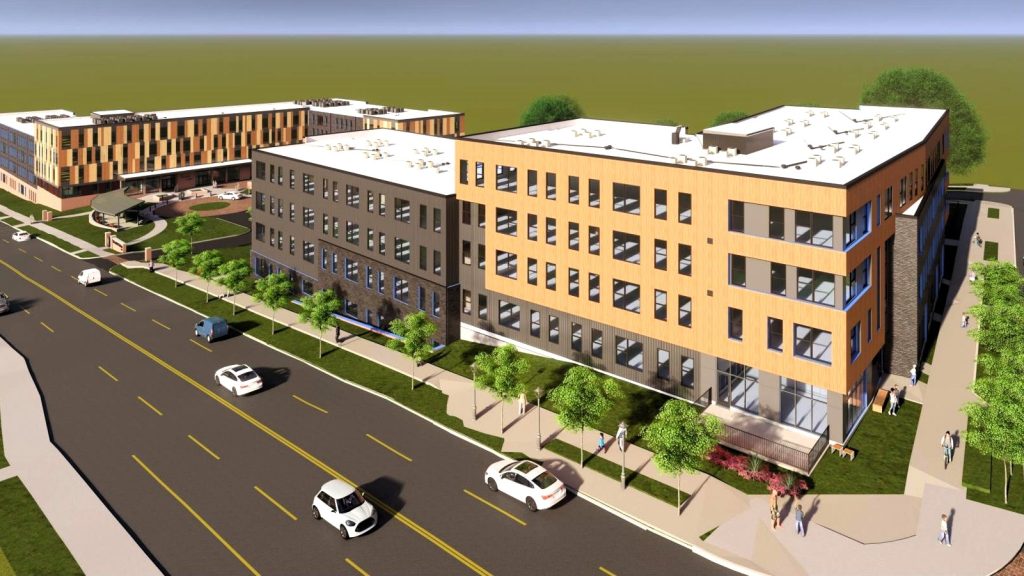 A bird's-eye view of the proposed Woodhill Station East in the foreground with the first phase, a nearly completed Woodhill Station West, in the background along Buckeye Road. This view looks northwest from the intersection of Buckeye and Woodhill roads plus Shaker Boulevard. The light-rail "Rapid" station is just out of view to the left (City Architecture). CLICK IMAGES TO ENLARGE THEM.
Next phase in Woodhill Homes replacement
A neighborhood-level design review panel today gave thumbs-up, with a few conditions, to conceptual plans for the next phase in the effort to replace the 83-year-old, 487-unit Woodhill Homes public housing in Cleveland's Buckeye-Woodhill neighborhood. Woodhill Station East, a 64-unit mixed-income apartment complex with ground-floor retail at 9615 Buckeye Rd., is proposed to be the Cuyahoga Metropolitan Housing Authority's (CMHA) third phase in its Woodhill Redevelopment efforts that would ultimately result in the construction of 640 mixed-income housing units on the city's east side.
If the City Planning Commission agrees with the Euclid Corridor-Buckeye Design Review Committee's recommendation, the four- to five-story Woodhill Station East, with a projected construction cost of $25 million, will rise across Buckeye from the Buckeye-Woodhill Blue/Green lines light-rail station and next to phase one of the Woodhill Redevelopment — Woodhill Station West. Construction on the first phase, comprised of 120 mixed-income apartments and costing $46.4 million, is nearly finished with the first residents moving in sometime in January.
The latest phase has a similar name to the Woodhill Redevelopment's second phase, called Woodhill Center East which is located at 11305 Woodland Ave. and has two buildings. The west building, which is nearly built out, is a 19-unit townhouse development. The east building is a 58-unit apartment building and is still rising. Together, the 77-unit Woodhill Center East has a construction cost of $33.4 million. For the first three phases, the developer is The Community Builders Inc. of Boston and the general contractor is Marous Brothers Construction of Willoughby.
Much of the funding for the Woodhill Redevelopment comes from the U.S Department of Housing and Urban Development (HUD) through its Choice Neighborhoods program. In May 2021, CMHA won a $35 million grant from that program to kickstart the multi-phase development. But as construction and interest costs increased, CMHA was awarded a $10 million supplemental funding grant from HUD earlier this year. Additional financial resources came from state and federal Low Income Housing Tax Credits, CMHA, city of Cleveland and private funds.
Site plan for the first and third phases of the Woodhill Redevelopment show Woodhill Station West near the center of the image. The third and latest phase, Woodhill Station East, is to the right at the corner of Buckeye and Woodhill roads and was recommended for approval by the city today (City Architecture).
The first floor of Woodhill Station East will have a 4,013-square-foot leasable retail space facing Woodhill but away from the corner at Buckeye. Envisioned for that retail space is an early childhood education center, a service that is absent in the neighborhood, city planners said. At the corner will be a building vestibule, lounge and mail/package rooms along with a patio facing Buckeye but with access from Woodhill. Farther west along Buckeye will be a wing of the building with 10 apartments on the first floor and seven on the lower level which becomes exposed to the street as Buckeye descends down the old Hungarian Hill. Also on the lower level will be a residents' meeting room, lounge, fitness center and bike storage.
At least 15 units will be reserved for existing Woodhill Homes residents with 49 mixed-income units for new residents, according to CMHA. The affordable and market-rate units will be designed exactly the same, said project architect Alex Pesta, a partner at City Architecture which recently relocated its offices to the nearby Woodland-Larchmere Commercial Historic District. The programming is proposed to be 25 one-bedroom units, 33 two-bedroom apartments, and six three-bedroom suites, conceptual plans show.
Woodhill Station East's parking-to-unit ratio will be less than 1:1. It will have a total of 45 new parking spaces for the 64 apartments. The parking space ratio is less than 1:1 because CMHA and The Community Builders could not acquire two vacant parcels belonging to the Guardian Co. Inc., a chemical company located across Wamelink Avenue at 2754 Woodhill Rd. If those parcels are acquired, it could increase the parking count by about two dozen spaces to slightly more than a 1:1 ratio.
Construction work is wrapping up on the mixed-income Woodhill Station West, the first phase in the Woodhill Redevelopment. The 120-unit building could be ready for residents to move into as early as January. This photo was taken last week (City Architecture).
Conceptual design approval was granted without any mention of the parking situation, in part because the project is being pursued as a Transit-Oriented Development (TOD) with the site located across Buckeye from the "Rapid" light-rail station. The Greater Cleveland Regional Transit Authority (RTA) is investing hundreds of millions of dollars into rebuilding and modernizing the Blue/Green lines between the downtown Waterfront and Shaker Heights, on top of $50 million invested in rebuilt tracks, signals and stations in the past decade. In addition to frequent Rapid rail service to downtown and Shaker, the site is served by the 24-hour No. 10 bus on Woodhill runs to University Circle, Euclid and Shoregate.
"The RTA station is right across the street," Pesta said at today's Euclid Corridor-Buckeye Design Review meeting. "We're really excited to be part of a narrative, kind of picking up from the city of Cleveland's Planning Commission, to provide housing options for all in close proximity to transit. So this is truly transit-oriented development that is accessible and affordable. It's not just a luxury to have access to transit."
Julian Khan, civic activist, owner of Cleveland Over Everything t-shirt company and a member of the design review committee, has spent his life in the Buckeye neighborhood. He fondly recalled the Burger King that stood on the northwest corner of Buckeye and Woodhill. But it closed more than 20 years ago, stood empty for at least a decade and was demolished 10 years ago. The site has since been used for storing vehicles.
The backside of Woodhill Station East which is about 20 feet lower in elevation that the corner of Buckeye and Woodhill roads on the front side. From this perspective, the building is five stories tall. Also visible is a blank retaining wall at left that will be available to local graffiti artists to tag (City Architecture).
"It just reminds me of the decimation and just how long it's been since anything has been there," Khan said. "I didn't have high expectations for this project to be completely transparent. But I do think the caring hands around this project have really made the most of it and have created something I think the neighborhood can really hang its hat on and be proud of. It really helps us to own the fact that, you might want to say we are the home of TOD (with Shaker Square nearby). I think it creates a lot of synergy with our living infrastructure. Things being human scale and accessible and the materiality I think it all makes it more to (be) the closest thing to a welcoming mat for people coming off of that Rapid stop."
A roof deck on top of Woodhill Station East was considered so all residents of the building could take in the views of downtown to the west. But Pesta said it was impossible to do for "a litany of reasons." He also said the sloping land made it a difficult project to design but his firm did some things to address it. For example, a blank, 16- to 18-foot-high retaining wall below the building's wing along Woodhill will be allowed to be "tagged" by local graffiti artists. The landscaping and lighting plan, still in the early stages, will be similar to phase one just as the building's colors are.
"It's nice to see how this corner has been transformed from what it has been for decades," said Anthony Whitfield, a principal at Milestone Partners and at Fairfax Renaissance Development Corp. who serves on the design review committee. "I like the color. It gives life and breath to this corner. But I also like the way you step down with the difference in elevation heading west. I think it's really nice. You get to see everything as you move downhill. You don't have this massive structure that just blocks everything."
END