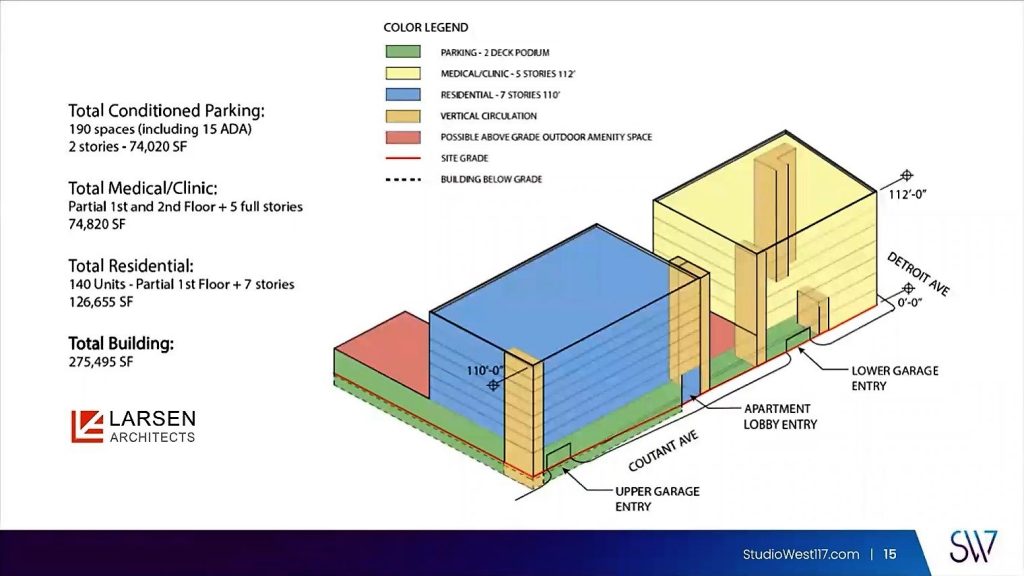 The largest development being contemplated so far in the Studio West 117 campus is a two-tower, mixed-use property with a health care facility and LGBTQ+ senior housing at the current site of the closed NTB car repair shop at Detroit and Coutant avenues in Lakewood. Although this basic massing shows 190 parking spaces, the developer plans to increase that to 212 spaces (Larsen). CLICK IMAGES TO ENLARGE THEM
Lakewood-Cleveland Cudell campus is a $125M lift
What started out with two significant real estate purchases on either side of West 117th Street in Cleveland and Lakewood by a development partnership has since expanded to seven properties. And what was originally a $75 million vision for renovating the old Phantasy Theater complex called Studio West 117 has grown even further, developing into a multi-faceted LGBTQ+ supportive neighborhood.
Daniel Budish, president of Gaslamp Capital LLC and Betsy Vuillemot-Figgie, owner of Your CFO Resource discussed their partnership's expanding, evolving plans at a recent virtual community update hosted by Cleveland's Ward 15 Councilwoman Jenny Spencer who represents much of the Cudell and Detroit-Shoreway neighborhoods.
"The scale of their planned investments is significant," Spencer said. "In the coming years, the total anticipated investment is between $115 million and $125 million. It's notable comparing that to the Gordon Square Arts District which was about a $30 million investment."
More details about the Studio West 117-area community centered around the closed Phantasy Theater in Lakewood were revealed in the virtual meeting March 9. That included plans for developing a former NTB car repair shop property at the southwest corner of Detroit and Coutant avenues in Lakewood that Budish and Figgie acquired several months ago. Their plans for that 1.1-acre site could take an interesting new turn.
The developers, in partnership with A Place for Us Development LLC, considered the site for a large apartment building for LGBTQ+ seniors. A Place For Us, in partnership with Cleveland-based NRP Group, in 2016 built 55 apartments, at 11610 Madison Ave., across from the West 117th-Madison rapid transit station. That building has a lengthy waiting list for available apartments.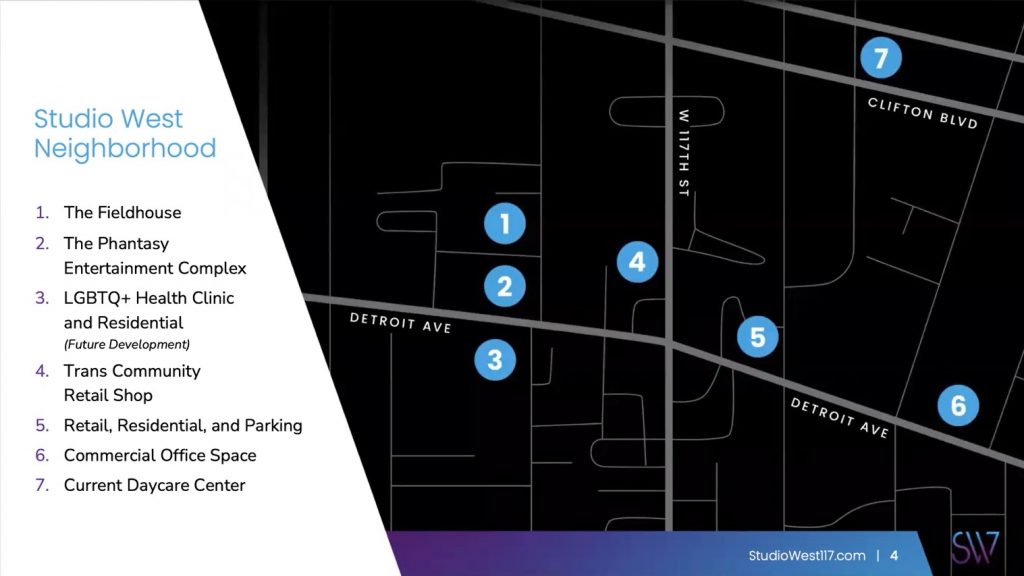 An ambitious plan for an LGBTQ+ supportive redevelopment initiative has grown to seven sites so far on the Lakewood and Cleveland sides of West 117th Street. The effort ranges from historic building renovations approaching $125 million to providing assistance to LGBTQ+ businesses (SW117).
Gaslamp Capital requested $8,687,615.20 in Transformational Mixed Use Development (TMUD) tax credits from the state to help fill in financing gaps for that development which had not been submitted to the city for review. That request was not among the state's TMUD awards announced March 2.
A more detailed 275,495-square-foot mixed-use plan for the NTB site was revealed publicly during the virtual meeting last week. Specifically, it included on Detroit a 74,820-square-foot, seven-story medical clinic with a focus on LGBTQ+ health care. South of it would be a seven-story, 140-unit, 126,655-square-foot apartment building. Both structures would be built atop a two-level, 74,020-square-foot, 212-space parking garage, accessed by vehicles from Coutant. The southern portion of that garage would be below ground, according to a preliminary massing shared at the meeting.
"We still have our two options on the table for the NTB site," Budish said in an e-mail to NEOtrans. "One is the full housing and parking option and the other is the partial housing/partial health clinic option. We don't have a final decision made on that and are still working through what the health clinic option might look like. We have a meeting with the state in the coming weeks to review our TMUD application and how the last round was scored. This will help clarify the path forward for the next round."
Studio West 117 missing out on the TMUD award hasn't diminished the confidence and support of Lakewood City Council President Dan O'Malley in the Budish's and Figgie's neighborhood investments. O'Malley represents Lakewood's Fourth Ward which includes the Studio West 117 area.
"I continue to have total confidence in this project and I am committed to making the total vision a reality for Lakewood's east end," O'Malley said.
Figgie explained that desired services for the clinic would involve a full-service health care provider offering an LGBTQ+ pharmacy, general practitioners, dental clinic and a gender affirmation surgery center. The goal would be to have staff and physicians who are knowledgeable about LGBTQ+ issues while being open for everyone — yet welcoming to the LGBTQ+ community.
It's why Budish and Figgie created an affiliate West 117 Development Flagship LLC and, through it, acquired the closed NTB car repair shop property in December for $350,000. It was sold by San Diego-based Niki Baseline LP which bought the property five years earlier for $1,173,484, county records show. NTB closed in 2019.
"One of the reasons that we made some of our most recent (property) acquisitions in December was because we know that there is a large unmet need for a full-service health care facility where staff and physicians are trained in LGBTQ issues," Figgie said. "We have been talking to a number of different health systems regionally and this is one of the uses of the NTB (property)."
The provision of LGBTQ+ supportive housing also has a link to the proposed clinic, in terms of potential community services, Figgie noted.
"What we're looking to do as we start the design phase of this particular corner of the campus is to program not just the medical side and the patient recovery side but to have housing options that are affordable," she said. "One of the things that we'd like to do with this is to subsidize a couple of the apartments, probably seven of them and there's a reason why, so that the people that are in those subsidized apartments that have an extra room would be on-call to provide emergency housing for LGBT youth that are in need."
Figgie said it's very complicated to provide youth shelters because of its many rules and regulations. But emergency housing is a model that has been done successfully around the country including in Columbus and Dayton.
"We think that an inter-generational model where LGBT seniors have the opportunity to live in a housing development like Studio West here on this site but then to be able to open their house to youth so that if the youth needs a place to go or a good night's sleep, meal and clean clothes and then they're helped down to meet with some health care and social service workers through the health center the next day. We think that this is an interesting model worth exploring," Figgie explained.
Another one of the proposed uses of the NTB site was of great interest to Spencer and others who participated in the virtual meeting — parking.
"A lot of different venues on the Cleveland side and the Lakewood side would benefit from additional parking," Figgie said.
"This vision and the development spans the Cleveland-Lakewood border," Spencer said. "Our Cleveland side and the Ward 15 side is poised to have important new investment coming in. I will tell you that if the developers behind this project were out-of-town folks, maybe if they weren't with deep Cleveland roots an appreciation for this community with that passion for equity, I wouldn't feel the same way about this project."
Companies created by Budish and Figgie have acquired multiple properties at Lakewood's East End and Cleveland's Cudell neighborhood, an area long known as one of Greater Cleveland's epicenters of the LGBTQ+ community. But the developers aren't just collecting land and faded buildings. They're seeking to inject new life into those properties in a comprehensive way to focus on serving an underserved community.
In seeking to reverse the neighborhood's course, Budish and Figgie have picked up multiple properties in the last two years, representing an investment of more than $3.3 million. Their goal for those properties is to become a hub of entrepreneurship, arts, culture, health and human services for Greater Cleveland's LGBTQ+ community. Here are their acquisitions so far, per county records:
In December, West 117 Development Flagship LLC acquired the 1.1-acre former NTB auto repair shop site, 11801 Detroit Ave. in Lakewood, for $350,000.
In January 2021, West 117 Development Riley LLC spent $440,000 to acquire three parcels from Cannon, LoPresti & Catavolos LLC, owners of a funeral home at 11210 Detroit Ave. in Cleveland. In addition to the funeral home, which the developers dub "The Mansion," parcels at 1361 W. 112th and 1433 W. 112th St. in Cleveland were included in the deal.
The former parcel on West 112th is being used as a community garden by the West 117 Foundation and FoodStrong while the latter parcel on West 112th is a 0.43-acre parking lot that was transferred to and briefly owned by Kiddie Kastle Child Center LLC, run by Shelley Carter. It was then transferred in June to Carter Family Real Estate LLC.
In October 2020, West 117 Development Lake Avenue LLC acquired the Kiddie Kastle's day care facility at 1235 Lake Ave. in Cleveland for $385,400.
In July 2020, West 117 Development Phantasy LLC purchased the former Phantasy Theater complex, 11794-11814 Detroit Ave. in Lakewood for $1,335,000.
In May 2020, West 117 Development Holdings LLC purchased the so-called "My Friends" building, 11600-11618 Detroit in Cleveland for an undisclosed amount. The property is valued by the county at $367,700 for tax purposes.
In February 2020, West 117 Development Fieldhouse LLC acquired the former Mack Products property, 1384 Hird Ave. in Lakewood for $480,000.
One of the partnership's completed projects is the conversion of the former Cannon-Catavolos Funeral Home, 11210 Detroit in Cleveland, into a 5,000-square-foot mixed-use business and community space. In September, LoRoo Security and Technology was signed as a tenant and is leasing the entire first floor, Figgie said.
LoRoo provides safety and security systems with features like security lighting, remote access control, alarm monitoring and 24-hour security cameras, including for Studio West 117's properties. Additional uses at 11210 Detroit include TransAlive support meetings, Text Kitchen programming and dance classes. Figgie said a pop-up health clinic for LGBTQ+ care is being considered.
Another Studio West 117 endeavor that Budish and Figgie supported was helping transgender entrepreneur Monika Veliz set up a retail space at 1384 W. 117th St., Lakewood, for Margie's Closet, a trans community retail shop.
"We master-leased the space and sublet to Margie's Closet because otherwise a startup non-profit would have had a very difficult time renting a space," Budish said. "We were also able to right size the space for Margie's so they are only renting from us what they can afford and we have another tenant renting the remaining space."
Construction work continues on the conversion of the former Mack Products Co., 1384 Hird Ave., into The Fieldhouse. Opening in July, three connected structures totaling 29,298 square feet will host a gym, South American steak restaurant, Stone oven pizza kitchen and rooftop tapas bar. Gaslamp Capital specializes in historic renovations; some of the former Mack Products structures are up to 117 years old.
Next year, Budish hopes to complete renovation of the 55,000-square-foot Phantasy Theater complex into six distinct LGBTQ+ entertainment venues to bring large-scale drag, burlesque and LGBTQ+ theater and comedy to Greater Cleveland. There will also be spaces for LGBTQ+ small businesses, artists and entrepreneurs to thrive including a podcast studio, maker space, coffee shop and mental health services.
On the Cleveland side, at 11600-11618 Detroit, renovation work is completed on the retail and residential property dubbed the My Friends building, owing to the presence of the 24-hour My Friends Restaurant which opened in 1983.
The 19,000-square-foot building is fully leased with its five storefronts and eight two-bedroom apartments providing housing for the LGBTQ+ and the broader community. An LGBTQ+ artists collective called The Edge is coming soon to the former State Farm insurance office. Figgie said she and Budish will continue to make building improvements and add more security to the property.
Tyler Kapusta contributed to this article.
END