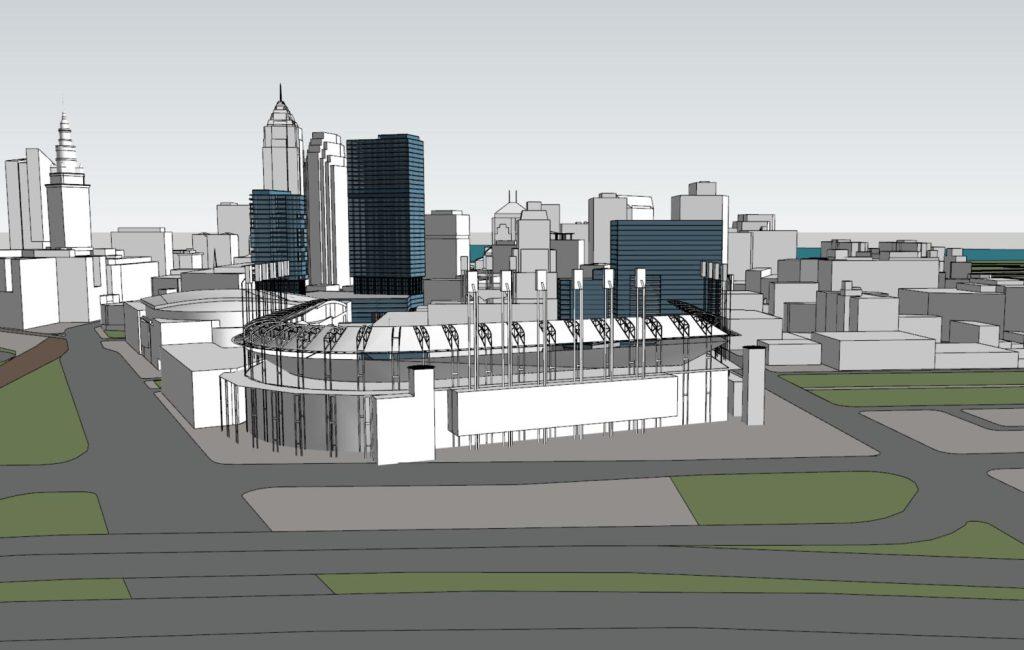 An unofficial rendering of how affiliates connected to the Cleveland Cavaliers/Monsters and Cleveland Guardians could develop their newly acquired properties in the Gateway District. Today, Bedrock bought a 3-acre development site for a potentially significant development (Ian McDaniel). CLICK IMAGES TO ENLARGE THEM
Bedrock buys ex-nuCLEus site
Bedrock and Stark Enterprises today officially announced the acquisition and sale of the former nuCLEus development site, adding 3.17 acres to Bedrock's growing downtown Cleveland development portfolio. Situated at the intersection of East 4th Street, Prospect Avenue and Huron Road, the site is comprised of a large surface parking lot, a crumbling parking garage, and a two-story retail building containing Mr. Albert's Men's World.
Detroit-based Bedrock said the site is "well-positioned to connect downtown Cleveland's exciting array of arts and culture, entertainment, sports, retail, and dining amenities in the Gateway District," according to a press release.
However, Bedrock gave little insight as to how or when it intends to develop the site. "Initial considerations include a mix of uses to enhance accessibility and equity, while also providing neighborhood essentials and entertainment features," Bedrock said, officially.
According to a source familiar with the deal, they believed the sale price, which was not officially disclosed, to be in the vicinity of $30 million. If so, Bedrock is going to want to recoup its large investment as soon as possible by developing the site. Current zoning allows buildings up to 600 feet tall, or slightly shorter than Sherwin-Williams' new headquarters.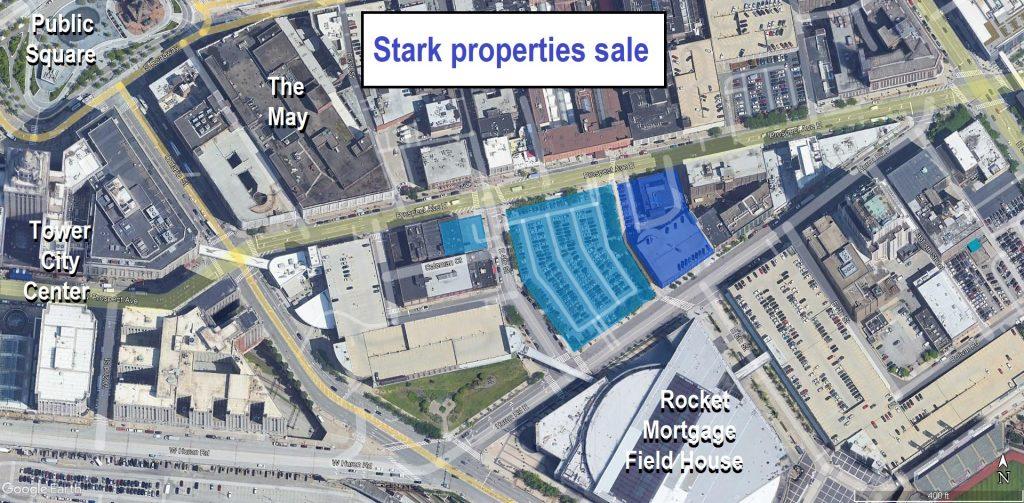 Parcels in two shades of blue are those which were acquired by Dan Gilbert's Bedrock from Stark Enterprises. They're close to other Gilbert properties and interests including The May apartments, Tower City Center and Rocket Mortgage FieldHouse where his Cavaliers and Monsters play basketball and hockey, respectively (Google-KJP).
NEOtrans has been reporting on the potential sale of Stark's Gateway properties for more than a year. In early 2022, multiple sources said Bedrock was the buyer. As the year went along, those same sources began to doubt whether the sale would go through given Bedrock's increased interest in developing the Cuyahoga Riverfront, including buying Sherwin-Williams' current headquarters and research center.
But last month there was increased public records activity showing that a sale clearly was in the works, including the filing of certificates of disclosure for 19 of 21 parcels within the former nuCLEus site. One of the properties included in the disclosures was the historic but condemned Herold Building at 310 Prospect. It was not among the parcels mentioned in today's sale announcement.
And at the end of December, a dilapidated parking garage owned by Stark at 501-611 Huron Rd. that's part of the sale to Bedrock was closed during Cleveland Cavaliers games and other Gateway events. That meant the loss of perhaps $10,000+ in revenue per event. No garage repair or demolition permit applications have been submitted. But it strongly suggested that a transaction was imminent, according to another real estate insider who spoke on the condition of anonymity.
Back when Bedrock was first rumored to be the buyer, sources were indicating that the project was going to be significant in scale. One source suggested it could be nearly as large as Bedrock's 1.5-million-square-foot Hudson site development in Detroit. However, when contacted today, one of the sources said he had seen a recent conceptual plan for the site and called it "underwhelming" as it was smaller in scale than nuCLEus' last iteration. Another source said he was confused by Bedrock's purchase.
"I have no clue what their plans are," the source said, speaking off-the-record. "I don't understand their purchase given their recent (riverfront) master plans, but I know you only get one chance to buy your neighbor."
Bedrock is the real estate development affiliate of billionaire Dan Gilbert's Rock family of companies. The ex-Nucleus' site is located across Huron from Rocket Mortgage FieldHouse where Gilbert's Cavaliers basketball and Cleveland Monsters hockey teams play. Professional sports teams are increasingly getting involved in real estate developments to provide new sources of revenue that can also be tapped to help renovate if not replace their playing venues.
Last year, the Cleveland Guardians acquired a half-acre parcel north of Progressive Field on East 9th Street for future development. In 2023, the Cleveland Browns will complete a study of FirstEnergy Stadium renovations and how the facility may or may not work for the Browns after its stadium lease expires in 2028. Whether the Browns stay on the lakefront or go, they have put forth some ambitious plans for redeveloping the waterfront.
In its press statement today, Bedrock touted the location of the former nuCLEus site. Not only is it next to Rocket Mortgage FieldHouse, it is also near two other Bedrock properties. The site is across Prospect Avenue from The May apartments and two blocks from Tower City Center. The downtown development site complements Bedrock's recently announced Cuyahoga Riverfront Master Plan, in partnership with the city of Cleveland and world-renowned architect David Adjaye, company officials said.
"Stark Enterprises quite rightly identified the former nuCLEus site as an ideal location for a high-impact development and a true catalyst opportunity in downtown Cleveland," said Kofi Bonner, chief executive officer at Bedrock, in a written statement. "The site has significant potential to better tie the downtown area together and provide essential features and world-class amenities to enhance the community, bringing us one step closer to realizing a 15-minute neighborhood and an 18-hour city."
Shortly after Stark bought the Gateway properties in 2014, it proposed nuCLEus — a multi-structure, 2-million-square-foot, mixed-use development marked by a 54-story tower. The project was increasingly scaled back as Stark tried to secure financing including a public component. The public financing idea that finally stuck was the Transformational Mixed Use Development tax credit. It became law just as Stark's largest pledged tenant for nuCLEus, law firm Benesch, grew tired of waiting and signed a lease for office space in Key Tower.
"As we pass the baton to Bedrock, we're confident that they will build and improve upon our original vision to create a dynamic, impactful development on the site," said Ezra Stark, chief executive officer at Stark Enterprises. "It was a tough decision to sell, but as a Cleveland-born and bred company with a passion for the city and its people, we truly believe it's what is best for downtown. We will continue to bring that same passion to our existing properties, as well as at our ongoing and future developments."
END
Our latest Greater Cleveland development news