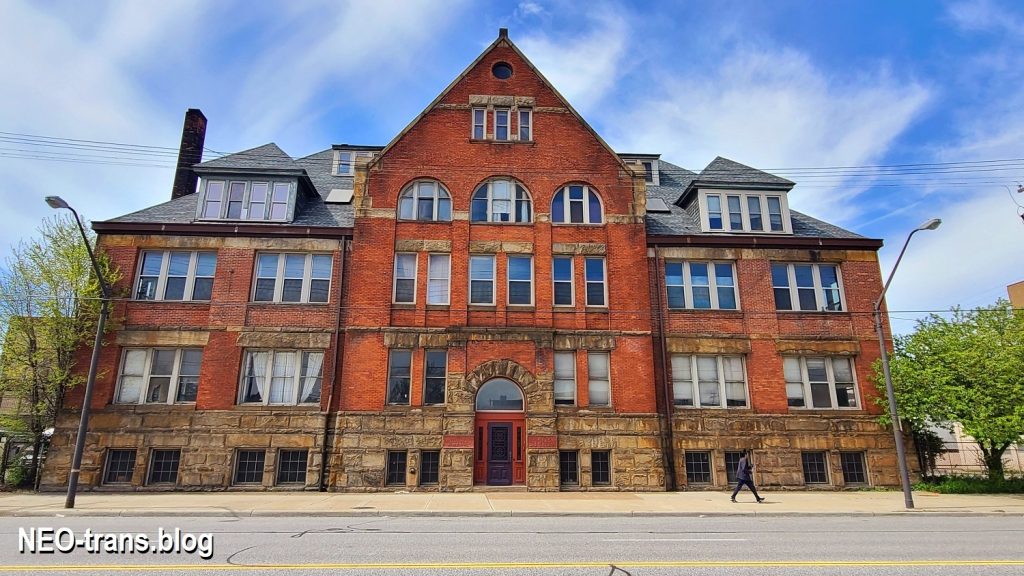 Located just east of downtown on St. Clair Avenue, the 143-year-old Brownhoist office building was actually built a block farther north and later moved to this site during an expansion project of the company's plant. The building is hosting an open house this weekend. But if you miss it, you can always schedule a tour (KJP). CLICK IMAGES TO ENLARGE THEM.
Open house Saturday helps set new course
Some buildings are just walls, floors and a roof. Others have architecture, history and modifications that encourage visitors and tenants to crane their head or to look around each corner as they listen to their buildings' curators tell stories and experiences about them. Its setting is among the reasons why the Brownhoist Building, 4403 St. Clair Ave., in Cleveland's St. Clair-Superior neighborhood has become an idea-generating co-working space for artists.
Adam Whiting, a musician by training, leads a team of investors called Brownhoist Partners LLC that bought the 143-year-old office building in March for $900,000, property records show. Fortunately the building came with tenants already in tow to make the property a going concern from day one. Those tenants include a few attorneys' offices left over from the previous owners of the building, a law firm incorporated as 4403 St Clair Partners that took good care of the building in its 32 years of stewardship, Whiting said.
From 11 a.m. to 6 p.m. Saturday May 27, the new owners and some of their tenants plan to show off the 34,000-square-foot stone, brick and wood building to anyone who wants to see it. At the open house will be live music, food, vendors, art, dancing, cider and wine, games and more for artists interested in exploring and possibly renting a space in the building. And there's lots to explore in this fascinating old building, including its seven vaults to protect company payrolls before banks became more common, and an original iron cage elevator — the oldest such operating elevator in Ohio. If you're unable to come Saturday, Whiting also offers building tours by reservation.
Whiting moved to Cleveland from Portland, OR last decade to study accompaniment piano at the Cleveland Institute of Music and fell in love with the city and its people. Despite that, he discovered there was something missing in the city's arts scene. He noticed that artists in Cleveland tended to operate in silos, meaning that they do their own thing and often aren't aware of what other artists are doing and therefore may not have opportunities to collaborate.
"I think that, being together under one roof, everyone would thrive," said Whiting, a resident of Cleveland's Glenville neighborhood. "That's what got me interested in looking for a place to create a community. This is what we found."
The Brownhoist Building was originally built in 1880 one block north on Hamilton Avenue next to the company's first factory which manufactured the Brown Hoist, invented by Alexander Ephraim Brown. The Brown Hoist revolutionized the Great Lakes' shipping industry. It involved a cantilevered crane, rigged with wire cable to convey an automatic clamshell bucket to and from the ship's hold, removing the cargo. His hoist, first set up on Cleveland's Lake Erie docks, reduced lake transportation costs and greatly shortened the turn-around time of the vessels.
Unfortunately, the factory on Hamilton caught fire in 1900 but the office building was saved and moved to its current location a year later. The move by H. Sheeler & Sons took only one day, Whiting said. Its relocation allowed the Brownhoist Company to build a bigger and more modern factory, designed by J. Milton Dyer, who also was the architect of Cleveland's City Hall. Dyer also added wings to each side of the relocated but cramped Brownhoist office building to accommodate the growing company, according to the Cleveland Landmarks Commission. Much of the 1900-rebuilt factory on Hamilton still stands and remains active, but under the ownership and operation of the Cleveland Industrial Warehouse Corp.
The surrounding neighborhood is filled with old warehouses and industrial buildings which are increasingly finding new uses as artist and dance studios, wood shops, printing shops, custom furniture makers, digital creators architectural salvage stores and more. Some of the arts organizations along and north of St. Clair are familiar to many Greater Clevelanders, organizations like Ingenuity, Lighthouse ArtSpace Cleveland plus and the Cleveland Play House Production Center.
The creative juices also flow at the Brownhoist Building — literally. In the building's basement is a Geekeasy, a play on words for a speakeasy where "bootleg" liquor is made and shared by Brownhoist Cider. Founded two years ago by criminal defense attorneys David Doughten and Ed Vargas, Brownhoist Cider opened its tasting room where customers can enjoy cider from apples grown at Doughten's family orchard in Portage County.
As of last November, their business has expanded to another building across the street, 4310 St. Clair, acquired by Doughten Cider Properties LLC. The barristers' products have decidedly legal names like Adjournment, The Fifth, Reasonable Doubtin' among others. And they can increasingly be found at establishments around town, including at Fat Cats in Tremont, Toast in Gordon Square, Mabel's at East 4th and Mabel's at Eaton Square in the eastern suburb of Woodmere. That's an example of the kind of success Whiting wants to incubate at The Brownhoist.
Whiting notes that The Brownhoist is a for-profit venture, intended to serve as a hub for commerce and creativity. The location and timing couldn't be better to offer its spaces, as other artists and creative, new-start businesses are looking for new homes after they stabilized the Superior Arts District, making it ripe for investment and sowing the seeds for their own eviction. New investors have come into that area, either evicting existing, low-rent tenants or discouraging them from staying and paying higher rents.
Some may find a new space to grow at The Brownhoist or other buildings nearby in this growing neighborhood of artists and other creative businesses. But Whiting said he hopes tenants find more than just a space to create. He wants them to find a community of creative collaborators where the sum is greater than its parts. One could say that about the building itself, too.
END