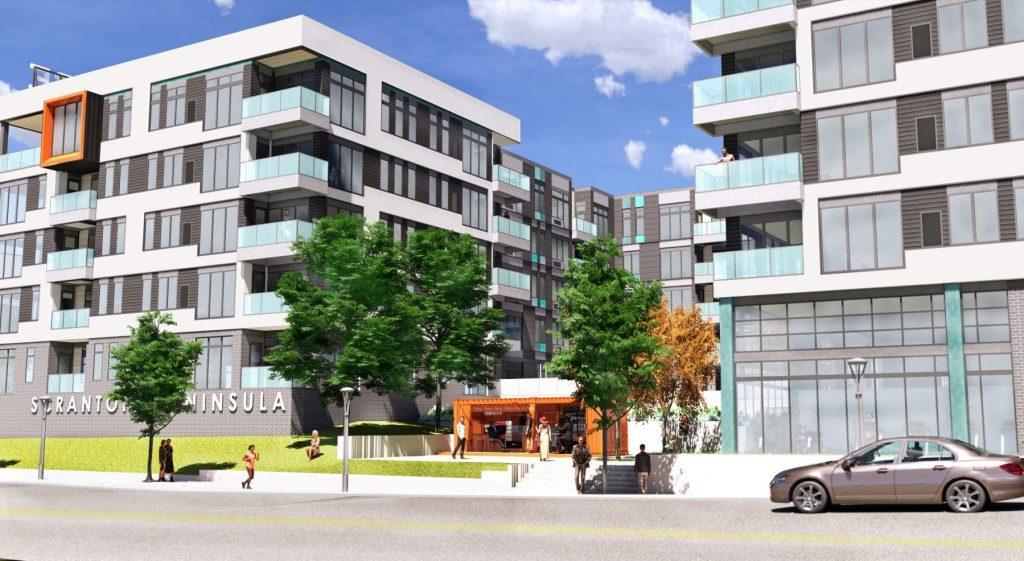 The Peninsula, a 316-unit residential community on Scranton Peninsula in Cleveland's Flats won more than $6 million, representing the largest Ohio brownfield grant awarded in Cuyahoga County. That funding, plus tax-increment financing from the city of Cleveland, will help the project overcome rising construction costs and interest rates, say its developer NRP Group (BKV). CLICK IMAGES TO ENLARGE THEM
Ten Cuyahoga County projects win more than $20 million
Ohio Gov. Mike DeWine announced $88 million in state support for 123 brownfield remediation projects that will help clean up hazardous and underutilized sites throughout the state. The Ohio Department of Development is funding the awards through the Ohio Brownfield Remediation Program, which is designed to clean up and prepare hazardous brownfield sites for redevelopment. The projects announced today will impact communities in 35 counties across the state.
"Our goal is to create opportunities and make a positive difference in the lives of Ohioans," Gov. DeWine said in a written statement. "Removing these eyesores and cleaning up blighted properties will help make way for new and exciting opportunities in our state."
Today's grant announcement includes approximately $79.3 million for cleanup/remediation projects and $8.8 million for 51 assessment projects. These grants are in addition to the $60 million in Ohio Brownfield Remediation Program grants awarded in April and $192 million awarded in June. In total, the DeWine Administration has invested nearly $350 million in funding through the program to support 313 projects in 83 counties.
Funds awarded today will help assess and clean up industrial, commercial, and institutional brownfield sites that are abandoned, idled, or underutilized due to a known or potential release of hazardous substances or petroleum. Following site remediation, properties can be redeveloped to revitalize neighborhoods and attract new economic development. A completed list of awards is available here.
Plans for a high-rise Dream Hotel next to the Masonic Auditorium on Euclid Avenue in Cleveland's Midtown district appear to be very much alive thanks to a brownfield grant. But the hotel tower may be about four stories shorter than the 19-story building originally planned before the pandemic hit in 2020 (Bialosky).
"Revitalizing these properties can transform the landscape of a local community," said Lydia Mihalik, director of the Ohio Department of Development. "By investing in these sites, we allow communities to turn them into something that is worth noting, visiting and a highlight to the local area."
Here's a list of Cuyahoga County projects:
KD Prospect LLC (K&D Group affiliate) — 700 Prospect Ave., Downtown Cleveland — Project Name: United Church of Christ Re-Development — $4,657,023 for cleanup/remediation. Located in downtown Cleveland, the nine-story United Church of Christ building was constructed in 1899. Since its opening, the property has functioned as offices with various commercial and retail uses along the first floor. Today, the property is a vacant office building and has succumbed to deterioration over time. Remediation will include asbestos abatement and selective demolition. Following remediation, the plan is to redevelop the structure into approximately 120 apartments and 6,800 square feet of commercial space on the first floor.
JJJ Real Estate LLC — 32811 Aurora Rd., Solon — Project Name: Downtown Solon Mixed-Use Development — $643,595 for cleanup/remediation. The site was first developed into an automotive dealership and repair shop in 1963 and remained in operation until 2020 when the facility became vacant. The smaller structure on the site was developed as a car wash facility in 1955 and remodeled in 2011, though it has since become vacant. All structures on the property have succumbed to deterioration over time and will need demolished prior to redevelopment. Remediation includes asbestos abatement, vapor mitigation and demolition of the existing vacant structures, as well as surface parking lots on the site. Redevelopment will include approximately 209 apartments in two separate buildings, as well as restaurant and retails pace, two parking garages and a 110-key Hyatt Place Hotel. The project will also include green space.
Cleveland LD LLC (Bedrock Cleveland affiliate) — 800-2250 Canal Rd., Downtown Cleveland — Project Name: Cleveland Riverfront Development — $225,000 for a site assessment. The sites on this property have been occupied on and off by various businesses for more than a century, including a carpet cleaning facility, plating operations, a lead company, and a smelting and refining facility. The vacant structure on the property currently serves as a small parking ticketing booth. The occupied structure is a connected series of parking ticketing booths in decent condition. Remediation will include environmental testing, which will help inform long-term redevelopment plans. However, after remediation, the site will likely be developed as a mixed-use district for recreation, office, retail, residential and parking uses.
Peninsula MFH Owner LLC (NRP Group affiliate) — 1951 Carter Rd., Scranton Peninsula, Cleveland — Project Name: The Peninsula — $6,061,165 for cleanup/remediation. The property has operated with various industrial uses from the late 1880s until 1987, including various foundries and heavy manufacturing companies such as Upson Nut Company, Republic Steel Corporation and Federal Steel & Wire Corporation. All structures were demolished by 1991 and the site has been primarily used for materials storage until becoming vacant. Remediation will include capping soil with building foundations and pavement to prevent contact with impacted soil, as well as installing a sub-slab depressurization system to prevent vapor intrusion to indoor air. Following remediation, the plan is to construct 316 units of multi-family housing — 300 units within two five-story buildings and 16 townhouses in three additional two-story structures. Multi-use trails will also be built to link into the Cleveland Metroparks system.
Civic Property Development LLC (Cleveland Foundation affiliate) — 5508 Euclid Ave., Midtown, Cleveland — Project Name: Former RTA Site — $1,405,511 for cleanup/remediation.
This property was developed for use by multiple tenants from at least 1887 until 2007, including printing facilities, laundry and dry-cleaning operations, chemical manufacturing, machining and more. The approximately 2.4-acre property has been vacant since around 2005. Remediation will include removal of underground storage tanks, removal of contaminated soils, groundwater treatment and placement of new concrete over open trenches. While there are currently no redevelopment plans, the property could be developed into a number of mixed uses.
Cleveland Print Room Inc. — 4730-4738 Lexington Ave., Midtown, Cleveland — Project Name: 4730-4738 Lexington Avenue Assessment — $97,327 for a site assessment. The first commercial building on the property was constructed in 1920 with a laundry and dry-cleaning operation occupying the site from 1923 until 1974. The property was hen occupied by an electrical supply company until 2017 when the land went into foreclosure. The original 1920s-era building is still true to its original form and the attached building is in slightly better condition. Remediation will include environmental assessments, installation of groundwater monitoring wells and one deep monitoring well, and asbestos surveys and abatement. Following remediation, Cleveland Print Room will relocate and operate is community darkroom, gallery, and educational programming at the redeveloped site.
Templelive Cleveland LLC (affiliate of Beaty Capital Group) — 3615-3635 Euclid Ave., Midtown, Cleveland — Project Name: Cleveland Masonic Temple — $1,449,000 for cleanup/remediation. The seven-story, 226,000 square-foot building is listed on the National Registry of Historic Places and consists of a theater, multiple meeting and event rooms and large public spaces. Although the applicant has done significant work on the building already, the entire property requires asbestos abatement and selective demolition in addition to HVAC building infrastructure. Remediation will include asbestos abatement of the entire facility, demolition and the installation of critical HVAC infrastructure improvements. Following remediation, Beaty Capital and Dream Hotel Group plans to redevelop the property into a 125-room hotel with six floors of suites, as well as conference space, restaurants and a roof bar and a 200-space parking deck.
WXZ Development, Inc. — 11619 Euclid Ave., University Circle, Cleveland — Project Name: Monmouth Property Redevelopment — $1,391,788 for cleanup/remediation. Dating back to the late 1800s when the property was occupied by residential development, the Monmouth Building was constructed in 1914 and occupied by three or four first-floor storefronts and apartments on the second through fourth floors. The most-recent retail operation, as well as the apartments, have been vacant since 2019. Currently, the exterior of the structure is in fair condition, as well as some of the storefronts. Much of the rest of the building is in poor condition with asbestos-containing materials throughout. Remediation will include asbestos abatement, interior demolition, and the infrastructure improvements, as well as the construction of a proposed new building. Following remediation, the Monmouth Building will be restored and the site will include the development of a complementary residential/commercial building.
Brixmor GA Southland Shopping Center LLC — 6944 W. 130th St., Middleburg Heights — Project Name: Southland Shopping Center: Building 3A (Units 57/58) Abatement and Demolition — $1,026,750 for cleanup/remediation. This three-story property was built in 1956 on the western portion of the property and has been utilized for various commercial and retail operations since its development. The building has been mostly vacant since 2013 aside from an archery club and the Cleveland Furniture Bank. Remediation will include asbestos abatement, hazardous materials removal, and demolition. Upon remediation, the plan is to develop a 140-unit multi-family residential property, including a café on the ground floor.
Euclid Avenue Development Corporation (Cleveland State University affiliate) — 2124 Chester Ave., Campus District, Cleveland — Project Name: Rhodes Tower Redevelopment — $3,365,110 for cleanup/remediation. Portions of this property were occupied with residential dwellings and green space as early as the 1930s, with the construction of Rhodes Tower beginning in 1968 and completing in 1971. The building has operated under the ownership of the State of Ohio and Cleveland State University (CSU) for more than 50 years. Currently, the 21-story building is in fair-to-good condition as several floors are operated by CSU and a portion is leased to Cleveland Metropolitan School District. The 19th floor is vacant due to the presence of asbestos. Remediation will include asbestos abatement with selective demolition to support this effort. Following remediation, CSU is planning to begin a roughly $150 million renovation of the tower, including an upgrade to the main library, collaborative study areas, retail sites, office spaces and more.
END
Our latest Greater Cleveland development news