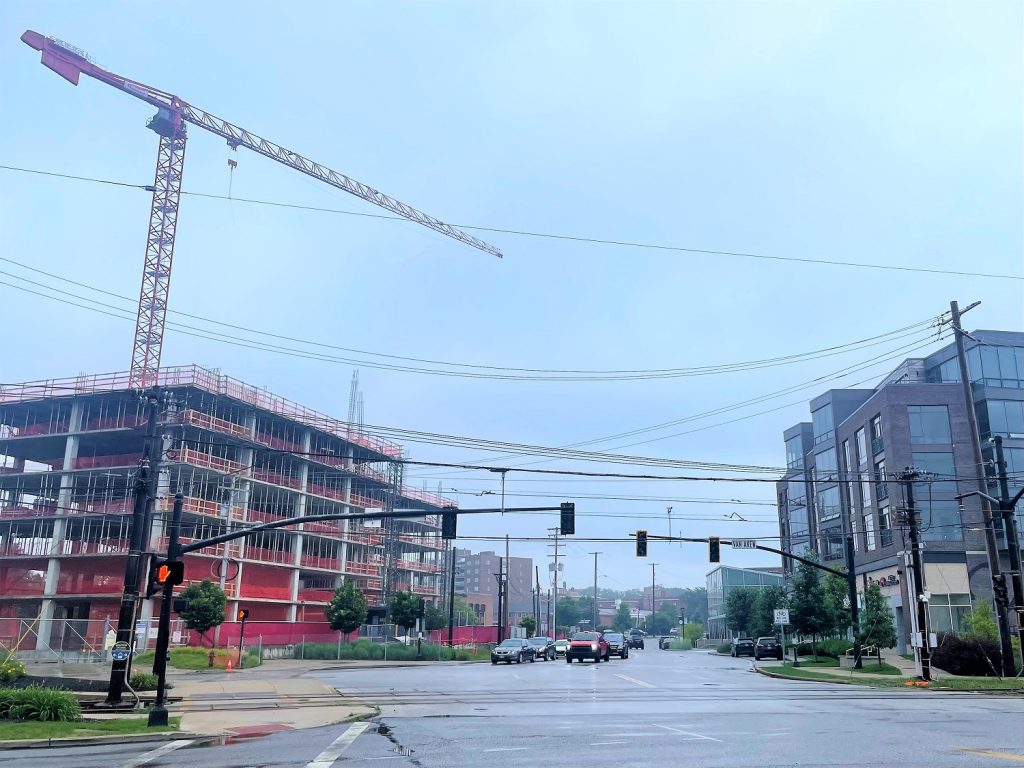 The Farnsleigh Apartments, left, at the Van Aken District in Shaker Heights was left out of the Transformational Mixed Use Development tax credit program despite applying in each of the first two rounds. Instead it found financial salvation from the city via tax-increment financing and loans. That allowed the 18- and 15-story towers to start construction last year. Other local projects that have both won and lost out on TMUD credits have yet to start construction (Harrison Whittaker). CLICK IMAGES TO ENLARGE THEM.
Cleveland transformational projects may seek credits
The desire for new-build projects in downtown Cleveland led to the creation of the state's Transformational Mixed Use Development (TMUD) tax credit program nearly three years ago. But in the first two years of the four-year TMUD program, no developers of new-construction downtown projects have submitted applications. As the third round of TMUD will start next week, will a new-build project downtown finally be an applicant — or perhaps even a winner — despite of tightening labor and credit markets plus rising interest rates?
For much of the 21st century, residential development in downtown Cleveland relied on converting the business district's supply of obsolete office and other commercial buildings. Historic tax credits from the state or federal governments were the key to making those deals feasible. Now, with the supply of unconverted buildings diminishing, developers initially led by local real estate firm Stark Enterprises sought a new tax credit tool to transition into new construction downtown while keeping rents competitive.
The TMUD is that new tool, offering $100 million in annual tax credits to fill financing gaps for major real estate construction and renovation projects. Up to $80 million in tax credits can be awarded to megaprojects costing $50 million-plus and located in or within 10 miles of Ohio's six largest cities. At least another $20 million in tax credits can go to general developments in smaller cities. Last year, the deadline for submitting applications for TMUD credits was July 8. This year, it's running two months later.
"The third round for the Transformational Mixed-Use Development Program opens on July 26," said Megan Imwalle, public information officer at the Ohio Department of Development who also noted the applications for the third round must be submitted to the state by the end of the business day Friday Sept. 8. "We won't have a list of applicants until after the round closes."
This could be the round where one or more new-construction downtown Cleveland projects are submitted for consideration. The reason is that several megaprojects are in the works for downtown, plus a couple more nearby. And market conditions are resulting in increased costs for developers. However, details about each project's financing is unknown as most of their principals aren't talking about whether they will seek a TMUD application. But leading indicators are the large scale of those projects, the amount of parking spaces involved (which typically fail to produce enough revenue to cover operating, maintenance and capital costs), plus their inclusion of large public realm components which seldom produce any revenue at all.
One of the most imminent new-construction projects downtown appears to be the first phase of Bedrock's riverfront development (not counting the Apartments at Bolivar which is underway). Four principal structures in the first phase have been identified by sources who spoke to NEOtrans but declined to be identified publicly. Those structures are a new Cleveland Cavaliers practice facility with a Cleveland Clinic sports medical office, a hotel and conference center, an office tower whose anchor tenant reportedly will be Rocket Mortgage and a riverside residential building although it's not clear whether it would be apartments or condominiums.
On the lakefront, at least one high-rise structure is in the works by the Cleveland Browns' owners the Haslam Sports Group of Berea and developer M.A. Mortenson Co. of Minneapolis. Planning for the building or buildings next to the planned North Coast Connector are far enough along that a bank has been working on the financials for the project, reportedly to include a tax-increment financing agreement with the city and/or its new North Coast Development Corp. It is not known if a TMUD is part of the financial picture, but the timing is right and the project certainly is big enough to qualify. More details may be learned at a public announcement about the lakefront on July 27.
On the east side of downtown, real estate development firm Twenty Lake Holdings of Stamford, CT acquired 32 Greyhound stations nationwide from FirstGroup for $140 million. Cleveland's 75-year-old streamline moderne station on Chester Avenue was among them, selling for $1.72 million to Twenty Lake affiliate GH Cleveland OH, LLC, county records show. The sale not only included the 36,580-square-foot station building that's listed on the National Register of Historic Places but several adjacent properties totaling 2.25 acres as well. On them, NEOtrans has learned two residential towers could be built next to the bus station which may be renovated as a mixed-use venue.
A Twenty Lake spokesman told NEOtrans "Greyhound will not be part of the site's future" and noted that the bus company has a "flexible lease" that allows them to leave at any time. Greyhound apparently was ready to relocate its Cleveland station to the Greater Cleveland Regional Transit Authority's Triskett Red Line rapid transit station on the west side but city and council officials intervened to find more central location. A county source said in May that talks were continuing.
Other potential, new-construction high-rise projects downtown are reportedly in the early stages of planning. One may be a project on eight properties at the northwest corner of West 3rd Street and St. Clair Avenue owned, for now, by the Weston Group of Warrensville Heights. Most of the land is used as parking lots but there are two buildings on them. One is the seven-story, 110-year-old Marion Building, 1276 W. 3rd, whose remaining occupant was Karl's Inn of the Barristers — until Weston refused to renew its lease in January, forcing Karl's to close. Next door is the three-story, 120-year-old Bertsch Building, 1280 W. 3rd.
Other high-rise projects downtown may not be far enough along in their planning to be ready for their sponsors to submit a TMUD application. The George Group/GBX team may reapply for a TMUD for its Flats East Bank redevelopment after getting passed over in the last round, although it primarily is a renovation project rather than new construction.
Several projects on the city's West Side could be candidates for a TMUD. One is the Westinghouse redevelopment, 1200 W. 58th St., in the Gordon Square neighborhood. The owner, the Trebilcock family, has prepped the 3.6-acre site for redevelopment by demolishing nearly half of the old manufacturing complex. It kept but cleaned out the 108-year-old, 136-foot-tall tower and razed most of a 19th-century foundry, keeping only its eastern façade. A water tower building also was kept.
Sources and early plans secured by NEOtrans say the Trebilcock family wants to convert the tower into a hotel and apartments, the surviving part of the foundry into an arcade, and most of the rest of the site into a technology recycling warehouse for its associated company MCPC, plus a parking deck for more than 250 cars. A second, new-construction tower of about eight stories also is rumored. But no redevelopment plans have been submitted to the City Planning Commission for design review, which is required before a building permit can be approved. One reason why no plans have been submitted is because the project may need public financing, such as a TMUD, to move forward. Trebilcock family members haven't commented on their plans despite recent requests by NEOtrans.
Other west-side projects to keep an eye on are located in the Ohio City neighborhood. Bridgeworks, on the northeast corner of West 25th Street and the Detroit-Superior Bridge, has sought TMUD credits twice before but was rejected each time even through the $108 million, 16-story project was otherwise shovel-ready. The project has secured more than $86 million in financing from the city, county and Cleveland-Cuyahoga County Port Authority, with a hoped-for groundbreaking in late-June. Additional equity is committed to the project. But Bridgeworks' cost has reportedly grown with higher interest rates, nationwide labor shortages and higher contract prices resulting in a funding gap, sources said. Lead developer Michael Panzica has not responded to several requests for updates.
High construction costs and a thin supply of quality labor plus high interest rates have effectively put other projects on hold. Those challenges were cited by Dan Whalen, president of Harbor Bay Hospitality, as a reason why his Chicago-based parent company isn't moving forward right now with a second phase of the Intro development next door to the first at West 25th and Lorain Avenue. Whalen also confirmed he has no plans right now to seek a TMUD for the second phase — a proposed 16-story residential building atop parking and ground-floor retail.
"Market conditions kind of have phase two in a slight hold for a few months," Whalen said. "Costs are still sky high. But unless you're well capitalized — we happen to be, luckily — it pencils down for a lot of groups. Projects can't get refinanced to pull capital out. Loans coming due in the office market will cause ripple effects for the lending market that will likely affect other asset classes. On top of the labor issues, you have a credit crunch happening that will probably get tighter in coming months. And that's with housing already in short supply. So it'll be an interesting time. There will be winners and losers just like there are in every cycle, even though this one is being caused by different forces than the previous."
Over several years of legislative debate prior to its passage in late-2020, TMUD's purpose was broadened to win more political support. It was expanded beyond Ohio's largest cities to include their suburbs in the urban projects category and added a general category for the rest of the state. After next year, TMUD is due to expire but some state lawmakers have expressed interest in extending the program if it achieves its intended purpose — getting shovels in the ground for large, complicated, difficult-to-finance developments.
At its halfway mark, the TMUD program's results are mixed. The largest TMUD credit awarded so far was $40 million, the maximum allowed, to the $500-million-plus Centennial redevelopment at Euclid Avenue and East 9th Street. Despite winning the award in the first round, no renovation work has begun by developer The Millennia Companies. Representatives of the Cleveland-based company told NEOtrans in April they have more than $476 million in private, federal, state and local financing commitments and hoped to start major work by fall with some interior demolition before then.
By contrast, the second-largest TMUD credit — $34 million — was awarded to the the Merchant Building Development in Columbus. Even though the credit was awarded more recently in the second round, the new 32-story apartment tower the North Market district started construction earlier this year. Another winner in the second round was the $100 million Erieview Tower redevelopment in downtown. It won $13 million in TMUD credits but has yet to start renovations although persons involved in the project informed NEOtrans last month they want to start work on redeveloping the 40-story tower this fall.
END