Cleveland's likely stories for the coming year
When it comes to business, real estate and community investment, there's a lot to look forward to in Greater Cleveland in 2023. Look no further than the new Canon Healthcare headquarters, Bedrock real estate's riverfront plans, Midtown Cleveland developments, booming University Circle and its spillover into long-neglected neighborhoods, the next artist district in Cleveland, who is buying Stark Enterprises ex-nuCLEus site, ballpark villages around our city's sport venues, lakefront plans and projects, plus transit-oriented developments.
Downtown's new skyscrapers
Sometimes we urbanists are so excited about the next project that's just over the horizon that we tend to not fully appreciate the good stuff that's right in front of us. So let's not overlook the 600-foot-tall skyscraper that is under construction on a sea of life-sucking downtown Cleveland parking lots that have endured for decades.
There's certainly no reason to take for granted Sherwin-Williams' (SHW) new headquarters complex rising to the west of Public Square, especially after the departure of another corporate HQ to the suburbs — Medical Mutual of Ohio (MMO). SHW is making the investment in downtown Cleveland that MMO did not in opting for the suburbs instead.
And of course there's another tower under construction downtown — the new, 23-story City Club Apartments, 776 Euclid Ave. It is also being constructed on a decades-old surface parking lot. Interestingly, the SHW and City Club Apartments towers are rising at about the same pace and roughly matching each other's heights. In summer 2023, City Club will stop rising while SHW's HQ will keep on climbing on it's way to becoming Cleveland's fourth-tallest skyscraper.
Interest rates, WFH, blah-blah-blah
While some in the real estate business see external issues like rising interest rates and the work-from-home (WFH) trend as potential threats, other see them as inconveniences at worst. Certainly WFH has negatively impacted the office market, but it hasn't killed it. For biomedical companies, technology/research firms, collaborative entities, outpatient medical providers, and employers seeking to foster and sustain their corporate culture, office spaces remain indispensable.
Rising interest rates following historic inflation aren't ideal conditions for real estate development. But people younger than the age of 40 are making it out to be Armageddon. Those who are older recall that the real estate boom of the 1980s was accomplished under similar circumstances. And downtown development in Cleveland was very much in a boom during the 80s, with more than a half-dozen towers seeing construction start.
One only needs to look over to University Circle and surrounding neighborhoods to see that current economic conditions are not slowing the pace of development. There, a healthy mix of office, residential, institutional and retail projects have been recently completed, are under construction or are about to begin.
If a neighborhood or district is not hosting a growth industry or sector, what's stopping it? Downtown continues to excel in attracting residents, but job creation seems to be two steps forward and two steps back. Recent efforts to try and expand Cleveland State University (CSU) into more of a leader of medical learning and health care research have stumbled. CSU's new master plan offers an opportunity to change that and to help boost downtown. So might some targeted public incentives to overcome the high cost of adding more marketable office spaces downtown — something that the Downtown Cleveland Alliance has espoused. Will it happen in 2023?
Canon Healthcare ready to go
A new office presence to host the headquarters of Canon Healthcare USA looks to be opening its address in Greater Cleveland in 2023, the only question is where. In a recent interview with NEOtrans, Cleveland Clinic officials have acknowledged having discussions with Canon Healthcare representatives. A logical landing spot is the still-new but vacant IBM Explorys offices owned by Geis Companies on Clinic-owned land at Cedar Avenue and East 105th Street.
But what hasn't made it into recent news articles is that Canon has a lot more in mind for Greater Cleveland than just a headquarters. Real estate insiders have learned that Canon intends to put significant facilities for healthcare equipment research and production in Greater Cleveland. If Canon Healthcare's headquarters lands on East 105th, its research and production facilities may accompany it south of there along the new Opportunity Corridor Boulevard.
No matter where it lands, Canon Healthcare is sure to be a tremendous benefit to the region. One hopes that it will land where that benefit can be maximized for and accessed by as many Greater Clevelanders as possible and not primarily for Canon's shareholders and a select few of our residents.
University Circle's boom, spillovers
While most of Cleveland Clinic isn't in University Circle (it's mostly in neighboring Fairfax), the impacts of our region's largest employer is most definitely felt most in and near the Circle, dubbed as Cleveland's second downtown. Just a few days ago, NEOtrans posted an article about the Clinic's busy construction agenda for 2023 and the thousands of jobs that are being created as a result.
University Circle's economic impacts are finally being felt positively in long-troubled Hough where significant investments in new housing are being made. Look for the pace of investment to continue in 2023 if not increase, with more developments big and small to be announced in Hough, as well as in Fairfax and in East Cleveland.
But watch for more news about developments in University Circle itself, including the Circle Square megaproject, Stokes West and Case Western Reserve's residential and research facility projects. These and other developments are continuing the growth of Cleveland's eds-and-meds district which is challenging downtown for the crown as the region's largest jobs hub and Northeast Ohio's fastest growing residential community.
Midtown Cleveland to bloom
Between University Circle and downtown is Midtown. Since the 1950s, it has become a place where people just passed through between Cleveland's two largest job hubs. It hasn't been a big destination for a long time but that's starting to change, if recent public-sector funding awards are any indication.
In recent weeks, brownfield grants were awarded by the state to clean up development sites for projects throughout Ohio including several in Midtown. They are the Masonic Auditorium renovation with a new-construction 15-story Dream Hotel, 3615-3635 Euclid Ave.; a mixed-use development sponsored by the Cleveland Foundation at 5508 Euclid; and the Cleveland Print Room will relocate and operate a community darkroom, gallery and educational programming to a redeveloped building at 4730-4738 Lexington Ave.
Ohio agencies weren't done with Midtown. Last month, three Midtown projects won Ohio Historic Preservation Tax Credit Program awards. They were the Agora Building apartments, 5000 Euclid; redevelopment of a 10-story classic Holiday Inn into a modern hotel at 3614 Euclid; and conversion of the long-vacant Warner & Swasey site, 5701 Carnegie Ave., to a 57-unit senior housing complex was welcomed after getting passed over numerous times.
These developments will add to momentum already underway. The Cleveland Foundation is building its new headquarters and adding an innovation center on Euclid at East 66th Street. And Midtown's attraction for new residential offerings was buoyed recently by the news that the Foundry Lofts has leased out 75 percent of its 160 apartments shortly after it opened this fall and is adding a second phase.
Ballparks and their villages
All three major-league sports teams and/or their owners have real estate development plans for downtown Cleveland. The only team/owner that hasn't revealed its plans is the only one that acquired property in 2022 — the Cleveland Guardians baseball team bought a half-acre parcel on East 9th Street. It acquired the land as part of its financing plan for renovating Progressive Field. We may not hear anything about the Guardians development plans until the new David Blitzer-Josh Harris minority ownership takes over as majority owners in 2026.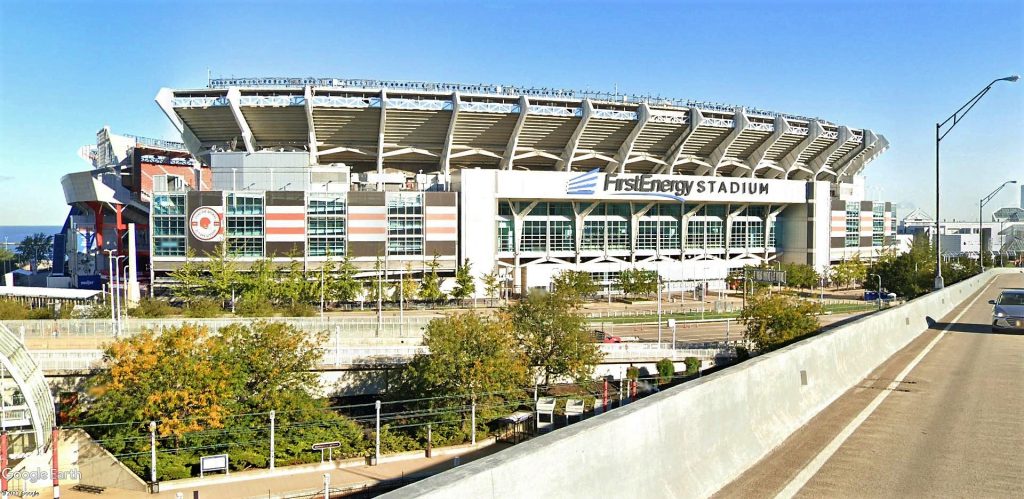 Whether the Cleveland Browns continue to play football at FirstEnergy Stadium may depend on the team and others being able to affordably fix its design flaws, including whether the Shoreway gets removed or redesigned into a boulevard to avail more space for larger concourses around the stadium (Google).
By the end of 2023, we should hear the results of a study of FirstEnergy Stadium and how it may or may not work for the Cleveland Browns whose stadium lease expires in 2028. The Haslam Sports Group, owners of the pro football team, has several concerns with the stadium including its poor construction, lack of a roof and small concourses especially on the south side by the Shoreway. None of those can be easily or cheaply fixed, leading the team to seriously consider a new stadium and promote a conceptual lakefront redevelopment plan. Word is the Haslams are leaning toward building a new all-purpose stadium, apparently preferring a Lakeside Avenue site because of its better connectivity to downtown than the rival post office site. And it has much better spin-off development potential.
And then we have the Cleveland Cavaliers and its owner Dan Gilbert who also owns Detroit-based Bedrock real estate. Bedrock has been busy pushing its own waterfront redevelopment plans, but along the Cuyahoga Riverfront. While the Guardians have taken title to more land, Bedrock has announced its intention to purchase two Sherwin-Williams properties — their existing headquarters and research center that overlook the river. Both uses will be moved to new buildings at the end of next year.
Buyer of Stark's nuCLEus site
Until it turned to the riverfront, Bedrock had sought to acquire Stark Enterprises' properties in the Gateway District on which Stark tried in vain to build its nuCLEus megaproject. The only result was Stark's creation of the Transformational Mixed Use Development tax credit two years ago — just in time to see the opportunity to build nuCLEus slip away after seven years of trying.
Now Stark has a new suitor for its Gateway properties. It isn't known yet who it is, but we should find out in 2023 and what the buyer intends to do with the nearly 3-acre site. Based on comparable sales, the buyer may spend somewhere in the neighborhood of $20 million to $40 million. If so, the buyer is likely going to want to build big and soon to recoup their investment.
Interestingly, one of the properties, a dilapidated parking garage at 501 Huron Rd. has recently been closed during Cavs games and other Gateway events, meaning the loss of perhaps $10,000+ in revenue per event. No garage repair or demolition permit applications have been submitted in recent months. CEO Ezra Stark opened but didn't respond to a NEOtrans email asking what was going to happen to the garage and if its closure was a sign of a pending sale.
Cleveland's next artists district
One of the axioms of real estate is that artists create the conditions favorable to their own eviction. They move their live-work spaces and galleries into a cheap, downtrodden area, give it an edgy and funky vibe, and stabilize it enough to where mainstream investors feel comfortable enough to come in and develop higher-rent offerings. It happened in the Warehouse District, Ohio City, Tremont and now the Superior Arts District on the east side of downtown.
Some of Greater Cleveland's most influential real estate investors and developers, through new companies TurnCap and TurnDev, are seeking to "roll up" the Superior Arts District by acquiring more than 650,000 square feet of properties. So far, they've attracted the CrossCountry Mortgage headquarters and its 600-1,000 jobs from Brecksville plus the new Cleveland Division of Police headquarters and its 400-700 employees from Ontario Street downtown. The police HQ is going into the Artcraft Building, 2530 Superior Ave., forcing out tenants including artists by April.
Where will they go? TurnCap/TurnDev and/or major players thereof are reportedly trying to get their hands on The Film Building, 2106 Payne Ave., a decaying, century-old property that has been mired in a lawsuit for the last couple of years over who actually owns it. If the property can be sold and fixed up before it falls apart, it would make a nice new home for Artcraft's tenants.
But the trend suggests artists will look elsewhere. Indeed they already are. North of St. Clair Avenue, between the Inner Belt and MLK Boulevard, is the home of Ingenuity, the Lighthouse Artspace Cleveland (hosted the immersive Van Gogh exhibit), the Cleveland Play House Production Center, plus numerous galleries and studios that are popping up in old, neglected warehouses. Once again, they're creating conditions for their own eviction but should have years of relative peace before their secret gets out.
Lakefront's incoming waves
Factors that could affect Cleveland's next arts district are the many plans for neighboring lakefront recreational improvements and related developments, such as the former FirstEnergy power station, land near FirstEnergy Stadium, or a possible decommissioning of Burke Lakefront Airport. All of those are being subjected to a multitude of studies and planning activities that will be released as 2023 goes along.
Regarding lakefront action, there are now two very pro-lakefront public officials in charge — Cleveland Mayor Justin Bibb who was elected in 2021 and Cuyahoga County Executive Chris Ronayne who took office two days ago. With them in charge and their many statements on the importance of capitalizing on our lakefront, they have few excuses for not getting things done. According to Ronayne, the key to getting things done involves more than just having pretty plans. Rather, it is to hire capable managers to oversee the implementation of those plans. The coming year will be critical for getting those plans and their managers in place.
Transit-oriented developments
For a long time, numerous economic, job-, and social equity-oriented organizations like the Federal Reserve Bank of Cleveland and Policy Matters Ohio have said Greater Cleveland needs to tackle it's geographic separation between jobs and job seekers. On average, only one out of four available jobs in Greater Cleveland is within a 90-minute one-way transit trip of a job seeker. Those organizations say it's a big reason why suburban employers have a hard time finding workers, and why Cleveland continues to have high poverty rates.
Putting jobs and job-seekers closer together, located within a comfortable walk of high-frequency transit routes, is essential to tackling that physical disconnect and the problems they manifest. Both the city and the county are working on tackling it through zoning changes and public incentives announced in September. The outcome is called Transit Oriented Development (TOD). It's a design theme that involves putting mixed use, density and walkability around stops along frequently served transit routes.
There are numerous TOD projects underway or planned throughout Greater Cleveland, particularly on rail transit lines but also on some busy bus routes too. They are projects to be watched and learned from for the next batch of projects. Among the notable projects and districts are Van Aken District phase 2, Woodhill Station, Ohio City station TOD/INTRO phases 1 and 2, West 25th Street south to Old Brooklyn and Slavic Village. Each is different in scale and mix of uses. All of these public- and private-sector TOD efforts are worth watching in 2023 and possibly worth emulating along select transit routes.
END
Our latest Greater Cleveland development news