Under construction on Scranton Road in Cleveland, The Apex office building is an anomaly. This is one of a precious few new office buildings under construction that will be available for general lease. This 312,000-square-foot building is being built to serve medical offices that are in extremely short supply in Greater Cleveland which is one of the tightest markets for available offices in the nation (KJP). CLICK IMAGES TO ENLARGE THEM
Eighth lowest office vacancy among major metros
Contrary to the narrative that office markets nationally and especially in Greater Cleveland are dead, two new reports show they are very much alive. And while they're not fully recovered from the pandemic and remote working, some office markets including Cleveland's have shown surprising resilience.
The new reports were authored by real estate services firm Marcus & Millichap that used data from CoStar Group, Inc. and Real Capital Analytics. The research pieces that were released last week were a second-quarter 2022 Greater Cleveland market report as well as a 2022 U.S. Office Investment Forecast Report. Together, they portray steady fundamentals for Greater Cleveland.
The two reports show Greater Cleveland has the eighth lowest vacancy rate among major metros and one of the best capitalization rates. The low vacancy rate is due to strong office market demand in the suburbs and the conversion of many "zombie" office buildings downtown. A zombie refers to a vacant or nearly vacant, obsolete office building that is awaiting conversion to residential or mixed use but is still a dead weight on the market's vacancy data. Roughly 2.4 million square feet, or 6.9 percent of space is being taking out of the downtown office market by pending or underway conversions.
Greater Cleveland's capitalization rate for office property sales averaged near 8.4 percent, meaning it could take just over eight years for an investor to recoup their investment from buying an office property. The Cleveland market report said investors paid a mean of $126 per square foot for assets during the yearlong span preceding April, a 14 percent boost in pricing.
"With the lowest sale price among major U.S. markets and one of the highest mean cap rates, Cleveland's relatively tight office vacancy is attracting investors," the Greater Cleveland office market report read. That data ranked Greater Cleveland 26th among 46 major metro areas in M&M's National Office Market Index (NOMI). Ranking first was Austin with Pittsburgh last. Due to strong employment growth, Cincinnati ranked in the top half at 18 of the NOMI and Columbus at 27.
Greater Cleveland's national ranking was held down by its below national average employment growth of 1.6 percent in 2021. "The muted pace of labor growth holds Cleveland's position in the Index near the middle of the pack despite low vacancy," the U.S. forecast report noted. But, so far in 2022, employment in Greater Cleveland has grown much more briskly with monthly, year-over-year growth rates as strong as 3.6 percent, according to the federal Bureau of Labor Statistics.
"An uptick in employment growth and a sparse 2022 delivery schedule benefit existing properties with available space, dropping vacancy down to 10.8 percent," M&M reported. "Metro employers are projected to add 16,000 workers this year, with nearly half of this growth occurring in office-using sectors. Deliveries (of new office buildings) in 2022 are projected to be well below the market's annual average, with the majority of square footage comprising a build-to-suit project."
That project is Sherwin-Williams' new 1-million-square-foot global headquarters downtown and its 600,000-square-foot research center in Brecksville. Neither will accommodate for-lease tenants. One of the few that will is the new, 312,000-square-foot, $140 million outpatient medical office building called Apex, now under construction on MetroHealth's campus, in the 3500 block of Scranton Road in Cleveland. Another is the 150,000-square-foot headquarters in suburban Independence for the accounting firm for CBIZ that will occupy only half of the building. The rest will be open to other tenants.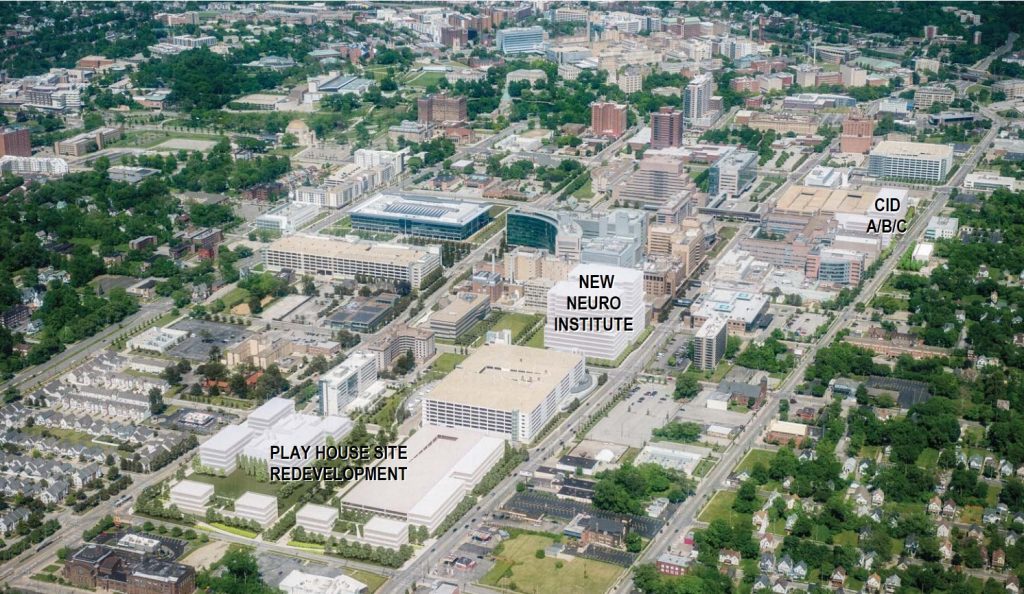 While most of the new medical buildings the Cleveland Clinic has planned are not going to be available to tenant leases, some might be available including the Play House site redevelopment seen in the foreground in the 8500 block of Euclid Avenue, plus the new Neurological Institute in the middle and the planned three structures for the Center of Infectious Diseases at right (CCF).
There are often segments that are growing in a slow-growth market. The new medical office building on MetroHealth System's transforming campus along West 25th Street as well as planned new medical and research office developments in Midtown and University Circle are addressing tightness in the market and demand for more office inventory. "Cleveland medical offices reported a vacancy rate of 6.6 percent in the first quarter of this year, 370 basis points below the Midwestern mean," the local office report read.
"Office leasing is definitely not dead," said Grant Fitzgerald, M&M's regional manager based in Independence, in an e-mail to NEOtrans. "Like many trend narratives, there is plenty of truth but also plenty of bombastic sensationalism. Remember when millennials 'weren't buying homes' and now home prices are way up because of all the millennials buying homes?"
M&M's national investment forecast said many primary metro areas with well-established office sectors were disproportionately impacted by the health crisis and fall into the lower half of the Index. The report highlighted New York City (ranking 30th), Washington, D.C. (34th), Boston (40th) and San Francisco (42nd) face hurdles to recovery this year but maintain bright post-pandemic outlooks bolstered by their sizable populations and key roles in global commerce.
"For Cleveland specifically, the market is very steady," Fitzgerald added. "We are not over-built like many of the headline-grabbing markets and so it's an easier path to recover from the 2020-21 office slump due to Covid. That explains the low vacancy as well as absorption, especially when you consider that the new-build stock is at premium rents which can be harder to fill in tough times. Since Cleveland has an appropriate amount of new-build deliveries, the ability to absorb that space as well as the existing spaces is more manageable."
One of the big draws for downtown office tenants is amenities such as on-site fitness centers, cafes/lounges, video conferencing facilities, huddle/call rooms, advanced air filtration systems, floor-to-ceiling windows and more. In order to entice workers back into the office, some companies are looking for amenity-laden office properties. "New remote work habits paired with a tight labor market are putting pressure on property owners to offer compelling amenities," the M&M investment outlook reported. "Layouts and technology that facilitate collaboration with hybrid teams while maintaining some private spaces are top of mind."
While there may not be enough tightness/demand in the Cleveland market to justify a large speculative office building downtown, plans for office projects are reportedly in the works for large, specific tenants. The sites for them are in Bedrock's planned multi-structure riverfront development, and in the Browns' or Cavs/Guardians' ballpark villages that may also include some for-lease office space. But their completion is years away. And perhaps at some point more speculative office spaces may make a comeback, Fitzgerald said.
"Do we need more new construction?" he mused. "That's hard to say at the moment. Eventually yes of course we will; but while I think remote work is waning substantially, I'm not sure the economic outlook supports immediate need for significant office expansion. Time will tell."
END